Sonam Kapoor is dressed in a lilac lengha and simple jewellery fit for a princess.
Prem Ratan Dhan Payo (Got the Treasure of Love) is Salman Khan's latest flick that has already kicked up an incredible hype!
Wearing a black collared kameez and sparkly ear stud on the poster, the Khan with the best body in the industry is photogenic.
He seems mesmerised by his leading lady in the film, Sonam Kapoor, who looks perfectly poised over the pure white chaise chair.
As beautiful as ever, she is dressed in a lilac lengha and simple jewellery fit for a princess.
Set within a starry backdrop, an innocent and gracious Indian couple is depicted, which Sooraj Barjatya is famous for.
The Indian director remains committed to making family-orientated films and the poster looks like it will deliver just that.
Salman is 'Prem' in the film and interestingly his characters in Sooraj's previous films have also had the same name.
This director-actor duo have been hugely successful together, creating Hum Aapke Hain Kaun (1999) which is Sooraj's biggest smash hit to date and makes family drama films trendy again.
It's no wonder Twitter has gone crazy when Salman tweets an image of the poster. Even Sonam is over the moon about pairing up with the megastar!
@Path_ Dil_Se is loving this new 'couple' in B-town: 'How beautiful you are looking with Salman Khan. So much beautiness'.
The trailer has also been unveiled, and it has without a doubt lived up to the extravagance and royal setting type of cinematography that is expected from Sooraj.
The set looks as lavish and colourful as ever, and the sheer magnitude of the film is breath-taking!
Sonams has embraced the typical Sooraj's heroine with her traditional lenghas and dancing away for her prince.
Enter Salman who apparently is playing a double role. Armaan Kohli as well as Neil Nitin Mukesh are also part of this family drama.
Watch it here: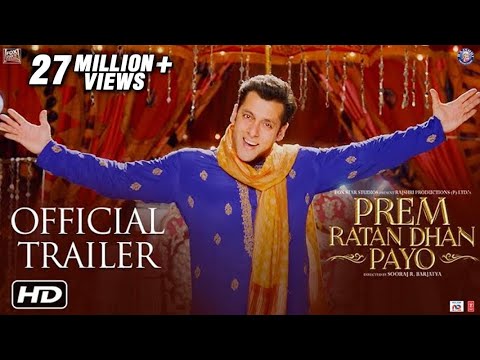 Salman and Sonam appeared together briefly in Sanjay Leela Bhansali's Saawariya (2007). Despite looking super cute as lovers, the film failed miserably.
Maybe playing out a romance in lead roles, with a touch of the Rajshri Productions magic, will work better this time.
Safe to say this enchanting Bollywood love story has begun to unfold!
Prem Ratan Dhan Payo is set for release on November 12, 2015.