"This film is only for him [Salman]. I wanted to make people idolise him."
After spending Eid with Bajrangi Bhaijaan, it's now time to spend Diwali with Prem.
Back once again at the Box Office, superstar Salman Khan is joined by the glamorous Sonam Kapoor to lighten up this festive season with Sooraj Barjatya's Prem Ratan Dhan Payo.
Prem Ratan Dhan Payo follows the story of the Royal King Prem (played by Salman Khan), who is loved and respected by his subjects.
Living the royal life, Prem comes across Maithili (played by Sonam Kapoor) a beautiful and gracious princess. Falling in love instantly, the two get married.
Living a fairy tale life, the two are oblivious to the storm that is about to arrive.
That is, when one day, Prem bumps into Vijay (played by Salman Khan) a commoner who is identical to him.
Shocked by his doppelganger, Prem takes the opportunity of escaping his royal duties and switches places with Vijay.
However, unaware of a dangerous plan being plotted against Prem, Vijay finds himself stuck in the midst of Prem's family and Maithili's love.
Will Vijay reveal his real identity? Or will he have to sacrifice his life in order to save Prem's?
With the shooting of the film having taken almost a year, Prem Ratan Dhan Payo is one of the most awaited movies of 2015.
However, most importantly, audiences are excited to see Sonam Kapoor and Salman Khan share screen space for a longer duration after Sonam's debut movie, Saawariya.
Explaining why she was the right choice to play a princess on screen, Salman says: "Sooraj had her in mind when he was scripting the film. He had already seen her character, in pictures, in fashion, in films … how she conducts herself.
"She is a modern girl; she is a princess in the film. She has lived that life anyway. Her parents, Anil and Sunita have given all their three children that kind of life."
Not only that, Salman has been showering his beautiful co-star with a jubilee of compliments by comparing Sonam to Aishwarya Rai Bachchan and Madhuri Dixit-Nene.
When asked about the comparisons to Sonam, replied in a modest fashion by saying: "This is what Salman has said, however, I don't find myself that beautiful and talented as Madhuri Dixit."
Furthermore after debuting with Rajshri Productions, filmmaker Sooraj Barjatya has always had a special place in superstar Salman Khan's heart.
Recalling their special bond, Sooraj explained as to why he made Prem Ratan Dhan Payo with Salman: "This film is only for him [Salman]. I wanted to make people idolise him … a film, where he can change people.
"Even though youngsters go less for my movie, but if a youngster says he wants to show it to his mother, grandmother, in-laws, that is the biggest return and victory for me."
Also adding to the fact that Salman only did this film because of Rajshri Productions. Sooraj recalled an incident during the making where he says:
"When I approached Salman with the title Prem Ratan Dhan Payo, he looked at me and said, 'If it was any other director recommending this title for a film I would tell them to get out'."
But to respect Sooraj Barjatya's decision, Salman decided to go along with the title.
With Prem Ratan Dhan Payo made on a grand scale, the music of the movie had to on a grand scale as well.
Composed by Himesh Reshammiya, the ten-track album has a mixture of styles and playback singers.
'Prem Leela' has a feel of the 90s, and celebrates the festive day of Dusshera but with a filmy style.
For the title track, 'Prem Ratan Dhan Payo', is a grand orchestral number with singer Palak Muchhal adding a sweet tone to the song.
Moving forward, 'Jalte Diye' is the next track, the Ghazal like slow romantic song focuses on Maithili confessing her love to Prem.
'Jab Tum Chaho' is a fun retro track which reflects the problems Maithili has with Prem, but in a cute and fun way. Other tracks include, 'Aaj Unse Milna Hai', 'Halo Re', 'Tod Tadaiyya', 'Bachpan Kahan?', 'Murli Ki Taanon Si' and 'Aaj Unse Kehna Hai'.
After already starring in one of the highest grossing films of 2015 with Bajrangi Bhaijaan, audiences will be expecting to see similar success with Prem Ratan Dhan Payo.
Having spent a whopping budget on the production and marketing of the film, Salman jokingly says: "If the film doesn't do well, Rajshri will have to sell all their assets."
Watch the brilliant trailer for Prem Ratan Dhan Payo here: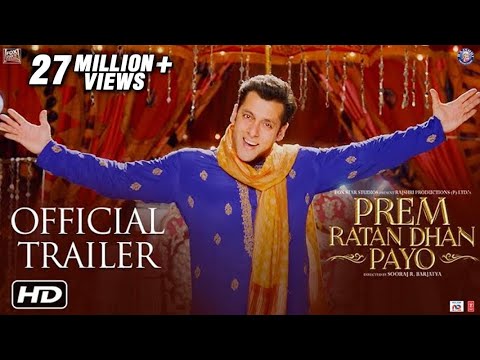 With the film showing at more than 5,600 screens worldwide, the Bhai of Bollywood hopes for another 100 crore hit, and to set off Diwali fireworks at the Box Office along with the bubbly Sonam.
And they don't seem to be too far off, early estimates suggest that the film has already enjoyed Rs 40 Crores at the Box Office on its opening day alone. With figures like this, we could see the opening weekend figures of around Rs 110 and 120 crore.
Taran Adarsh, a prominent trade analyst, says: "The opening is phenomenal across the country. The advance bookings and the buzz so far has been terrific."
Salman also has his best B-Town buddies supporting him, including Shahrukh who is busy with Dilwale with Kajol.
The Dilwale team showed their support for Prem on the set of their shoot by dancing along to the film's title track:
Team Dilwale grooves to PRDP only for Prem with prem. pic.twitter.com/kZttF7OE5T

— Shah Rukh Khan (@iamsrk) November 8, 2015
So, would you like to celebrate Diwali with the Prem Ratan Dhan Payo team? The film released from November 11, 2015.