"The flexibility in Udit's voice is truly wonderful"
Udit Narayan is amongst the greatest ever Indian playback singers in the Bollywood industry.
Singing for over thirty years, he is popular for his heartwarming and memorable songs, especially in the 1990s.
Specialising in the element of love in his music, he has also collaborated on numerous occasions with the singer Alka Yagnik.
Udit was born on December 1, 1955, in Bihar, India. He was born to his father Harekrishna Jha and his mother Bhuvaneshwari Jha,
Some of his greatest hits include 'Jaadu Teri Nazar' (Darr: 1993) and 'Aaye Ho Meri Zindagi Mein' (Raja Hindustani: 1996).
Singing to various styles of musical instruments emphasises his expertise and flexibility. Also, he has sung for many great Bollywood actors including Shah Rukh Khan, Aamir Khan and Salman Khan.
Moreover, he is an award-winning singer, attaining awards such as Filmfare Awards and Screen Awards.
We selected twenty of his greatest heartwarming tracks, that will undoubtedly get you in a loving mood.
Aye Mere Humsafar – Qayamat Se Qayamat Tak (1988)
Qayamat Se Qayamat Tak (1998) significantly paved the way for Udit Narayan's music career. His songs from the film established him as a successful playback singer.
In particular, 'Aye Mere Humsafar' is a slow, romantic ballad going down as one of Udit's finest love songs. Also, his voice along with the singing icon Alka Yagnik creates a strong duo.
The lyrics by Majrooh Sultanpuri poetically writes this track telling the story of two people on their way to securing their loving relationship.
Udit's calming tone in his singing implies purity and innocence from the character played onscreen by Aamir Khan.
Furthermore, music director Anand and Milind Shrivastav apply an original sound to the song with orchestral instruments like tablas.
Udit's tranquil voice in the chorus also gives listeners to feel at ease with the tune. Director of the film Mansoor Khan saw a familiar link with Udit's voice and Aamir's acting.
Conversing with Rediff, he explains why he feels Udit was the suitable fit for Aamir's character:
"I liked Udit's voice for Aamir and Anand-Milind had composed good music."
"I had a lovely opportunity to work with Panchamda (R.D. Burman) but I knew I wanted to work with Anand-Milind. We weren't cutting corners."
Achieving millions in sales with regards to the soundtrack, it was amongst the highest-selling albums in the 1980s.
Watch Aye Mere Humsafar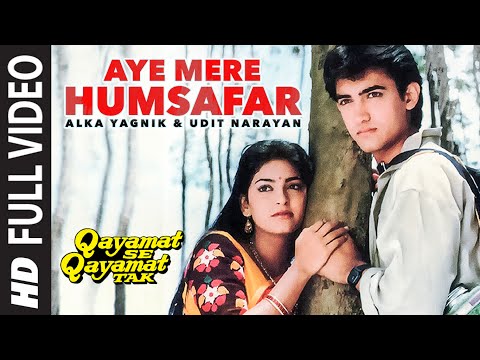 Dhak Dhak Karne Laga – Beta (1992)
'Dhak Dhak Karne Laga' is a classic love song dating back to 1992. Anil Kapoor and Madhuri Dixit play two excited lovers and express their emotions affectionately.
This catchy number lets Udit challenge his singing ability to the max, as the beat is quite jumpy.
We notice how the end of his lines he reaches different notes depending on the flow of the rhythm. Especially when he recites the lines, written by Sameer Anjaan:
"Dil Se Dil Mil Gaya, Mujhse Kaisi Yeh Haya, Tu Hai Meri Dilruba, Kya Lagti Hai Wah Re Wah."
[A heart has connected with a heart, why are you shy from me, you're my beloved, you look wonderful.]
Also, music director Anand Milind composing the song shows how strong his musical relationship is with Udit Narayan.
Anand blends in the use of tablas, and the traditional romantic instrument of the flute.
The importance of mixing the instruments strengthens Udit's singing, in which he can adapt his voice to a different sound.
Watch Dhak Dhak Karne Laga
Pehla Nasha – Jo Jeeta Wohi Sikandar (1992)
An iconic love song like 'Pehla Nasha' solidifies itself as a cult classic and is nostalgic to true Bollywood fans.
Udit Narayan makes the audience fall in love, whilst singer Sadhana Sargam also provides a soft romantic touch.
The passionate vocals from Udit are second to none. His voice reflects the happiness onscreen by Aamir Khan's character.
The boldness of 'Pehla Nasha' from Udit speaks volumes showing his dedication for singing a romantic joint. The youthful vocals by Sadhana Sargam are vital for the appearance of Ayesha Jhulka's character.
Whilst Ayesha plays the role of a young college student in love, Sadhana's voice cries out an element of innocence.
Furthermore, Udit and Sadhana's voices are dynamic making the song better, highlighting their ability to bounce off each other correctly.
Interestingly, this is a personal favourite of Udit Narayan. In an exclusive interview with Gulf News, he explains why it's a Bollywood classic:
"It's one of the best compositions in Bollywood with some of the best lyrics."
"It's also one of the best-choreographed songs that talks to the youth and all age groups.
Becoming an instant hit, Udit Narayan claimed the 'Best Male Playback Award' at the 38th Filmfare Awards in 1993.
Watch Pehla Nasha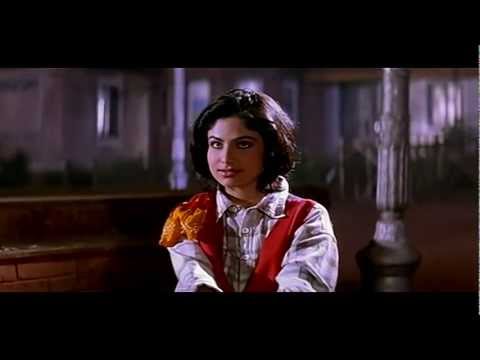 Jaadu Teri Nazar – Darr (1993)
'Jaadu Teri Nazar' cements itself in Bollywood as a classic love song. Its sentimental value enables Udit Narayan to channel his desirous voice to stay faithful to the story of the film.
The film revolves around a young girl's story – Kiran, played by Juhi Chawla. Living in fear, she is caught between her true love Sunil (Sunny Deol) and Rahul's (Shah Rukh Khan) obsession.
The lyrics highlight purity but also a deep love for Kiran, which makes the audience question which character is singing.
Written by Anand Bakshi, its charming poetic words makes Udit sing authentically. In particular, the figurative and metaphorical words stand out such as:
"Jaadu Teri Nazar, Khushboo Tera Badan, Tu Haan Kar Ya Na Kar, Tu Hai Meri Kiran."
[Your gaze is magical, your body is like fragrance, whether you say yes or no, Kiran you're mine.]
Additionally, Udit masters the ardent calling of 'Tu hi meri Kiran' with such grace. Creating excitement for Kiran on-screen, Udit makes the song feel real to the characters.
Having received a nomination for 'Best Male Playback Singer' at the 39th Filmfare Awards in 1994, the song was widely recognised.
Whilst this beautiful melody lives long in our hearts, Darr (1993) has other great hits sung by Udit Narayan. This includes 'Tu Mere Saamne' which is also another passionate track about love.
Watch Jaadu Teri Nazar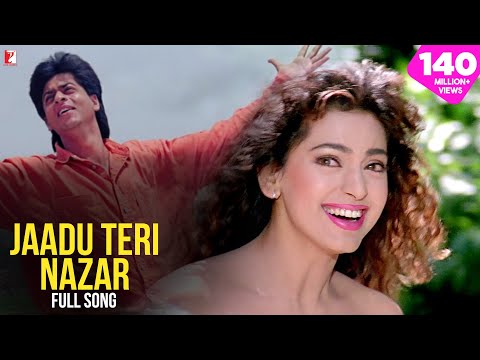 Ho Gaya Hai Tujhko – Dilwale Dulhania Le Jayenge (1995)
'Ho Gaya Hai Tujhko' lives long in the memories of Bollywood fans growing up through the great era of the 90s.
The masterful vocals by both Udit Narayan and 'The Nightingale of India' Lata Mangeshkar create such a memorable ballad.
This particular song falls into the story when Raj (Shah Rukh Khan) and Simran (Kajol) part ways in a sombre manner.
In realising their underlying feelings for each other, Udit brilliantly constructs his voice into a sorrowful tone. The sad vocals are found in the lyrics where Udit questions the characters' emotions:
"Na Jaane Mere Dil Ko Kya Ho Gaya, Abhi Toh Yahin Tha Abhi Kho Gaya."
[I don't know what has happened to my heart, it was just here and now it's lost.]
Although, the mood begins to pick up in both the tempo of the chorus and in the visuals. This is when Raj and Simran have visions of seeing each other.
Udit and Lata Mangeshkar voices become more powerful and offer hope to the characters, indicating love is possible between them.
Whilst the film became a colossal blockbuster in 1995, its soundtrack is also popular because of Udit and Lata.
His classic hits such as 'Ruk Ja O Dil Deewane' and 'Mehndi Laga Ke Rakhna' are also fantastic love tracks.
Watch Ho Gaya Hai Tujhko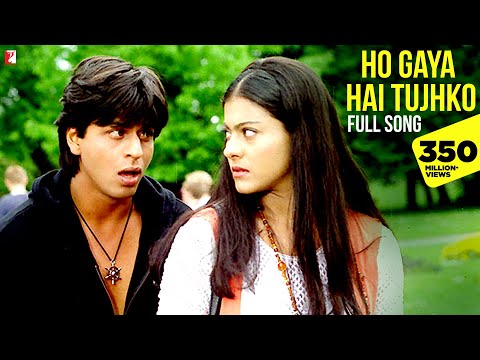 Aaye Ho Meri Zindagi Mein – Raja Hindustani (1996)
A heartfelt track like 'Aaye Ho Meri Zindagi Mein' deserves a strong mention when discussing any love song in Bollywood.
Its soulful touch to the song is enough to make any Desi music fan reminisce the 90s. With both a male and female version, Udit Narayan illustrates such class in his adaptation.
The use of humming, in the beginning, is a useful technique in starting such a cordial song. The humming is done with such dedication as he then slowly breaks into the first verse.
Award-winning music composers Nadeem Saifi and Shravan Rathod create an original tune.
The use of drums, clapping and various instruments highlight the simple nature of making music with natural sound.
Besides, the instruments embody how Udit's voice works well with sound and how he shapes his lyrics around them.
Udit's words are also very warm to the heart, with lyricist Sameer responsible for such immense work.
A YouTube user reviewing the song reflects on how this song impacted their childhood, saying:
"It gives a nostalgic feeling now. I distinctly remember how I borrowed the audio cassette from my friend and played it on repeat days upon days."
Interestingly, Udit Narayan won the 'Best Male Playback Singer' at the 3rd Screen-Videocon Awards in 1997 for this song.
The impressive soundtrack for the film also features classics from Udit like 'Pardesi Pardesi' and 'Kitna Pyaara Tujhe'.
Watch Aaye Ho Meri Zindagi Mein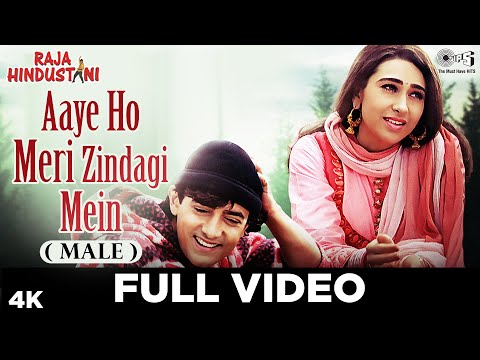 Are Re Are – Dil To Pagal Hai (1997)
'Are Re Are' is an upbeat and fun love song that will surely get shoulders bouncing. Vocals from both Udit Narayan and Lata Mangeshkar is also a great addition to such a catchy number.
With regards to the visuals, a love story starts to blossom between the characters of Shah Rukh Khan and Madhuri Dixit.
Furthermore, the message of the song surrounds the idea of falling in love which can leave one sometimes confused.
Music director Uttam Singh makes use of romantic instruments such as violins and drums, which is fitting for Udit.
Also, flutes and trumpets are also unique instruments used especially when discussing a new found love.
This fast-tempo mixed with slow segments challenges Udit to compose his voice to hit the correct notes.
The vocals provided by Lata Mangeshkar is also a perfect fit to represent the female perspective of the love story.
Other great love songs by Udit from Dil To Pagal Hai (1997) include 'Bholi Si Surat', 'Dholna' and 'Pyar Kar'.
Watch Are Re Are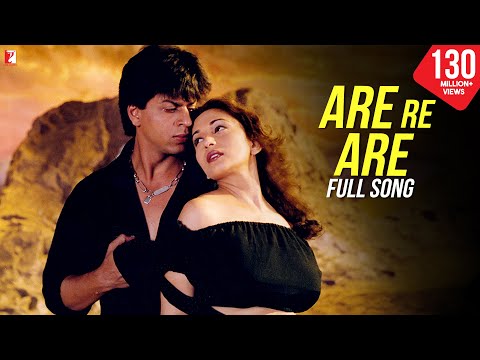 Mere Mehboob Mere Sanam – Duplicate (1998)
A fun-loving track with a comical twist makes this a Udit Narayan classic. Also, the addition of Alka Yagnik makes the song rich in romance.
Concerning this music video, the animated expressions of Shahrukh Khan's character are memorable. Intriguingly, his actions are vital to match the tone of Udit's enthusiastic voice.
At the beginning of the song, we notice that Udit impressively uses quite a fast tone in the first verse. This is when he recites the lines:
"Kab Maine Yeh Socha Tha, Kab Maine Yeh Jaana Tha, Tum Itne Badal Jaoge, Tum Itna Mujhe Chahoge."
[I had never thought that, I had no clue that, you'll change so much, you'll have so much affection for me.]
The fast pace shows Udit's talent to adjust his vocals to different speeds and matches the quirkiness of Shah Rukh's character.
Also, his two love interests played by Juhi Chawla and Sonali Bendre is beautifully sung by Alka Yagnik. She similarly sings about the overpowering love that Udit sings about.
Javed Akhtar is the lyricist for this addictive song, with Anu Malik composing the music in the film. Javed was also nominated for 'Best Lyrics' at the 65th Filmfare Awards in 1999.
Watch Mere Mehboob Mere Sanam
Kuch Kuch Hota Hai (1998)
'Kuch Kuch Hota Hai' is a lovely slow ballad, from a heartwarming film. Kuch Kuch Hota Hai (1998) follows the story of three people caught in a love triangle during their college days.
Udit Narayan brilliantly showcases a strong theme of innocence and youth in his singing.
His voice for Rahul (Shah Rukh Khan) is subtle and holds an element of shyness, as the character is in love. Also, his delicate singing in the chorus is refreshing to listen to.
Furthermore, Udit displays passion in his singing, especially in the lines:
"Na Jaane Kaisa Ehsaas Hai, Bujhti Nahin Hai Kya Pyaas Hai."
[I don't know what experience this is, it doesn't get quenched, what thirst this is.]
The meaning of the lyrics symbolises how love can overwhelm an individual when they least expect it. Furthermore, Alka Yagnik voices the characters of Kajol and Rani Mukerji.
Her soothing voice also creates a great partnership with Udit and his singing style. Bollywood fan Hema Kaur speaks exclusively to DESIblitz and talks about how moving the song is:
"Knowing how iconic this song is, it just immediately takes me back to when I was younger. When the song starts and Udit's voice quietly opens, I get goosebumps straight away!"
Alternative love songs from this film consisting of Udit include 'Koi Mil Gaya' and 'Tujhe Yaad Na Meri Aayee'.
Watch Kuch Kuch Hota Hai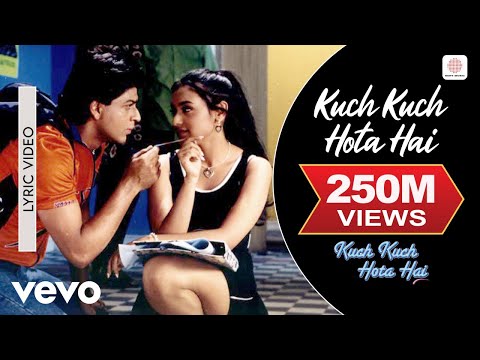 Chand Chupa Badal Mein – Hum Dil De Chuke Sanam (1999)
'Chand Chupa Badal Mein' is a true definition of poetic love and happiness between two people.
The music video sees a young romance between the characters of Salman Khan and Aishwarya Rai Bachchan.
In this slow, innocent melody the metaphorical lyrics are a special aspect in Udit Narayan's singing.
Lyricist Mehboob Kotwal has a fascinating way of discussing love in which he refers to nature and the earth's surroundings.
For example, the mere mention of the moon, birds and the atmosphere are consistent throughout the track. With these themes, Udit cleverly hits several high notes.
In particular, the chorus of 'Chand Chupa Badal Mein' is when Udit is slow but exquisitely fits the rhythm.
Music Director Ismail Darbar creates a rich piece of traditional Hindi music. The strong feature of the tabla is the dominant instrument of the tune.
Once again, he joins forces with Alka Yagnik, as she excels in voicing the female role in a love song.
Watch Chand Chupa Badal Mein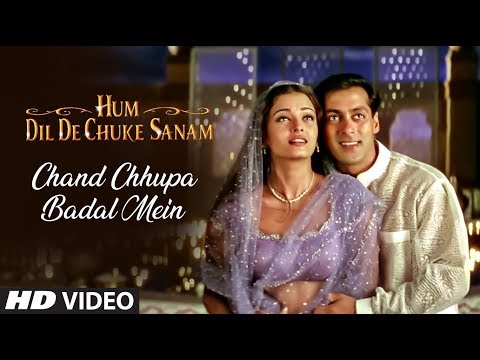 Kaho Naa Pyaar Hai Title Track (2000)
'Kaho Naa Pyaar Hai' is a cheerful track that is about confessing your love to that one special person.
The visuals see the characters of Hrithik Roshan and Ameesha Patel stranded on an island, to which they fall in love.
Interestingly, Udit adopts a chirpy approach to his vocals, which is important to correspond to the behaviour of Hrithik's character.
With the character's elation, it enables Udit to boldly sing 'Kaho Naa Pyaar Hai'.
In addition, along with happiness, his evergreen voice matches the young attributes of Hrithik Roshan.
The duet with Alka Yagnik is in effect again and is a great fit for Ameesha Patel's character. The sweet nature of her character mirrors the fine high pitch melody of Alka.
Music composer Rajesh Roshan incorporates a variety of instruments, including drums, keyboard, guitars and many more.
Also, 'Pyaar Ki Kashti Mein' is another fantastic love song featuring Udit Narayan and Alka Yagnik.
Watch Kaho Naa Pyaar Hai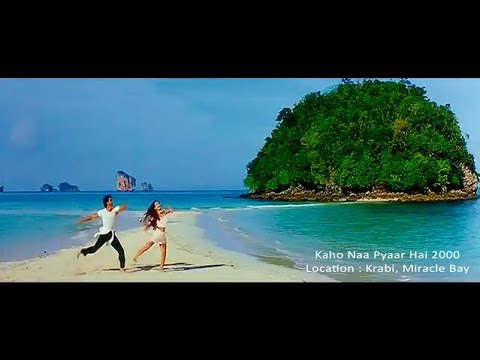 Hai Mera Dil – Josh (2000)
'Hai Mera Dil' is a sweet melody from the film Josh (2000). In this catchy yet memorable tune, the message of the song is about finding love and holding onto it.
Throughout the track, Udit Narayan embraces his verses with calmness but sings with plenty of joy. In addition, he raises the volume in his voice and hits slightly higher notes.
For instance, a line in which Udit uses his voice to full effect is when he delivers:
"Kaisi Tanhai Hai, Masti Si Chaayi Hai, Yeh Mausam Hai Pyar Ke Kaabil."
[What type of loneliness is this, the fun has spread all around, this weather is worthy of love.]
Lyricist Sameer Anjaan collaborates again with Udit Narayan and uses poetic language revolving around love.
Furthermore, his allegorical terms and similes is a unique way of explaining romance in which audiences may not think about.
Udit Narayan is a major stand out singer in the soundtrack of the film. He also features on the romantic joint 'Haare Haare' with Alka Yagnik.
Watch Hai Mera Dil
Har Dil Jo Pyar Karega Title Track (2000)
A classic hit like 'Har Dil Jo Pyar Karega' is a huge romantic song and was popular back in 2000. This beautiful track plays on the theme of loving feelings and talks heavily about the heart.
In the music video, Salman Khan and Rani Mukerji play the roles of two excited lovers, dressed in cultural attire.
Udit Narayan joins Alka Yagnik as a duet and channels his inner musical talent. Hitting a wide range of notes, he sounds like a natural on the melody.
Furthermore, the gentle expression of the chorus 'Har Dil Jo Pyar Karega' is soothing. Also, the 'youthful' sounding voice of Udit is a suitable fit for Salman Khan.
The music director Anu Malik creates an elegant sound as it screams of Bollywood culture.
For example, the use of an orchestra, drums, and woodwind instruments shows his versatility.
The importance of the style of music indicates how Udit can adapt to elements such as backing singers.
Watch Har Dil Jo Pyar Karega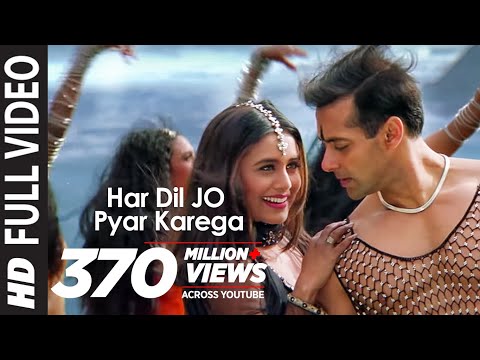 Dil Ne Yeh Kaha Hai Dil Se – Dhadkan (2000)
'Dil Ne Yeh Kaha Hai Dil Se' exemplifies the feeling of loving someone who may not feel the same way. This song is taken by the film Dhadkan (2000), meaning heartbeat.
Regarding the story of the song, Anjali (Shilpa Shetty) is hurt and vulnerable. After facing an arranged marriage to Ram (Akshay Kumar), he is aiming to win over her love.
This sweet classic dates back to 2000 and is one of Udit Narayan's best personal music performances. Udit somehow captures the compassionate attitude of Ram's behaviour and uses it in his singing.
Additionally, Udit has an effective way of adjusting his voice to sound like he is pleading for his love. In the lyrics, written by Sameer Anjaan, we notice this:
"Jitna Beqaraar Hoon Main, Khud Ko Beqarar Karlo, Meri Dhadkano Ko Samjho, Tum Bhi Mujh Se Pyar Karlo."
[Make yourself as restless as I am, understand my heartbeats, say that you love me too.]
Another fantastic couple of additions to this soulful tune is Alka Yagnik and Bollywood singing legend Kumar Sanu.
With Alka singing for Anjali, Kumar Sanu sings for Dev (Sunil Shetty), her former lover.
Being greatly appreciated, Udit Narayan received a nomination for 'Best Male Playback Singer' at the 46th Filmfare awards in 2001.
Watch Dil Ne Yeh Kaha Hai Dil Se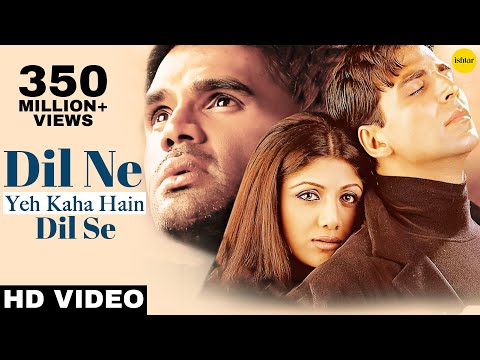 Humko Humise Chura Lo – Mohabbatein (2000)
'Humko Humise Chura Lo' heavily represents romance as Udit Narayan and Lata Mangeshkar team up on this love track.
This magical song sees Bollywood heartthrobs Shah Rukh Khan and Aishwarya Rai Bachchan serenade in romantic settings.
The lyrics by Anand Bakshi are faultless and touches the hearts of Bollywood music fans. Its messages are powerful, as it encourages couples to embrace each other and not let go.
Concerning Udit and his singing, his musical relationship with Lata works exceptionally well.
Furthermore, his capability of reaching the high notes is admirable, which is crucial for mirroring Shah Rukh's emotions on screen.
The slow melody of Udit adapts well to the flow of the song and enables Lata to intervene correctly.
Music directors Jatin Pandit and Lalit Pandit composing the song, create such a moving ballad. The traditional use of tablas, but also the use of saxophones and violins is laudable.
Watch Humko Humise Chura Lo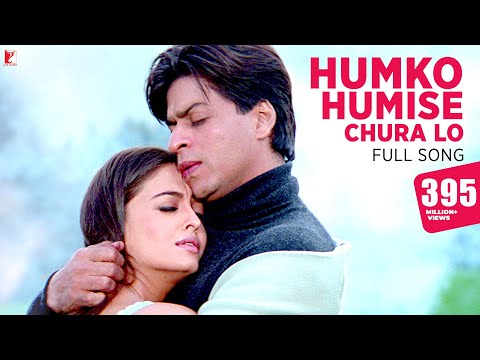 Hum Yaar Hain Tumhare – Haan Maine Bhi Pyaar Kiya (2002)
'Hum Yaar Hain Tumhare' is a very popular love song that features in weddings and functions. The purity of this track stands out and signifies the connection between two lovers.
Udit Narayan romantically recites his lines in a controlled manner and does not shy away from reaching high notes.
Furthermore, his rendition opposite Alka Yagnik automatically creates a loving feeling amongst audiences.
The volumes of their voices are authoritative but not too empowering which is captivating to the listeners.
With regards to the music video, it shows the characters of Abhishek Bachchan and Karisma Kapoor's budding romance.
Also, music director Nadeem Shravan creates a fashionable orchestra type song, filled with backing singers and various instruments.
Watch Hum Yaar Hain Tumhare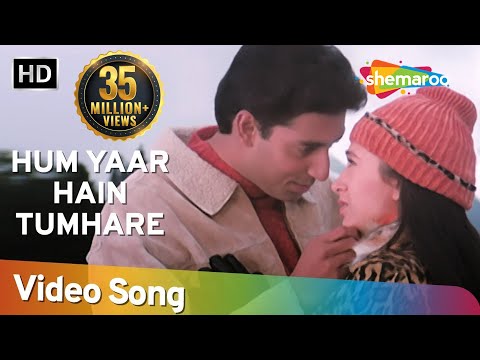 Tumse Milna – Tere Naam (2003)
'Tumse Milna' is a gentle and innocent love song that remains a classic in the Bollywood industry.
The musical power couple of Udit Narayan and Alka Yagnik combine to create this slow but special love composition.
With the visuals of the song, the charming love story between Salman Khan and Bhumika Chawla begins to take shape.
Also, the gentle melody of Alka, in the beginning, is essential for illustrating Udit's capability of countering with his verse.
Furthermore, Udit's ability to raise his voice when Salman's character questions his love for Bhumika's character is mesmerising. This particular line falls when Udit asks:
"Kya Hai Yeh, Kyun Hai Yeh, Kya Khabar, Haan Magar Joh Bhi Hai, Bada Acha Lagta Hai."
[What is it, why is it, who knows, but yes, whatever it is, I like that a lot.]
Bollywood music fan Vishal Patel praises Udit Narayan for his versatility in his voice and compliments his faultless performance. Conversing with DESIblitz he states:
"The flexibility in Udit's voice is truly wonderful. I feel like his voice can just about match any great actor in the industry. A beautiful track like 'Tumse Milna' is one of my favourites".
Watch Tumse Milna
Main Yahaan Hoon – Veer-Zaara (2004)
An incredible solo performance by Udit Narayan in 'Main Yahaan Hoon' makes him a musical genius.
Bollywood blockbuster Veer-Zaara (2004) stars Shah Rukh Khan and Preity Zinta, in which their bond is unbreakable in the film.
Udit Narayan exhibits his charming demeanour in the track, to show his musical talent and Shah Rukh's lovable characteristic. The volume in his voice ranges from high to low.
For example, his soft but subtle singing, in the beginning, gives a romantic feel to the song.
Also, his passionate verses are predominantly heard when Shah Rukh shares intense eye contact with Preity Zinta.
The late Madan Mohan is the composer for the beautiful ballad, with Javed Akhtar being the lyricist.
Interestingly, this track is a personal favourite of Udit Narayan, as he mentions this in the interview with Gulf News:
"Yash Chopraji used to love me and gave me many songs, but this one has always been special for me."
"Its music was composed by the late Madan Mohanji and lyrics by Javed Akhtarji."
"And the highly respected Bharat Ratna-conferred Lata Mangeshkarji came to my house for the first time to congratulate me for this song and that was the biggest compliment for me."
Watch Main Yahaan Hoon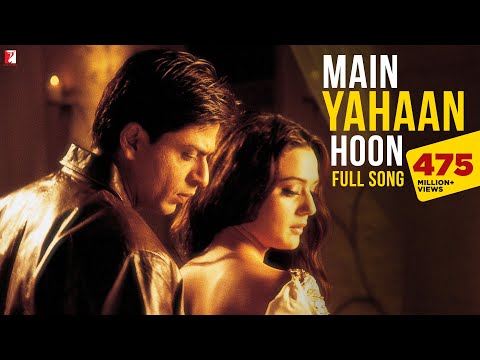 Jaan Meri Jaa Rahi Sanam – Lucky: No Time For Love (2005)
An underrated love song like 'Jaan Meri Jaa Rahi Sanam' deserves a mention in Udit Narayan's dazzling music career.
This particular composition is about holding onto a loved one if life begins to slip away from you. The stand out factor from the track is its authenticity and Udit's gentle tone.
For instance, this is evident in the song when Udit sings:
"Kya Mohabbat Hai, Kya Nazara Hai, Kal Talak Yeh Dil Tha Mera, Ab Tumhara Hai."
[How great is this love, how great is this scenery, my heart was mine till yesterday, but now it's yours.]
Musical maestro Adnan Sami is the director of this beautiful track and is also familiar with romantic music.
Furthermore, the lyrics by Sameer Anjaan are delightfully written and is influential in Udit Narayan's success on the song.
Watch Jaan Meri Jaa Rahi Sanam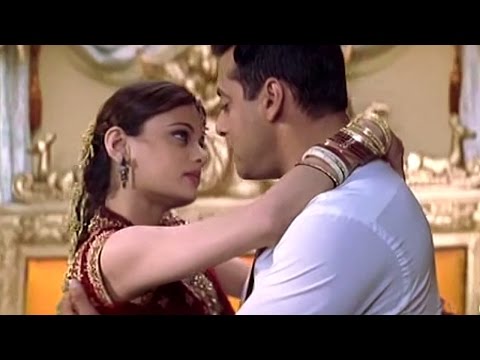 Kyon Ki Itna Pyar – Kyon Ki (2005)
'Kyon Ki Itna Pyar' is a melodic masterpiece, as Udit Narayan and Alka Yagnik bring the love factor to its peak.
The visuals show Salman Khan and Rimi Sen engage in a cute and loving manner.
Udit's trademark slow introduction to the song before breaking into his performance is neat and sets the mood. Also, his frequent subtle singing voice is soft to the ears.
In particular, his soft vocals feature on the line:
"Rab Ne Humein Di Hai Jaan-E-Tamanna, Tumhare Liye Zindagi, Tumhare Liye Zindagi."
[Beloved, God has given me this life only for you, this life only for you.]
Popular musician Himesh Reshammiya features as the music director. His decision to use the harmonica in the song is interesting, as it is not used often.
Also, lyricist Sameer Anjaan again gives Udit the opportunity to warm the hearts of Bollywood music fans.
Watch Kyon Ki Itna Pyar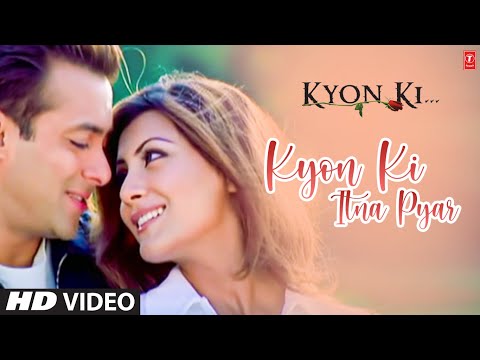 Udit's other fantastic tracks include 'Woh Chand Jaisi Ladki' (Devdas: 2002), Aaja Mahiya (Fiza: 2000) and Kitna Bechain Hoke (Kasoor: 2002) and many more.
Working with many music labels such as Yash Raj Films, T-Series, Sony Music he is an iconic singer in Bollywood.
The originality of his voice has truly enriched the industry and lives long in the hearts of music lovers globally.