"I remember accompanying my father to his recordings"
The multi-talented Aditya Narayan is a notable singer in Bollywood, along with a successful TV host, presenting musical shows.
Aditya was born in Mumbai, Maharashtra, India on August 6, 1987. This makes him a Leo in terms of the star sign.
He grew up in a musical family, with his both parents, Udit Narayan Jha and Deepa Narayan Jha also being singers.
His grandparents, Hari Krishna Jha and his grandmother Bhuvaneshwari Jha were also musically minded.
After attending Mitthibhai College of Commerce, Mumbai, India, he went to study music in the UK. He got his first big break in Bollywood, singing 'Rangeeela Re' with Asha Bhonsle from Rangeela (1995).
He sang the title track of Akele Hum Akele Tum with his father. Further on, whilst working as an Assistant to Sanjay Leela Bhansali, he gave his voice to two songs for Goliyon Ki Raasleela Ram-Leela (2013).
We caught up with Aditya Narayan at the 2019 Leicester Asian Glitz Awards. Aditya had an exclusive conversation with us about his early life, singing, hosting and band:
Growing up and Childhood
Whilst Aditya was growing up, his father Udit Narayan was on a successful pathway to becoming a famous playback singer in Bollywood. Udit was growing simultaneously with his son but from a career point of view.
Speaking about how life was growing up, Aditya says:
"I remember growing up in a very humble home. We had the one BHK in Kaleena, which belonged to my mother because she used to be flying for Air India"
His mother Deepa Narayan was working as an air hostess but was also a regional playback singer.
Falling heads over heels for each other, his parents had a love marriage. His father was an aspiring musician who always had the ambition to reach for the stars.
Aditya recalls during those hardworking days trying to make a living and a better future, his mum and dad were quite busy in their respective careers.
Due to their busy schedules, Aditya had to live with his maternal grandmother in Kolkata.
Singing
Singing came very naturally to Aditya. According to his mother, he began singing some of his father's songs at the age of one.
From the age of four, he began training under famous music director Kalyanji Virji Shah. He was also part of the 'Little Wonders' troupe doing shows for Kalyanji.
Aditya mentions he was very lucky to accompany his father and mother during their musical journey:
"I remember accompanying my father to his recordings, even my mothers because my mother's a playback singer as well for regional films.
"So I remember accompanying them to their recordings and listening to the entire process of the song being made and recorded."
Despite his parents recording songs in a language that he was unfamiliar with, Aditya would practice the songs and sing them at home.
He has learnt to work hard and persevere from his father.
His father who originally came to Mumbai from a village, which once did not have even electricity is a big inspiration to his singing.
From then on, he sang many songs in Bollywood. Being a fan of Sanjay Leela Bhansali since watching Hum Dil De Chuke Sanam (1999), he also worked as an assistant director with him for Goliyon Ki Raasleela Ram-Leela.
Additionally, he sang the catchy songs, 'Ishqyaun Dhishqyaun' and 'Tattad Tattad' for the film.
Music shows and The A-Team
Besides singing, Aditya Narayan has also hosted musical shows such as Sa Re Ga Ma Pa (Zee TV). With a striking personality, he finds it quite comfortable being in front of the camera
He also went on to host X Factor India (2011: SET India ), Sar Re Ga Ma Pa L'il Champs (Zee Tv) and season eleven of Indian Idol (SET India) from October 2019.
Aditya states it is very uplifting to see how these shows provide a platform for emerging talent in India:
"It's always refreshing to see so much wonderful musical talent come out of our country."
After his stint as an Assistant Director for Goliyon Ki Raasleela Ram-Leela, in 2014 Aditya also set up 'The A-Team' band, which was a childhood dream of his.
Talking about the influence behind creating the band, he said:
"I studied music in London. Not a lot of people know I did a diploma in English contemporary music. And I was really smitten by the music culture and the band culture in the UK in London."
"And I decided whenever, I get the opportunity, I'm gonna form my own band and make some great music."
Education did help him a lot, as he started listening to various genres, artists and bands, broadening his horizons. It is during this time that Aditya came to realise that he was also able to write songs.
Watch our exclusive interview with Aditya Narayan here: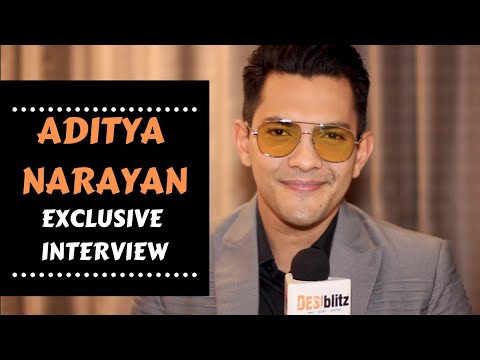 Aditya admires many singers in Bollywood, including Neha Kakkar, Shreya Ghoshal, Sunidhi Chauhan, Benny Dayal. He also picks out Arijit Singh as a favourite of everyone for his versatile singing.
In 1997 he won 'Best Child Singer' at the Screen Awards' for popular track 'Chhota Baccha Jaan Ke' from the film Masoom (1996).
Aditya who has sung songs in over 16 various Indian languages was also the music director for the film Shaapit (2010).
In 2014, he released his first independent single, 'Tu Hi Pyar Hai.' This was a collaboration with South African model and actress, Gabriella Demetriades.
Besides music, Aditya earlier also played a child actor in a few films. These include Rangeela, featuring Aamir Khan and Urmila Matondkar and the Shah Rukh Khan starrer Pardes (1997) by Subhash Ghai.
When it comes to Desi food, Aditya enjoys eating Butter Chicken. He has regularly dined at Delhi Darbar in Mumbai.
Having a sweet tooth, he also enjoys indulging in gulab jamuns (milk-solid), kheer (pudding) and firni (pudding).
In a very short space of time, Aditya Narayan has achieved a lot of musically.
With his buzzing personality, there is a lot more to come from him, both in and outside of Bollywood.