"I am very focused on evolving my sound"
International blues artist Akarsha Kumar better known as Aki Kumar from San Jose, California USA has found his own unique space. He is famous for remaking retro Bollywood songs, with a reflection of the Chicago blues style.
Aki Kumar who was born in Mumbai, grew up learning instruments such as the tabla and harmonica. Aki headed for America in 1999 to pursue a computer science degree at college.
When residing in the USA, Aki began to explore blues clubs across the San Francisco Bay Area.
It was here that he became attentive to the high-pitched, melodious sound of the blues harmonica. Aki Kumar got to study under the tutelage of musician David Barett. He then went onto play the harmonica in a group of four, named 'Tip of the Top.'
Following his department closure at Adobe in 2013, Aki made the decision to concentrate on music.
His first album, Don't Hold Back came out in 2014. Two years later saw the release of his second album Aki Goes to Bollywood (2016). Released under the Little Village Foundation label, this was a fusion of Chicago blues and Bollywood music.
Hindi Man Blues was his third album, releasing in 2018. 'Dilruba,' which is his first track under the banner of Sony India, came out in 2019.
DESIblitz had an exclusive conversation with Aki Kumar about exploring blues, his musical journey 'Dilruba' and touring India.
When did your love for the Blues first start?
My love for the blues started in the US with a love for American oldies (doo-wop, 50-60s Rock n Roll and RnB), which I discovered on the radio in college.
From there, I discovered 60s Brit blues & 50s Chicago blues.
I had never been exposed to that sort of music while coming up in India and I was profoundly moved by the intensity and soul of the genre.
In my mid-20s, I decided to take blues harmonica lessons in San Jose with a great teacher named David Barrett. I fell so madly in love with the music that it changed my professional career path eventually.
Which old Bollywood songs are most adored by you and why?
I love all kinds of music from different decades. But, with Bollywood, I do especially enjoy songs from the 50s, 60s.
I have a ton of respect for legends such as Kishore Kumar, Rafi, Mukesh, Lata Mangeshkar, Asha Bhosale. I hate to compare eras but, to my ears, the lyrics, melodies and recorded sound from back then all have that "special sauce."
I do like a lot of AR Rahman's music as well – some of his songs are the soundtrack of my teenage years.
What was your family's reaction to music and change of career?
Haha, well I eased them into the whole transition by not jumping into the deep end of the pool. For many years in my 20s and early 30s, I led a double life as a software engineer by day and musician by night.
As my musical workload increased and my interest in my software career declined, it was quite obvious to everyone around me that my heart was really into being a musician.
So, it came as no big surprise to my family when I finally decided to change careers.
"Of course, like typical Indian parents, I'm sure they suffered from a few nights of heartburn over my decision."
But they have been extremely supportive and encouraging overall because they are fundamentally music lovers. So is my older brother.
My mom even helps me with my songwriting and I've recorded one of her amazing poems "Voh Surmayi Shaam" on my Hindi Man Blues album.
How would you describe your music?
Bollywood Blues. Mississippi Masala Blues. Muddy meets Mumbai. Call it what you want, it's unique and an honest representation of who I am.
I love American blues and while I refrain from using the term "Bluesman" to refer to myself, except in jest, I'm 100% a blues "influenced" artist.
The "Bollywood" aspect is more recent and, in some measure, an effort to assert my brown, Indian identity in our new Trumpian age.
But even with the classic Bollywood songs I cover, every single one of them is a song that has inspired me deeply as a young man in India. This is either lyrically ("Sajan Re Jhooth Mat Bolo") or musically ("Eena Meena Deeka").
In the past year, I have written a number of original Hindi and bilingual blues or blues-inspired songs.
As long as I can deliver an honest representation of my message and musical influences, without being too bogged down by commercial motives, my musical output will, hopefully, continue to be unique and refreshing.
How did you form your band?
I've been quite invested in the blues music scene in the San Francisco Bay Area ever since I started playing music.
From attending blues jams in my early days to hosting my own for the last decade to performing 200+ shows a year, I have met, interacted and collaborated with hundreds of musicians – world-class professionals to hobbyists to rank beginners.
With a talent pool like that to work with, it's somewhat easy to find the right musicians to form a band.
"These days, I have a steady lineup of musicians I perform with who are very well versed in my music."
Generally speaking though, it is not uncommon for bands coming together at the last minute for a performance because when you're working with top pros who are steeped in jazz or blues, everyone speaks the same language.
How do audiences react to your sound in the USA?
If I'm playing a blues set to a blues audience, it's an easy sell because I can cater to their tastes and expectations. But with Bollywood Blues, I wasn't sure of how it would be received at first.
But I'm very happy to say that over the last three years of performing in Hindi and English to a primarily English speaking audience, the results have been overwhelmingly favourable.
It just goes to show that music transcends cultures and even language. I feel that if I can get the audience, any audience in any country, to connect to my energy, then they're in.
What was the creative process for Dilruba and Hindi Man Blues?
Dilruba was a very special project because it was my very first all-Hindi blues song. I drew inspiration from a number of swing/blues artists for this, especially Clarence Garlow.
Lyrically, it took me a week to put the song together because my Hindi/Urdu skills, unfortunately, aren't what they used to be.
But I'm very happy with how it turned out. I wanted to put together a song that was unique but would still appeal to someone that already enjoyed an Indian swing classic like Eeena Meena Deeka.
My co-producer Kid Andersen wrote a killer "fake sitar" interlude for this song that really makes it stand out. For the video, I spent many days working through the storyline and scenes in my head.
"I wanted it to be self-deprecating, funny, flirtatious, and with a strong retro Bollywood feel to it."
I had the good fortune of collaborating with an outstanding videographer Jeremiah Hutchins and an amazing dancer-actor Nandini Bharadwaj.
For the dance sequence in the video, I specifically wanted to tip my hat to the classic Jeetendra-Sridevi 80s videos. I think we pulled it off.
You play the harmonica, what other instruments do you play?
None with any level of seriousness of dexterity. I have dabbled in many instruments in the past, but the harmonica remains my primary weapon of choice.
Some of it has to do with the late start I got in music, compared to my peers. I simply don't have the time to master another instrument and also run a pro music career.
Some of it simply has to do with the fact that I'm lazy. I desperately want to get half-decent at drums.
Who would you like to collaborate with?
I love collaborating with folks who are madly in love with music, have depth in their field of music and a humanitarian approach to the world.
While I'm not too hip to whos-who and what's going on in Bollywood these days, I've always wanted to work with the great AR Rahman. Hopefully, someday.
"In the blues scene, there's so many talented folks I already collaborate with!"
Maybe I'd get a chance to perform with Buddy Guy – that would blow my mind. In the pop realm, I think Lady Gaga has a very honest voice and a philanthropic message. I'd love to meet her someday.
Plus, I'm also always looking out for new artists who have an interesting sound.
Have you thought about touring India?
Yes, I'd love to. I miss India very much. My immediate family now lives in the US, so I haven't visited in a few years.
With my recent Sony Music India deal and the release of my debut track "Dilruba", things are looking positive on the touring front.
Glassonion Studios now represents me in that region and they are working hard on this.
Having performed in front of many NRI audiences in the US to positive reviews, I'm very curious about how Indian audiences in India would respond to my live show. I hope they like my sound.
What are your ambitions with your music?
First and foremost, I want to continue touring and performing live. Being on stage is exhilarating and many of my life's musical and personal lessons have come from doing it live. I feel like it is the best representation of my sound and energy.
"I am very focused on evolving my sound without losing touch with my musical foundation in the blues."
This is easier said than done, of course, but the good news for me is that not a day goes by without a new musical idea popping into my head.
"I suppose what's most important for me is to keep an open mind and be accepting of new musical ideas and directions."
Watch a profile video of Aki Kumar on KQED Arts here: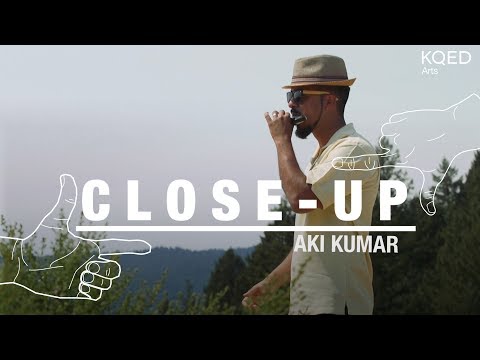 When it comes to his blues style, Aki Kumar has a diverse and broad-spectrum, performing with several artists. They include American guitarist Little Jonny Lawton and Norwegian Blues musician Hans Bollandsas.
TourinG around the world Aki Kumar has been on centre at the Waterfront Blues Festival 2018. He has also performed at Hardly Strictly Bluegrass.
Aki lives in the San Jose area with his wife Rachel. With a flexible and innovative approach, Aki Kumar hopes to continue his exciting musical journey.