"it kind of went downhill for the Bhangra music in the UK."
Mukhtar Sahota is an accomplished British Asian music composer and producer, famously known for being part of the popular 80s Bhangra fused band, Sahotas.
Mukhtar was born in the black country city of Wolverhampton, UK. His upbringing had a major impact on his music career. His father was also in a band, playing at various functions and events.
With music being in his blood, it was very natural to follow in the footsteps of his dad.
His musical journey began by picking up and playing instruments lying around the house. Mukhtar and his brothers did not receive any formal music training, taking the self-learning route.
Mukhtar went onto play the harmonium by the age of seven. When questioned by his father about how he learnt to play the harmonium, Mukhtar replied saying:
"I've been watching you for so many years. It was a natural thing."
Mukhtar had always admired the late Pakistani Qawwal Nusrat Fateh Ali Khan, describing his music as uplifting.
His exceptional singing ability, range and jumping from one octave to the other consistently remains a big inspiration to Mukhtar.
Mukhtar began his career as a music producer, including playing the keyboard with the Sahotas, an instrument which remains his favourite, particularly in relation to music production.
After releasing nine albums and touring the world, the Sahotas journey came to a successful break. Mukhtar went on to pursue a solo career, setting up a record label and uniting with Pakistan folk singer Arif Lohar.
He has also worked with the likes of AR Rahman on commercial and film projects.
In an exclusive conversation with DESIblitz, the multi-instrumentalist Mukhtar Sahota reveals more about the band, music, films and the decline of the UK Bhangra scene.
The Sahotas
Mukhtar Sahota was a member of the super 5-brothers band Sahotas, establishing in Wolverhampton during 1986. Mukhtar, Raj and Surjit Sahota were the initial members of the band.
At the age of fifteen, Mukhtar and his band members got things going after performing at the Royal Albert Hall in 1987. They had this opportunity, courtesy of a competition win at school.
In 1987, Parkesh and Vijay Sahota became the two additional members of the band. This is when the band began their LIVE sets.
Famous for award-winning albums such as Aaja (come on: 1989), the band had over fifteen successful years as a collective before parting ways in 2003. This was a great era for the Sahotas and the UK Bhangra scene as a whole.
Similar to other bands, in those days Sahotas were preparing, rehearsing and producing music in a recording studio as opposed to sitting in front of a computer.
Speaking about his fondest memories of the band, Mukhtar recalls:
"There was a structure in place. It was just a whole different vibe. When you look back at it and you think, we did so much. We toured the world. All the albums that we released.
"I feel that's missing in today's music."
Mukhtar continues to share one humorous moment from those days, as he laughs:
"Well, funny moment was when we did the Bradford Mela once where the riot police had to be called in because the crowd had gone absolutely mad.
"I always remember that show, because there were so many bottles flying on stage and we could not understand what the hell was going.
"The whole crowd had to be moved out. And when you think there's about six-seven thousand people at an event. And this is going on. You know, it was just crazy."
Besides being commended by Desi women, Mukhtar and the Sahotas had a huge following from the male fans.
Music and Creativity vs Technology
Many fans of Mukthar Sahota may link his music with the family band. But over the years post the Sahotas period, the music of Mukhtar has gone through an evolving process with him experimenting more.
Defining his music, Mukhtar says:
"I mean, a lot of people associate me along with the Sahotas and what I've done in the past. That kind of defines, the kind of music producer that I am.
"But I think the majority of my music is kind of experimental, really.
"I like to kind of fuse music together, different genres and stuff. That's what…gets me excited to work on different projects.
When it comes to fusing music, Mukhtar has no barriers. It can include various genres from reggae, rock and Indian classical music.
Reflecting on his own music, Mukhtar is not against the aid of technology. But he feels that some people are taking the easy option and just thinking about fame:
Mukhtar critically speaks about the music scene and the economics of it:
"Anybody can get on a computer and produce music and it's so fast-moving. You know, there's so much music coming out.
"I think… a lot of people ain't paying that much attention to the actual creative part to the music.
"It's all seems to be about let's get it out there. Let's make it, get famous."
But for Mukhtar it is not all doom and gloom. He believes there are genuine artists who spend a lot of time as is evident in their music.
Mukhtar feels it is very important for fresh talent to learn their instruments and the art of producing music. This can otherwise hinder the progress of a musician.
Mukhtar does not have one particular favourite Raag, He prefers to merge raags, something he learnt when working with music maestro AR Rahman.
Producing Music for Films
Ever since beginning his solo career in 2001, Mukhtar Sahota has done the music for five Punjabi and Hindi films each. This includes working closely with AR Rahman with the background score for the films Blue (2009) and Raavan (2010).
According to Mukhtar making music for films is different in comparison to pop or Bhangra. Talking about this Mukhar outlines some key points:
"When I'm doing film music, you have to think about the scene. You have to think about the storyline.
"There's a storyboard and the director explains the kind of vibe he wants, the kind of feeling he wants from the music."
After being given the lyrics, which are prepared beforehand, it is down to Mukhtar to create the music.
He normally factors in the vision of the director. During the process, occasionally Mukhtar has to go back and forth, so that he can meet the director from his point of view.
Having said that where Mukhtar feels the need, he does voice his opinion, especially if things are not working.
At that point, for Mukhtar it is about taking a different approach, still closely working with the director. Sharing ideas at this critical juncture is vital.
Alternatively, when creating music for pop, rock and bhangra, Mukhtar takes "full control." Despite listening to the opinion of an artist, he takes the lead and is given an open hand.
Bhangra Music Scene
Mukhtar Sahota acknowledges that Bhangra music had lost its edge when the whole live circuit scene diminished. During that period DJ's were also producing music, which went well for a brief while.
But Mukhtar is optimistic, stating that every music has a cycle:
"I think it's a cycle thing. The way I look at music, it's a cycle really. It may have died now, but I think that there's no telling that it's gonna pick back up again.
"And because music seems to go around in cycles, you see trends and you see fashions and stuff.
"I think that kind of pretty much happened to Bhangra music as well. It was going full force for such a long time.
"Everything, eventually is going to come to an end."
"Unfortunately, it kind of went downhill for the Bhangra music in the UK."
Mukhtar also mentioned that while Bhangra saw a UK decline, it found a new home in India. Despite India picking up Bhangra, Mukhtar is certain that it will see a return in the UK some-day.
Mukhtar is self-critical often playing back his music or song, contemplating how he could have tweaked it.
Despite being in the industry for a long time, he is still learning and mastering the art of music.
He also leaves it to his wife Saj Sahota for feedback. Mukhtar who began seeing Saj, a PR/Marketing and Events Manager during the nineties, got married in 2003.
Outside of music, Mukhtar is into anything, which has a physical element. As for hobbies, he enjoys painting, renovating and working on cars.
Watch our exclusive interview with Mukhtar Sahota here: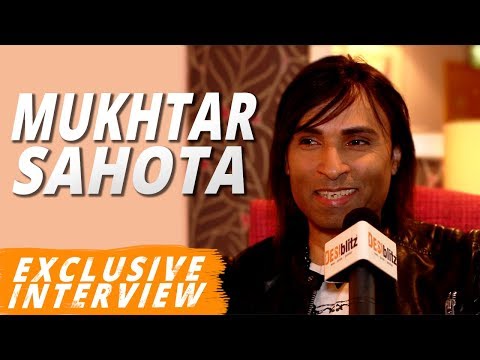 From a desi perspective, he likes to do traditional style dance moves when letting his hair down with the family. That is a contrast to the Mukhtar that we get to see in videos, where he is more serious and seen playing the guitar.
To tickle those taste buds, Mukhtar likes to indulge in a Lamb Karahi, along with Saag, a go-to dish cooked by his mother.
Reverting back to music, the ambitious Mukhtar Sahota wants to organise a concert, bringing a diverse range of musicians together. The idea of Mukhtar is to take audiences on an instrumental journey.
Meanwhile, Mukhtar will continue to do film music and tracks. DESIblitz wishes Mukhtar Sahota the very best for his future endeavours.