"congratulations meri jaan my baby bro yuggi buggi"
Actor and singer Yuvraj Hans and TV star Mansi Sharma entered into wedlock in the presence of their close families.
The Punjabi wedding which took place in Jalandhar on Thursday, February 21, 2019, did eventually turn out to be a grand affair.
Yuvraj, son of Punjabi singer Hans Raj Hans got engaged to Sharma two years ago. The pair did share their engagement news in February 2017.
Yuvraj, brother to singer Navraj Hans of 'Chote Chhote Peg' fame did act in the successful Punjabi film, Yaar Anmulle (2011)
Mansi is a television actress, famously known for her recurring role in Pavitra Rishta (Zee TV, 2009-2014).
As the wedding was a private affair, there was not much attendance from the music and film fraternity. However, they did make an appearance at the wedding reception.
The bride and groom did wear some lavishing clothes during both functions
Yuvraj wore a golden sherwani, along with a sky blue velvet shawl type scarf around it. A sky blue turban complemented his royalesque look.
Colour matching the groom, Mansi was dressed in a lehenga choli with weighty ruby jewellery. Her bridal makeup gave her a stunning blue beauty look.
Yuvraj and family members did share joyous images and videos from the wedding on social media. Yuvraj went on Instagram and put up a picture of the special day, captioning it: "Iam yours"
The traditional Punjabi ceremony took place at a placed organised by the groom.
In a video posted by Gossip Giri on Instagram, it is quite evident that Yuvraj and Mansi did want some privacy for their wedding.
Check the video here:
Elder brother Navraj who considers Yuvraj as a very good friend sent his congratulations on Instagram, sharing an image and writing:
"Aaj mere yaar ki shaadi hai ?"
"congratulations meri jaan my baby bro yuggi buggi aka @yuvrajhansofficial and welcome to the family my sistaa @mansi_sharma6god bless you both"
Jessica Mehndi, daughter-in-law of famous singer Daler Mehndi shared a group picture after the wedding and wrote:
"Mr & Mrs Yuvraj Hans !!!"
Following the traditional element of the wedding, the couple had a wedding reception.
Despite wearing similar attire to the ceremony earlier, the newly wedded couple did change their theme to a more pinkish tone with gold.
Unlike the earlier ceremony, many celebrity guests did attend the wedding reception, including Punjabi actor Binnu Dhillon and singer Master Saleem.
Yuvraj and Mansi took pictures with the many guests in attendance at the reception.
A video out on Instagram shows the couple with Hans Rans on stage, showcasing their wedding mala's (floral garlands).
Check the video here:
In another video on Instagram, Yuvraj is visibly assisting Mansi onto the stage with some gentle music in the background.
Check the video here:
Earlier Yuvraj and others did share photographs of the pre-wedding festivities.
Ahead of the wedding, Navraj posted a video on Instagram showing family members putting Mayun on the face and body of Yuvraj.
Check the Mayun video here:
Yuvraj also shared two pictures, including one of him possibly dancing with family members and the other with his father and brother.
He wrote "#DDLJ" and "strength" alongside the two posts respectively.
Going by all the pictures it seems that the Yuvraj household and Mansi Sharma had fun times during the wedding celebrations.
Yuvraj Hans and Mansi Sharma had been dating each other for quite a while. It is during the Box Cricket League that they met each other first. They had an engagement on February 5, 2019.
Watch some highlights from their wedding here: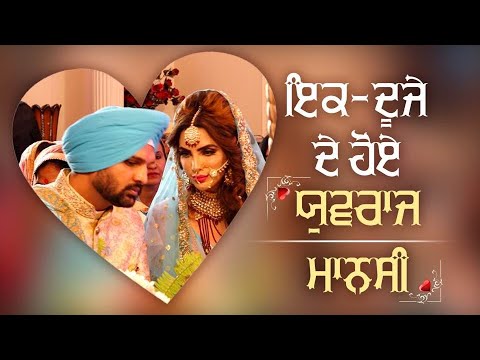 To concentrate on their careers, they took things slowly.
They have been open about their relationship from the very outset. They have frequently shared affectionate pictures on social media.
Having been open, it is great to see them married finally. DESIblitz congratulates Yuvraj Hans and Mansi Sharma on their wedding.