"No digital instrument has been used in this song:"
Blessed with a soothing voice, Pakistani singer Ali Sethi releases his soft track 'Chandni Raat' (moonlit) which communicates to audiences on a different level.
Filmmakers Sarmad Khoosat and Awais Gohar are the directors of this song, which already is making waves on social media.
Grammy-winning musician Noah Georgeson has produced the track.
Sethi told Images that the track composition utilises "only three instruments: the violin, horn and a 130- year-old."
Sachal Studios Orchestra conductor Nijat Ali plays the violin, Tyler is on the piano, with Jordan Ketz playing the trumpet and flugelhorn.
Highlighting the creativity of the music, Sethi adds:
"No digital instrument has been used in this song, everything is hand played. That's the story of the music."
The video to the track is just over five minutes in duration and you can switch on the subtitles for it.  After making its way on YouTube, the track has had a favourable response.
Praising the video a user from India comments:
"This is one of the most beautiful thing I've seen in such a long time.
"Thank you so much for this. And whoever thought of the cinematography for this song, you have done a brilliant job. So subtle yet so noticeable. Lots and lots of love from India."
Since February 23, 2019, the visually appetising track has accumulated over two hundred thousand views and counting.
At the start of the video, the makers define ghazal through text.
The video shows displaced individuals from all walks of life sharing the same space. After showing a hand with the lyrics written on them, the vocals begin.
Reflecting on the old and new, the video is somewhat ambiguous and open to meaning.
Within the shared space, there is a place which belongs to each individual.
But in the end, all the people in the video unite together as one. The video highlights that there is 'light at the end of the tunnel.'
In the video, viewers can see everyone comforting and supporting each other with kindness. The video certainly promotes peace and harmony.
Hashim Ali gives a pretty attractive feel to the art direction of the video.
Training under Ustad Naseeruddin Saami from the Delhi Gharana, Ali comes from a classical music background.
According to Sethi, 'Gaud Sarang' is one of his favourite raags.
The track takes inspiration from the Urdu ghazal 'Chandni Raat' written by poet Saifuddin Saif. The first couplet kept going through Ali's mind when he initially read it:
"Chandni Raat badi der ke baad aayi hai, lab pe ik baat bari der ke baad aayi hai." (The moonlit light has been a long time coming. I've found the words that have been a long time coming)
Shedding light on Saif's work, Sethi says:
"It's a very sweet, melancholic, very playful melody. And then those two lines jumped out at me."
"I think the song represents all of us and can be interpreted in many creative ways."
After deciding to compose a track around it, Ali began playing with the raag.
Subsequently, he got together with Lahore based lyricist Shakeel Sohail and worked on two more rhyming couplets with this line.
Sethi says there is more than one concept to this song, as he mentions:
"There wasn't just one concept behind the song; it speaks of separation and union, the society, an individual, about the nation, about loneliness, about community and about love — and that's the beauty of ghazals, that they speak to all of us."
Having previously collaborated together, director Sarmad Khoosat spoke to Images of yet another wonderful journey with Ali:
"From Manto days and the ghazal he sang for me; I know how his mind works, I was thrilled [to be working on this project] also because ghazal is a genre close to my heart."
Khoosat admits that the two did creatively differ. But in the end, everything came to a positive note.
However, they had a general consensus from the very beginning as Sarmad expresses:
"We were clear on one thing, that it had to be an abstraction and not like storytelling. We needed an interesting ensemble of people and an abstraction."
The director adds:
"We didn't want to make huge, bold iconic statements in the music video. For me it's people coming together, being unified without making it melodramatic.
"The video gives an odd dystopia [feel], It can be read whichever way the viewer wishes to read it."
"We took 21 people, because I just wanted that number; some people [featured in the video] are friends, some actors, my brother is in it as well."
Watch the song 'Chandni Raat' here: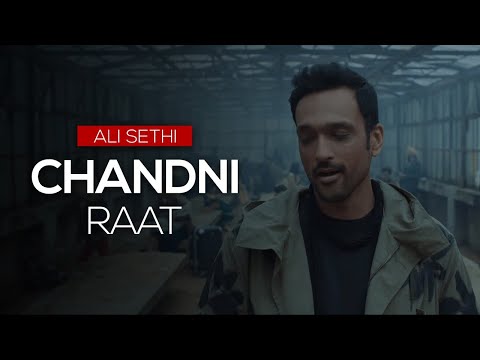 Khoosat acknowledges co-director Awais for selecting the location:
"I need to give him credit for that. We worked very hard on getting that location."
"Chandni Raat is more about the emotions involved — that's what music invokes. There wasn't a list of ideas to include, it's about whatever it means to people."
Overall the track has powerful vocals and meaningful lyrics, which will mesmerise fans of music and literature.
'Chandni Raat' will take ghazal fans a step into a different world. Hopefully, this track will unite everyone and that too under the shining moon.