"you know side parting is a universal haircut"
Side Partition is a Live Asian Band Act from the UK who plan to deliver fun and entertaining new singles and live shows.
The multi-talented band released their first single 'Teri Hi Barqat' early in 2019. The track takes inspiration from the Sufi qawwali genre.
The video to the track, which is available on YouTube has had positive reviews, with fans falling in love with it.
All the energetic band members are united and have very interesting personalities.
Working musically on a part-time basis for the last seven years, this coming of age band has had an exciting musical voyage.
Let's take a closer a look at the band, their first single and journey to date:
Band
Side Partition is an electrifying desi band, which drives motivation from music and creativity.
The band comprises of 7 adaptable British musicians of India and Pakistan descent. They include Priyesh Shah (lead vocalist), Shouvik Ghoshal (lead singer), Agrim Ganti (drums/music production), Ranit Shail (keyboardist), Rajit Shail (bass guitarist), Vidushi Pradhan (lead female vocalist/pianist) and Zohair Abbasi (electric guitarist).
The band work on a part-time basis, with all having day jobs. The band members work in the banking, business and medical sectors.
From east to west, all the band members bring their own individual experiences, inspirations and background to the table, providing stimulating and a distinctive form of fusion music.
In reply to the question about how Side Partition came about, Rajit told DESIblitz:
"So Side Partition has been together for about six-seven years.
"Initially, it started off with me Rajit Shail and Ranit my brother. So we started… doing music as we were growing up and then we met Shouvik at school.
"And then he sort of got involved because he was into music.
"And then at University and through friends circles, we met the other band members. So it's a total…of seven members in the band."
Coming together as one, Rajit adds:
"But the thing that united us was music… We had like a similar taste in music. We had so much fun doing the same kind of music as well."
Aiming to produce original work, Side Partition provides a fresh take to music from the subcontinent using a range of styles including pop, rock, funk and jazz.
Multiple singers with their unique voices are the USP of the band.
The band name is quite cool, fun and quirky. But it also depicts peace and harmony between two nations that became independent states following partition.
Guitarist Zohair sheds some light on the name of the band mentioning:
"We had a whole bunch of suggestions for the names and one of the suggestions was Side Partition. And you know, it was initially… suggested as a joke.
"We were like you know, that's such a quirky name – that's amazing. And we are a very quirky bunch of people.
"And then, you know, we talked about it a bit more and like, you know, it has a good meaning. As as you know side parting is a universal haircut as universal as the appeal of our music, right and we.
Linking it to the subcontinent, Zohair continues:
"And we have origins in Pakistan and India and thought that… has a reference to the history of the subcontinent as well. So that's going to be a great name. So, hence, we all decided to settle on that name.
The different band members draw inspiration from classical, qawwali, Bollywood, pop and western rock. They all contribute to the lyrics and composition of their tracks.
'Tere Hi Barqat'
'Tere Hi Barqat,' the first single of Side Partition is an effort to revitalise the lost genre of Qawwali, especially targeting the younger generation.
The song is an original Sufi qawwali, which seamlessly blends the perfect mix with eastern and western instruments.
Highlighting the Sufi and catchy element of the song, Priyesh tells DESIblitz:
"It's a Sufi qawwali, which is a very traditional form of Asian music. I think it's the music that'll catch hold of you and you will really enjoy it.
"I think people these days want something new, they enjoy fusion. They enjoy contemporary mixing with traditional."
The band bring a fresh Side Partition flavour to it.
Besides the youth, the track will attract the elder generation too. Speaking on this Priyesh says:
"The older audiences love the Sufi qawwali and younger audiences love the Western instrumentation."
"And in fact, one of the key agenda behind releasing a Sufi qawwali was that in recent years Sufi qawwalis….have died down.
"Younger generations don't necessarily know what qawwalis are and we aim to sort of bring that back to life with this song."
The video to the song had a LIVE premiere on YouTube on January 26, 2019.
After watching the video, which is just over five minutes long, viewers will appreciate the diversity of India and the beauty of qawwali.
Most of the band members do feature in the video. The opening with Priyesh on the harmonium is catchy along with the other members playing the guitar and drum.
Priyesh has written the lyrics of the track, which was recorded at the Crown Lane Studio in Morden, London.
Journey
Side Partition began their musical journey with the reality TV show, UK's Best Part-Time Band broadcast on BBC 4.
Since then they have gone on to do many LIVE shows around the UK. Some of the events where they have been the headline acts include the 2018 Battle of Bollywood at Sadler's Wells, Newham and Luton Melas.
Commenting on how different they are to other LIVE acts, lead singer Shouvik said:
"We probably one of the only live band acts. I mean there have been live performances by one or two singers.
"But we have been a full-on seven-piece band, which brings a lot of energy to the stage and for the audience."
Watch our fun Gupshup with Side Partition here: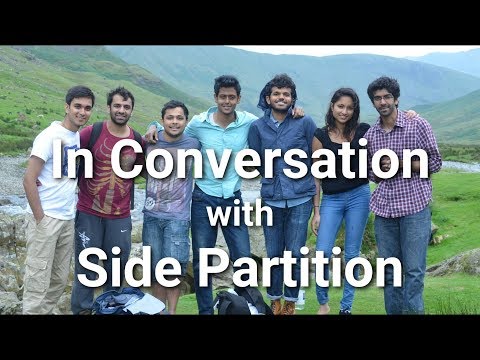 Moving forward the band will do move live shows. Pinpointing the Desi element and the future, Rajit elaborates:
"When we think of a LIVE Desi band not many come to mind.
"And we're hoping that Side Partition will be the name on you know, people's tongues…"
"That's our aim, try doing as many LIVE shows as possible all over the UK and perform our music."
The band already have fifteen songs completed, which audiences can look forward to.
More importantly, Side Partition will be releasing their first album, aiming to increase their global fan following with their fresh sounds and creative vision.
'Tere Hi Barqat' is available on all major platforms including YouTube, Spotify, iTunes and Saavn.