"This song is very close to my heart."
Actress Kareena Kapoor who made her Bollywood debut in 2000 has enthralled fans with her popular Bollywood dances.
Some of us don't need a specific occasion to put on our dancing shoes and rock to the beats of Kapoor's timeless songs.
Kareena has performed countless numbers in the Indian film industry, charming everyone with her dance moves.
As an undisputed glamourous beauty, these super hit tracks have become her anthems.
Dance songs featuring Kapoor are extremely dazzling. From a romantic song like 'Zoobi Doobi' to her sizzling moves in tracks like 'Bebo Mai Bebo' and 'Fevicol Se', Kareena has won the hearts of many.
Many of the songs featured in films have won Filmfare Awards including blockbusters movies such as Kabhi Khushi Kabhi Gham (2001) and 3 Idiots (2009).
DESIblitz brings to you Kareena Kapoor's 10 best Bollywood dances:
'You Are My Soniya' – Kabhi Khushi Kabhie Gham… (2001)
No one else could have pulled off such a hot red outfit as Kareena Kapoor did in 'You Are My Soniya'.
It was Bebo who came up with the sultry concept of bralet and how to rock it.
From her hair and makeup to mind-blowing expressions, Kapoor definitely set the screen on fire.
The song still tops the charts and is always a favourite party number. The chemistry of Kareena and Hrithik Roshan in the song is quite unmatchable.
Despite the song and film Kabhi Khushi Kabhie Gham (2001) releasing over 18 years ago, people do still hum and dance to it.
Fans of Kareena listen to the song on loop and certainly do not get bored of it.
Watch 'You Are My Soniya' here: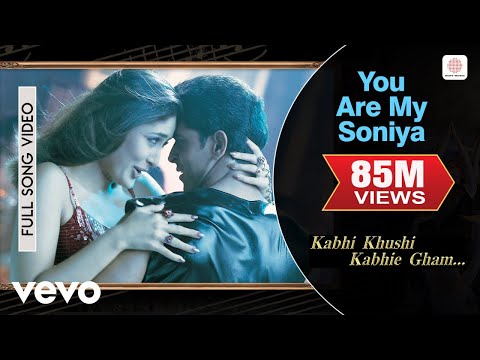 'Yeh Ishq Hai' – Jab We Met (2007)
The 'Mai Apni Favorite Hoon' dialogue of Kareena Kapoor and this song is popular from the super hit film Jab We Met (2007).
Shot in the picturesque location of Manali, India, this track enlightens our mood every time.
Kapoor looks cute in the song and pulled off all the traditional clothes very beautifully. The track composed by Pritam Chakraborty broke many records.
'Yeh Ishq Hai' is choreographed by the renowned Saroj Khan. In an interview with Times of India, Kareena said:
"This song is very close to my heart. Both because of the location and the simplicity it has."
Other songs from the film such as 'Mauja hi Mauja' and 'Nagada Nagada' have also topped the party charts.
Watch 'Yeh Ishq Hai' here: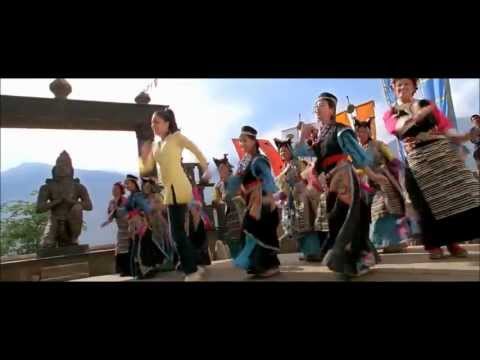 'Bebo Main Bebo' – Kambakkht Ishq (2009)
This song is quite unique as it features Kareena Kapoor's nickname Bebo in the lyrics.
Apparently, it was daddy Randhir Kapoor who came up with this unconventional name, as he likes to call her daughter – 'Bebo, the tigress.'
Kapoor shines in a pink and then black coloured dress while luring actor Akshay Kumar on the screen.
Kareena seduces Akshay with her scintillating moves in the song as she takes sensuality to a next level. The lyrics reflect the element of sexiness:
"Bebo Main Bebo, Dil Mera Le Lo, Dil Dene Aayi, Le Lo Ji Le Lo."
This is exactly the effect that this song had on the audience.
Watch 'Bebo Main Bebo' here: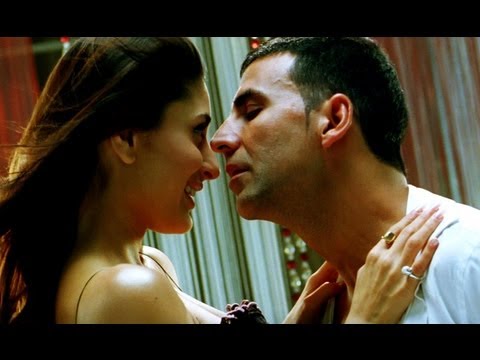 'Zoobi Doobi' – 3 Idiots (2009)
Who said rainy days are bad.  Kareena Kapoor makes us fall in love under the rain once again.
'Zoobi Doobi' from 3 Idiots (2009) is a gift from Kapoor and our ticket to time travel in the past.
Kareena looks beautiful in a purple lehenga, a white dress and a sexy orange saree.
Kapoor proves that she can be both glamorous and innocent at the same time. The dance moves were simple as Kareena was at her best with actor Aamir Khan.
3 Idiots won six Filmfare Awards including 'Best Film' and three National Film Awards including 'Best Popular Film.'
Watch 'Zoobi Doobi' here:
Chammak Challo' – Ra.One (2011)
Sung by Akon and Hamsika Iyer, 'Chammak Challo' is one of the best-choreographed songs in Bollywood.
Kareena Kapoor stars as a Marathi mulgi and looks absolutely ravishing in the red outfit, with a traditional nose ring.
The on-screen chemistry of Shah Rukh Khan and Kapoor was unbeatable in the song.
There is no doubt that the dance moves of Kareena made the song number one.
A microblogging site conducted a poll across 176 nations, with the choreography of 'Chammak Challo' by Ganesh Hedge being voted number one.
Watch 'Chammak Challo' here:
'Dil Mera Muft Ka'- Agent Vinod (2012)
Performing the classic mujra, Kareena Kapoor demonstrates that she is a sweetheart in Agent Vinod (2012).
The song 'Dil Mera Muft Ka is a sure-shot treat for fans of Bebo.
Kapoor's charisma and beauty have always been a commercial asset for any film. Agent Vinod was no exception. The song has been excellently choreographed by Saroj Khan.
One can always trust Kareena to be effortless while performing on songs like these.
Watch 'Dil Mera Muft Ka' here:
'Halkat Jawani' – Heroine (2012)
This risqué song 'Halkat 'Jawani' from Madhur Bhandarkar's Heroine features Kareena Kapoor in a seductive black avatar. Her styling and attitude were just perfect.
This solo track was as good as an item number in a film where Kapoor was the lead. The song is a mix of Bollywood tadka and scintillating dance moves of Kareena.
The song has been sung by Sunidhi Chauhan and composed by brothers Salim-Sulaiman.
From Ganesh Acharya's choreography to Kareena's svelte looks, viewers have praised the song for all its aspects.
Watch 'Halkat Jawani' here:
Fevicol Se' – Dabangg 2 (2012)
Was it Salman Khan that grabbed our attention or Kareena Kapoor, who broke several records with 'Fevicol Se' in Dabangg 2?
The video, which now has over 127 million views, outshined the song 'Munni Badnaam' from Dabangg (2010), featuring Malaika Arora.
Kapoor looks delightful in a low waist dhoti paired with a choli in the song. Starring as a sex worker, she had gajras as part of her accessories.
The thumkas (dance jerks) of Kareena leave us spellbound. The 'Fevicol' step is something that her fans are very familiar with.
The song was sung by Mamta Sharma, Wajid and Keerthi Sagathia.
A glimpse of director Arbaaz Khan was also seen in the song. The chemistry between Salman Khan and Kareena Kapoor is quite evident in the track.
Watch 'Fevicol Se' here: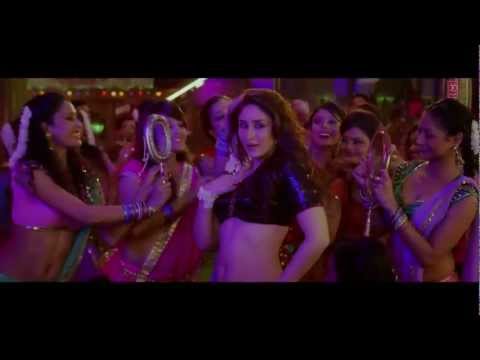 'Mera Naam Mary' – Brothers (2015)
Kareena Kapoor in 'Mera Naam Mary' can make a crowd cheer and hoot for her.
Nothing stops Kapoor from being her usual fabulous self. The heroine holds the stage, sizzling and shimmering in silver and gold.
She has taken her oomph factor a notch higher. Kareena is spectacular with her dance moves and is at her sultry best with her expressions.
In an interview with Hindustan Times, Kareena Kapoor said:
"I enjoy doing item songs. I think they are about looking and feeling great, being in great shape."
Watch 'Mera Naam Mary' here: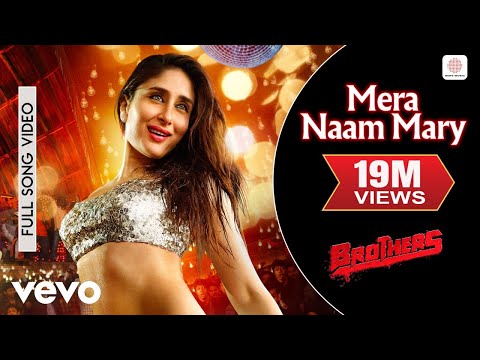 'High Heels' – Ki & Ka (2016)
The reprised version of the super hit number featuring Yo Yo Honey Singh is fun to watch.
Kareena Kapoor amazingly steps into the shoes for R Balki's Ki & Ka. Actor Arjun Kapoor also catches the attention of his fans in this wonderful dance song.
Interestingly, Kareena personally loves to wear high heels and has a great fashion shoe sense. No wonder, she pulled off 'High Heels' so well.
Meet Bros, Jaz Dhami and Aditi Singh Sharma sing the peppy party song.
Watch 'High Heels' here: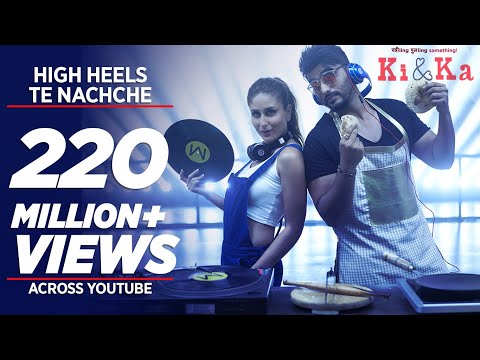 Overall, these are just 10 Bollywood dances which feature Kareena Kapoor.
Other sensational dance tracks of Kareena include 'Yeh Mera Dil' (Don, 2006) and 'Marjaani' (Billu, 2009).
With her evergreen dance songs, Kareena Kapoor has proven that she is the dancing diva of Bollywood.
She has been entertaining her fans for over 15 years and will continue to do so in the future.
Kareena Kapoor has worked across different genres and performed in the most popular dazzling dance numbers, owning every song like a boss.
So get your party shoes on and groove to the beats of her songs.