"World Bhangra Day will see dancers across the globe performing Bhangra at the same time"
Friday 13th April 2018 marks World Bhangra Day, a global celebration of the music and dance of Punjab.
Organised by the World Bhangra Council, the annual event will unite bhangra lovers around the world to show off some of their best dance moves.
Coinciding with Vaisakhi, or the harvest festival, dancers from the USA, Canada, Mexico, Spain, Dubai, India, Japan, Australia and the UK, will take part in a live-stream Bhangra performance.
Needless to say, the popularity of Bhangra has soared over the last few decades. What once began as a folk dance that incorporated traditional forms such as gidda, jhoomar, sammi, dhamaal, kikli, gatka and jugni, has transformed into an East meets West phenomenon.
Reaching every corner of the world with its foot-tapping beats and iconic dance moves, even non-Punjabis have adopted the popular art form with ever-increasing exuberance.
Today, traditional Bhangra has given rise to various new styles, making itself even more accessible for the modern age. In the UK, bhangra has acquired an urban edge, aided no doubt by chart-topping tracks such as Panjabi MC's 'Mundian To Bach Ke' and others.
Its popularity in the west has coincided with its love back in India, one that even stretches to Pakistan and other parts of South Asia. Artists such as Jazzy B, Diljit Dosanjh, Guru Randhawa and Jasmine Sandlas and more have ensured that the legacy of Bhangra music and dance continues.
Bollywood influences have led to a new type of Punjabi style of music that mixes dance and electronic beats, while Bhangra Funk adds energised movements to create an uplifting style.
Founder of the World Bhangra Council and spearheading World Bhangra Day is Hardeep Sahota.
A Bhangra expert who hails from Huddersfield, Sahota published the informative book, Bhangra: Mystics, Music and Migration in 2014, which follows the heritage of Bhangra from its origins to its cultural influence today:
"There are two main aspects to what I do. To research the heritage and authenticity of Bhangra before it gets lost over time, but also to find new ways of expressing it and disseminating it to other cultures that may not have experienced it before," Sahota says.
This is perhaps why the celebration of World Bhangra Day is so universally important, to mark its evolution and significance around the world.
Hardeep adds:
"I'm especially excited to be coordinating 'World Bhangra Day', which will see dancers across the globe performing Bhangra at the same time in unison at exactly 2 pm on the 13th April, this date also coincides with the Indian harvest festival of Vaisakhi."
Sahota is a key part of the rising movement of Bhangra dance workshops that take place around the UK and beyond.
Reclaimed by younger generations of Punjabis and South Asians living overseas, many of these Bhangra dancers and groups have created an online impact, using their social media channels to shout loud and proud about their love of Bhangra.
Even universities have enjoyed a dance renaissance, with specialised student societies competing in a variety of annual inter-university Bhangra competitions.
Now professional dancers, enthusiasts and even novices can join in with the World Bhangra Day celebrations themselves.
At exactly 2 pm (GMT) on the 13th April 2018, Bhangra teams around the world will use 'ZOOM' (video conferencing platform) to perform in unison a spectacular dance routine choreographed by internationally acclaimed artist Pammi Bai. Will you be joining them?
Watch 'Jigri Yaar Bhangra' from Singapore perform the choreography here: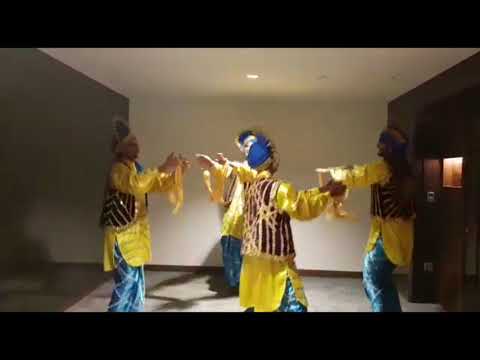 Bhangra is officially leaving a global imprint. You can learn the full dance choreography on the World Bhangra Day Facebook page here.
DESIblitz wishes all its readers a very happy World Bhangra Day!