"Before that performance, UK bhangra was somewhat freestyle – it was not traditional and there were no folk elements to it."
Competitive UK Bhangra has seen a revival in the last decade, namely since 2007.
The traditional Punjabi folk dance, which has an undeniable popularity worldwide, is somewhat of a staple of the British Asian experience.
But its origins at university level can be found much earlier. Back in the 1980s, the influx of first and second generation Indian students attending university gave birth to competitive UK Bhangra.
Asian and Indian societies from universities, polytechnics and colleges would enter teams and regularly travel across the UK to take part in Bhangra competitions. Competing teams would be rewarded for their creativity, technique and charisma, along with their homage to the traditions of Bhangra and Giddha dancing originating from the Punjab.
But while this sadly tailed off, we saw a resurgence of the dance form from newer generations of British Asian students in 2007. The number of national competitions grew, as did the number of universities competing in them.
In these last 10 years, Bhangra teams in the UK have enjoyed an incredible, whirlwind journey.
DESIblitz explores the history of competitive UK Bhangra and its key turning points. This is part one of three, spanning from 2007-2012.
2007 ~ The Return of University Bhangra
The history of UK Bhangra spans back as far as 25 years with a number of teams across the UK. Mostly South Asian hubs such as Birmingham and Southall would run community classes and perform at events such as weddings, melas and concerts.
Some national inter-university competitions did also take place over the years, however, it was only until 2007 when a university-based Bhangra competition was formally established. And this was The Bhangra Showdown.
The Bhangra Showdown, organised by Imperial College Punjabi society, marked the first official UK Bhangra competition. It had a number of universities around the UK participating.
Hardeep Dhanjal, the founder of The Bhangra Showdown, called it "an unexpected success story!"
"It started as an idea between good friends with a view to replicate the successes of well-known shows in the US and Canada which were gaining traction on YouTube at the time.
"We were fortunate that the Millennium Dome had just been purchased by O2 and so an amazing venue was available for a relatively good price and we managed to convince the student union that Bhangra would be the next best thing after Britain's Got Talent!"
"Unfortunately, up until the night before the show, we had only confirmed 250 tickets, leaving most of us disappointed.
"However, we were then pleasantly surprised to hear that the phone hadn't stopped ringing all morning on the final day pushing our numbers on debut to 1000! This was the beginning of Bhangra in the modern era for the UK and the competition space has now expanded significantly beyond our wildest imagination."
The knowledge of Bhangra was limited at the time and was mostly influenced by the North American Bhangra scene, which had been established earlier on.
Davinder Sehra, who has judged numerous UK Bhangra Competitions, said: "Elite 8 (a North American Competition) gave the scene a massive drive to be creative and really push the boundaries when it comes to Bhangra routines. You can see the influences for around 3-4 years before the UK established its own stamp."
Simrath Mangat, who has danced for over eight years, says:
"Although people were looking across the pond and looking at admirable creativity, what wasn't happening was looking at the Punjab scene to understand Folk Bhangra from a grassroots level. What it means is that the understanding of a pure dance form diminishes if the core isn't understood."
2011 ~ Birmingham's Win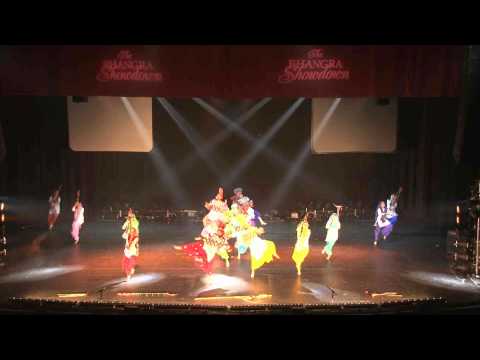 Four years since establishing comes UK Bhangra's first big turning point at The Bhangra Showdown 2011, which was held on a much bigger stage of the Hammersmith Apollo.
The University of Birmingham won this competition with a Bhangra set that was considered a "benchmark for UK Bhangra".
This was through the use of folk elements and set construction which were acquired through the captain's accruing knowledge about traditional folk Bhangra.
Asad Afzal Khan, co-founder of Nachda Sansaar Bhangra Club said: "Before that performance, UK Bhangra was somewhat freestyle – it was not traditional and there were no folk elements to it."
2012 ~ Birth of 3 new UK Bhangra competitions
Only until 2012 were three other UK Bhangra competitions formed, aside from The Bhangra Showdown, which had been going on for several years. These were Capital Bhangra, Bhangra Wars and Folk Stars.
Capital Bhangra gave a chance for more universities to compete where previously, "only 8-10 University teams had a platform on which to compete year after year", said Harwinder Mander, the founder of Capital Bhangra.
"Through sponsoring The Bhangra Showdown in 2011, and financially supporting a number of university teams during that period, I realised that there were so many other students at universities up and down the country who wanted to enter the Bhangra scene competitively.
"We met significant resistance in providing them with that platform, but we believed fervently that the scene as a whole needed more."
Whilst university Bhangra had been established for a few years now, it was time for independent bhangra competitions which were open to non-university, professional teams. This allowed those who did not go to the participated universities or had graduated to still have a competitive platform.
Isha Dhillon Berik, co-founder of competitions like Folk-stars said the reason for setting up UK's first live competition was due to the lack of competitions that "catered for or even promoted traditional Bhangra".
"It took a long time to push this idea to teams and learn about how to organise a bhangra competition. We also had many teams drop out due to lack of dancers or just the fear of not executing live bhangra well on stage."
Traditional teams such as Vasda Punjab and Nachda Sansaar had been established for many years before 2012 but this was the first time they were getting an opportunity to compete.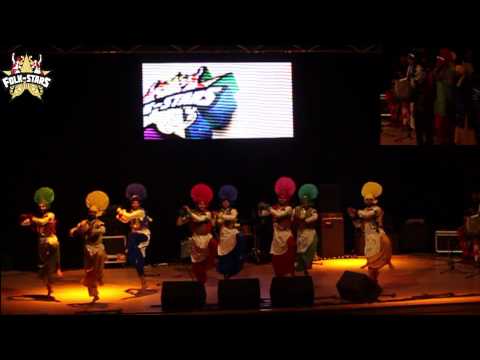 Asad Afzal Khan said: "Initially there was 4 of us who were a part of Nachda Sansaar senior team at the time that wanted to compete but did not have the resources to and there was quite a big age gap between us and the older team.
"We did our first competitive performance in collaboration with Ankhile for Folkstars 2012. Then after this, established Nachda Sansaar Bhangra Club in 2012 as the competitive branch of NS, bringing in dancers from university teams.
"Folkstars probably did not have even 100 people turn up but they had put it on to show Bhangra in its truest form, building a platform for proper folk Bhangra in the UK."
Jaggi Singh, a dancer for Vasda Punjab, who won the first Folk Stars 2012, says: "1998 is when Vasda started but it was only 2 or 3 people. We saw for several years that people were doing Bhangra to music, like the North American teams, but due to a lack of resources, they did not do live.
"Our main target was to get people to know about folk and do a live set. Having dancers and musicians from India really helped us with doing so."
Other external teams such as Ankhi Jawan and Gabru Chel Chabileh, started off as a group of friends who had their first experience of Bhangra at university and then wanted to enhance this further post graduation.
Sahib, the founder of Gabru Chel Chabileh, formed the team alongside two other individuals whilst dancing at the University of Leicester:
"We were really inspired by India and Canadian teams at the time and since we did not have anyone doing a Folk creative style of Bhangra that we wanted to bring, we wanted to push and be pioneers of almost bringing that style to the UK."
Read Part 2 of the 'History of Competitive UK Bhangra', where DESIblitz explores how the UK bhangra scene changed to go international and to have a greater domination of female dancers.