"It's always good to be in Birmingham and to perform for my own crowd"
Arena Birmingham played host to the third ever BBC Asian Network Live 2018 on Saturday 10th March. Welcoming local and international music artists to the second city for the first time, this year Asian Network Live was all about '0121′, or the Birmingham area.
The sold-out show proved to be a feast of urban and Bhangra music, capturing all the energy of energy of 2016 and the diversity of 2017.
New stars and old graced the stage with some of their biggest hits. 2016 favourite, Imran Khan returned to entertain fans with his Desi urban tunes. While the likes of Jasmine Sandlas brought the colours of Punjab with her for a high-energy Bhangra performance.
Other popular acts included the likes of Canadian rapper Nav, Lotto Boyzz, Adam Saleh, Bollywood rising star Guru Randhawa and the impeccable Jay Sean.
Recognising the new generation of British Asians and their love of East meets West, UK British Asian urban music mixed with classical Bhangra and Bollywood.
Showing us the moves behind the voice of BBC Asian Network's Weekday Breakfast show, Harpz Kaur, kicked off the evening with a spectacular dance medley to rival even Bollywood.
Joined by backing dancers, she grooved to hits like Bruno Mars' 'Finesse' and Mista Baaz's '3 Peg', before mixing in 'Swag Se Swagat' with 'Bad' by Steel Banglez. 
This energetic opener gave the crowd a fantastic taster of the upcoming variety of performances.
The first music artist to grace the stage was 'Amplifier' singer Imran Khan. Broadcasting live on Radio 1, Radio 1Xtra and Asian Network, Khan energised spectators with 'President Roley' and Twin N Twice's 'Morocco'.
It's easy to see why Khan is still the leading artist of the Asian urban music scene even after a decade in the industry. His natural rapport and respect for his fans was great to see.
Speaking to DESIblitz backstage, he revealed that:
"It's always good to be in Birmingham and to perform for my own crowd, you know. I love them, and they love me."
Watch our full interview with Imran Khan backstage here: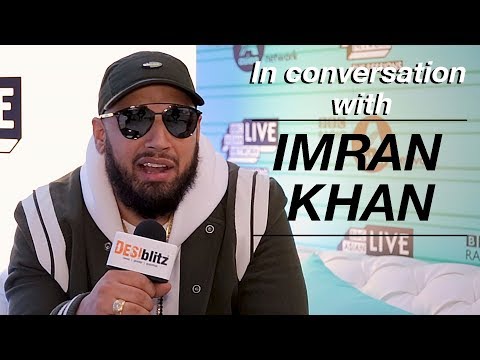 The King of Urban Desi set the stage for more contemporary fusion music with a surprise appearance from Arjun. Known for fusing R&B with a South Asian twist, his latest song, 'Vaadi' was an eclectic mix of Desi flutes with electronic beats.
Fans from his huge social media following were inevitably pleased by his soulful voice crooning over Tamil beats.
Even with the move to more western influences, Asian Network Live continues to appreciate the traditional. Bringing colours and joy to the stage, the stunning Jenny Johal enchanted listeners by singing her favourite tracks like 'Narma'.
With her on-trend black and gold outfit, she weaved around her dancers to transport Punjabi party moves to the Midlands. The bhangra vibe rippled through the audience and had most people on their feet.
Afterwards, she told the crowd:
"Wherever I go, everyone remembers me from the 'Narma' song, and it's a huge thanks to you all as you made 'Narma' a hit. I love you guys."
Following the Bhangra performance, Asian Network Live moved its lens to Sydney and New York. Faydee and YouTuber-turned-singer Adam Saleh pumped up the crowd thanks to their feel-good tune, 'On My Way'.
They followed this with their laid-back Arabic-inspired track 'Waynak'.
JK, in a shiny kurta, continued the party vibe with his latest offering in collaboration with Tru-Skool, 'Pomp Pomp Tha Music'.
One of Derby's biggest exports, his recent single blends East and West to create a summertime and very dancehall sound to accompany his fun and mischievous antics on stage.
But of course, how could an event showcasing '0121' pass up on the chance to include some of the best Birmingham talent?
Charlie Sloth, Mawaan Rizwan and Emily Lloyd-Saini of Asian Network's 'Mawaan and Emily' introduced R&B duo, Lotto Boyzz to the stage.
Here, Asian Network Live 2018 brought their fresh Afrobashment sound to international audiences as well as local and long-time supporters. Of course, the smash hit 'No Don' made an outing.
Similarly, their collaborator on the classic 'Birmingham', Jaykae, represented Small Heath on the big stage.
Following this vein of embracing artists from typically underrated locations, presenter Jasmine Takhar brought NAV to the stage. The Toronto rapper mellowed audiences with the regret-filled rap ballad 'Wanted You'.
This provided a moment to breathe before the high octane performances from Jasmine Sandlas and Guru Randhawa.
The former Punjabi artist returned to the Asian Network Live stage for the second time. She sang tunes like 'Bamb Jatt' and her latest Garry Sandhu collaboration, 'Illegal Weapon'.
One of the most anticipated stars, however, was undoubtedly Guru Randhawa. Making his exclusive UK stage debut, he expressed his gratitude for the warm reception before launching into his live performance. Emphasis on live.
Aptly for his slick suit-and-tie combo, his performance included 'High Rated Gabru' as well as his latest hit, 'Lahore'.
Arjun also joined the talented star on stage for a rendition of their smash hit, 'Suit'.
A hard act to follow, but then we guess it's a good thing Jay Sean was also on the billing. The smooth hip-hop singer-songwriter was the perfect grand finale to a fun-filled night.
'Ride It' and 'Eyes On You' offered great entertainment, but his 2003 debut 'Dance With You' emphasised the evolution of Brit-Asian music. Juggy D also made a special appearance on stage giving us flashbacks to the days of The Rishi Rich Project.
The landmark evening once again recognised how British Asian music has evolved over time. Taking on global influences and reaching out to a wider variety of fans.
Filling the Arena's 15,000+ capacity, those with sought-after tickets, therefore, enjoyed a night celebrating the best of Birmingham and beyond.
Music fans and stars from across the globe also tuned in to see their favourite stars perform, including the likes of Jassi Sidhu:
Watching @bbcasiannetwork #BBCAsianNetworkLive from my hotel in san fran…

My bro @jaysean TEARIN IT UP YO!

lil veer @GuruOfficial guna do the same!!!

— Jassi Sidhu (@Jassisidhu) March 10, 2018
Overall, Asian Network Live 2018 offered some fantastic performances from the biggest names in urban and Bhangra music. To watch the highlights of BBC Asian Network Live 2018, please visit BBC iPlayer here.
Check out more images from the show in our gallery below: