"We want to do something different with music in Suriname and step by step we are doing so."
Amrish Persaud, Viresh Oedietram, Neelam and Sathyam Matadin are the singers from Suriname who are taking South America by storm.
Together, the four singers from Suriname make up Freestyle. And despite Hindi not being their official first language, they are producing some seriously impressive music and Bollywood covers.
'Pyaar Huwa' was the most popular song on the radio in 2015, while 'Love Anthem' has nearly 500'000 YouTube views.
Freestyle are now fresh from filming three brand new music videos on the luxurious Dutch Caribbean island of Curaçao.
DESIblitz speaks to the four singers from Suriname and brings you everything you need to know about Freestyle.
Who and What are Freestyle?
Freestyle is a band containing four singers from Suriname and several musicians from the same country.
Avinash Harpal is the band manager, and he says: "We started with talented artists who were not in bands, and brought them all together."
Freestyle's four vocalists from Suriname all met at the Indian Cultural Centre in the country where they were taking music classes.
Avinash adds: "I was always helping to promote young talents music. In 2014 I did a show featuring all the promising artists who were producing their own work. After the successful show, I brought all these talents together into one band."
Every member of the Freestyle group is from Suriname, with all of them living in the main cities of Paramaribo and Saramacca.
Amrish, Viresh, Neelam, and Sathyam are the lead vocalists of the group. The musicians Sunny Rambali, Rowin Doebar, Ashwin Kalpoe, Shiva Bholasing, and Karan Mathoera all support their beautiful singing.
While Sunny is the band leader of Freestyle, he is also the percussionist. Shiva plays the drums, Karan is on the keyboard, and Rowin and Ashwin are guitarists.
Together, the musicians and the four singers from Suriname produce some incredible music.
With Suriname being found on the Northern border of Brazil, Freestyle are bringing Bollywood and Hindi music to South America.
But they want to spread their music all over the world. Avinash says: "Our plan is to grow and achieve more. We want to perform in foreign countries and win more fans. We want to do something different with music in Suriname and step by step we are doing so."
Freestyle's Four Singers from Suriname
Freestyle pride themselves on bringing together some of the brightest, young talents in Suriname into one group.
Several of the Freestyle members are still students, including brother and sister, Neelam (19) and Sathyam Matadin (21).
Meanwhile, Amrish is 23, while Viresh is still only 24 years-old. And that simply means that Freestyle and the four singers from Suriname can only get even better.
Amazingly, music is not a job for any of the Freestyle group. It is rather a passion and hobby that they choose to follow in their spare time.
Amrish says: "My hobby is to play instruments and to sing. It is a great feeling to see people moving, dancing, and enjoying the songs I sing."
Outside of music, Viresh and Amrish both work. Freestyle's singers from Suriname all want to have careers in music. But the slightly older Amrish and Viresh believe they are unable to do so.
Amrish says: "I would like to focus only on music, but you cannot live on music alone in Suriname."
Neelam and Sathyam Matadin, meanwhile, still want to pursue music and make a career out of it. Neelam says:
"I was born to sing as I feel that it makes me who I am. I want to expand my knowledge in music and singing so I can get better in what I believe I can do best, singing! My dream is to express what God gifted to me, and encourage myself to get better, and not to be afraid to reach the top."
Despite their work and studying commitments, however, the four singers from Suriname are continuing to produce some incredible music.
Freestyle's Music
Neelam Matadin came together with Remy Wolfrine for the track 'Pyaar Huwa' which was a massive success.
SCNN radio named it as the most popular song in 2015. About the award, Neelam says: "We never expected our song to win an award! It was an idea of Wolfrine to do something with Freestyle. We did the music and after we released the video the song became very popular."
After such success with 'Pyaar Huwa', Freestyle are preparing to release a sequel song which was filmed in Curacao.
Neelam and Wolfrine collaborate once again in 'Kitni Door', which is due for release in December 2016.
Also coming out in December is 'Kya Kardiya', an original song which features Sathyam and the Surinamese star, Enver Panka.
The music video for 'Malaika' was also shot on the luxurious island of Curacao. Neelam impressively sings in three different languages (Hindi, Swahili, and English) on the track which is already available to view.
But how do the four singers from Suriname cope with singing in unfamiliar languages?
It is understandably a difficult thing to do, and Sathyam admits that it affects his work on covers. He says: "Covers are often a challenge for me when it's not in my language because practicing the pronunciations takes a lot of time."
But Amrish and Neelam feel confident in overcoming the language barrier. Amrish says: "Singing in different languages may not be hard, but it's not for everyone as pronunciation is so important."
Neelam feels similarly. She says: "It is not so difficult to sing in other languages, it is just a matter of listening carefully to what you hear and practicing the words properly."
Trinidad, Guyana, and New York have already hosted Freestyle, but there will certainly be more names on that list very soon.
Find out more about the Freestyle Singers from Suriname
The Freestyle singers from Suriname will next be performing on December 10, 2016, at Club Liv It, Paramaribo. If you are unable to attend, you can watch three of their top tracks in this DESIblitz playlist.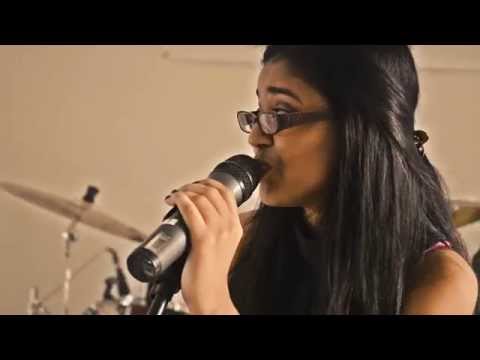 But with their plans to go global, these talented, young artists could soon be performing near you. Speaking exclusively to DESIblitz, Freestyle reveal that they are planning a tour of Europe in 2017.
In April 2016, Freestyle released their Sleepless Nights album featuring 34 songs. And with their continuous new releases, another album is surely not too far away.
You can get more information about the Freestyle singers from Suriname by liking their Facebook page. There, you will be able to get booking information as well as see pictures and video clips of live performances.
Or, if you want to see more of their official music videos and Bollywood covers, check out their YouTube page.