Mustak is baffled as to why and how this film is being made about his father.
New month, new drama for Shahrukh Khan as Raees (2016) has been slapped with a lawsuit.
SRK plays a character that is loosely based on an alleged gangster Abdul Latif, who ran the illicit liquor business in Gujarat during the 1990s, when the prohibition was at its peak.
Abdul was in heavy legal trouble, with an astonishing 40 murder cases filed against him.
He was also a prime suspect in the Mumbai blast in 1993.
His son, Mustak Ahmed Abdul Latif Shaikh, has sent legal notices to nine members of the production team of Raees.
These include SRK, Nawazuddin Siddiqui, producer Ritesh Sidhwani and director Rahul Dholakia.
Mustak is baffled as to why and how this film is being made about his father.
The cease-and-desist notice requests to stop the team 'from screening, promoting, releasing, publicising, advertising and exploiting the Hindi film titled Raees'.
It goes on to say Mustak's father was 'a famous businessman with deep roots in society'.
It would appear that Mustak and his legal team are concerned that Raees will portray Abdul in an unfavourable light, hence demand an explanation on the decision to make a film based on Abdul's life.
But Raees is not the only film to be made about him, who was killed by the police whilst on the run in November 1997.
Sharique Minhaj wrote and directed Latif: The King of Crime in 2014, which draws on his real life events.
Sharique says: "I met Latif's family and friends, including many of his criminal friends, who are now big businessmen running their own legal businesses."
Raees has definitely stirred up many problems for SRK, having seen its fair share of legal drama.
Social activists have protested outside the film sets, proclaiming that SRK didn't have the permits to shoot at the Sarkhej Roza mosque – a monument of great historical and architectural value.
Indian political party Shiv Sena also attempted to ban Pakistani actors from entering Maharashtra, including Mahira Khan who stars in Raees.
The party's general secretary Akshay Bardapurkar says: "We have taken a stand not to allow any Pakistani actor, cricketer or performer to step on Maharashtra soil."
Trouble seems never ending on the set of Raees. We wonder how Shahrukh will walk triumphantly out of this one!
Watch the trailer here: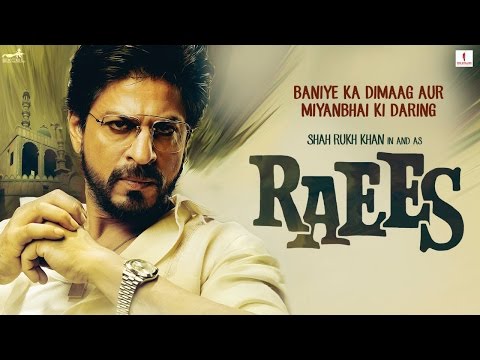 Raees is expected to release on Eid 2016.