"Why do Saif and the army guys get a chance to shoot while I am expected to hide!"
Bollywood action flick, Phantom is facing serious legal trouble from international aid-charity, Médecins Sans Frontières (MSF, Doctors Without Borders).
The film, which is directed by Kabir Khan (Bajrangi Bhaijaan) stars Bollywood actors, Saif Ali Khan and Katrina Kaif.
With a tagline that reads: 'A story you wish were true', Phantom follows a controversial storyline – the aftermath of the 26/11 attacks in Mumbai in 2008.
The tragedy has left the Indian government at a loss to finding the culprits. But when an infiltrator with plans for a new attack on the nation is caught, the Head of India's security agency take matters into their own hands.
Enter Daniyal (played By Saif Ali Khan), who is on a journey to seek justice through India, Europe, America and the volatile Middle East.
He is joined by Katrina Kaif who is an aid worker for 'Medicine International', and the two are drawn into a violent battle of wits with a shrewd and ruthless enemy.
Katrina's role as an armed and ready-to-shoot charity worker is the reason for MSF's outrage. The charity have insisted that they were not informed that MSF would feature in the film, albeit under a different name, 'Medicine International'.
They have added that they employ a strict 'no guns' policy with their workers and that they are never armed. In fact, the charity fear that the misrepresentation of aid workers in the film could put real workers at risk in conflict zones:
"None of our staff would ever carry a gun. Any portrayal that suggests otherwise is dangerous, misleading and wrong."
"We would like to clarify that MSF has never been consulted or even contacted over the content of this film and is not associated with it in any way."
"We have contacted the film's production team and are taking legal action in order to correct this dangerous misrepresentation of our organisation and its work," reads the statement from MSF.
Katrina however feels that her role in the film is justified:
"These NGO workers have ties with local fanatical groups in these countries. People like them work in conflicted zones like we have seen in films like Spy Games. My character has contacts with various people from radical groups.
"When Saif's character meets mine at the start of his mission, he receives limited help. Because, my character has taken a step back from the world of aggression and she is able to provide help in a limited capacity. But then situations lure her into joining this ghost mission," Katrina says.
Known for tackling delicate political topics, director Kabir Khan has faced a whirlwind of controversy even prior to his film's release.
Facing considerable heat from across the border, the film has been banned in Pakistan for its aggressive take on the tepid relations between the two nations.
The film was banned by the Lahore High Court in Pakistan solely on the request of Hafiz Saeed, leader of Lashkar-e-Taiba.
Saeed is notably accused of plotting the attacks by India, and has labelled the film as 'filthy propaganda' against him.
You can watch the trailer to Phantom here: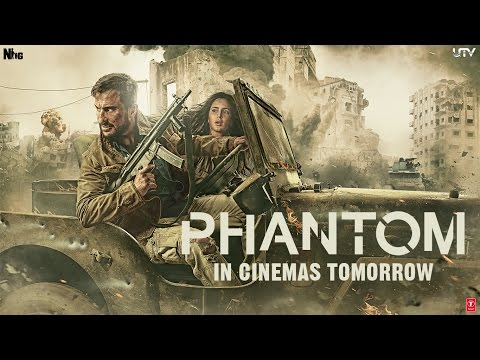 Heavily disappointed by Pakistan's decision, director Kabir Khan said: "His [Saeed's] statement says its propaganda against him and Pakistan. By including Pakistan, he's trying to become the face of Pakistan.
"My film takes a stand against those behind 26/11 but isn't negative to the people of Pakistan. He's trying to put the two together while the film separates the two."
Saif Ali Khan added: "I was quite shocked to hear it has been banned without their censorship process on petition of a wanted terrorist.
"I think it is bizarre. We're also Indian Muslims. The film is not anti-Pakistan, anti-Muslim or anti-anybody except the masterminds of 26/11."
Katrina said: "The film is an expression of our angst and frustration as to why can't we do something.
"We've taken the liberty of cinematically carrying out this mission and in some sense give out a cinematic catharsis to the people of India."
Despite all the controversies surrounding the film, it has had a good intake at the Box Office in its opening weekend, with Rs. 33 crores.
The film has been applauded for its thrilling action sequences, and even Katrina is seen in a more independent and action driven role.
Katrina reportedly stated that she was keen to have her character engage in full combat, rather than sit on the side-lines: "I explained to Sham Kaushal, the stunt director that I play an ex-RAW agent, trained adequately for combat.
"Then why do Saif and the army guys get a chance to shoot while I am expected to hide!"
With the globally recognised charity MSF taking action against the filmmakers, it seems not all are keen on Katrina's desire to have a bolshy female role:
"Any portrayal that suggests MSF does anything other than provide medical care could endanger our patients, staff, our ability to work in places where people might not otherwise have access to healthcare and undermine our reputation," MSF add in their statement.
It is yet to be seen what the outcome of Médecins Sans Frontières' legal action against Phantom will be. The film released from August 28, 2015.