"Alcohol was used to remove the tattoos and I use to scream with the pain!"
Star of Punjab, Gippy Grewal plays a double role in edge-of-your-seat entertainer, Faraar.
Directed by Baljit Singh Deo, the Punjabi film also stars Jaggi Singh and Kainaat Arora of Grand Masti (2013) fame.
The stunning actress who has been enjoying the success of the Hindi comedy, makes her debut in Punjabi cinema opposite Gippy with her character, Jasmine.
Faraar, which translates to 'on the run' is an action-thriller with a hint of romance.
In an exclusive Gupshup with DESIblitz, Gippy explains:
"There is a character called Ekam, who travels from India to Los Angeles to study. As he lands at the airport, the police arrest him.
"They accuse him of being Shinda who is a most wanted criminal but nowadays is 'Faraar' [on the run]."
"They look very much alike and it is a film about mistaken identity."
Gippy plays both a simple Punjabi overseas student and a criminal gangster who is wanted by the police.
Gippy admits that it was quite a challenge to play the two roles together, particularly as they were polar opposites.
As Gippy tells us: "It was hard but I did enjoy it because the role of Shinda was bold and daring. Whereas the role of Ekam was of an innocent character."
"In fact, in real life, I am very different from both characters. Neither am I Ekam and neither am I Shinda. I am in between whereas those two are from one extreme to the other."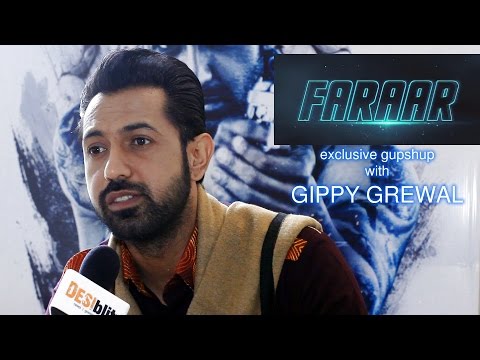 Even the look and styling of each character was different. For Shinda's character, Gippy had to have artificial tattoos imprinted on his body:
"It used to take 2 hours to put the tattoos on in the mornings," Gippy tells us.
Then, in the evening, he had to have them removed: "Alcohol was used to remove the tattoos and I use to scream with the pain! Because the alcohol would sting."
Playing the villain 'Kaptaan' in Faraar is well known actor, Jaggi Singh. Speaking about his role in the film, Jaggi says: "My role of the villain is quite complex and different. It is a psychotic type of a role.
"It's aggressive and loud. I have worked very hard to depict the character. It's like Gabbar Singh of Sholay in Punjabi."
Shot predominantly in Los Angeles, Gippy admits that the director and producers had to be careful in terms of managing their relatively small budget:
"The film is based in Los Angeles. So, this was a challenge for us because Punjabi films do not have huge budgets to shoot a film on such a large scale."
Gippy tells us that the Faraar team spent almost 11 to 12 months rehearsing film scenes in India:
"We did our homework on how everything was going to work to be as economical as we could," Gippy says.
He adds: "It was like rehearsing a play for stage because we did not want to make any mistakes in Los Angeles once we started the shoot there."
The rehearsals paid off however, as the 70-day LA shoot was completed in only 49 days.
Gippy also spent much of the year prior to the shoot achieving his impressive six-pack. The abs took 14 months in total, and Gippy also experimented with various hairstyles to match his perfect shape.
The multi-talented entertainer has also sung with Bollywood singer Sunidhi Chauhan (for the romantic 'Jatti') and rapper Bohemia ('Taur') for the Faraar soundtrack.
Gippy has already collaborated with the two artists on his previous smash-hit films like, Jatt James Bond and Carry on Jatta:
"I am an artist that has sung duets with many artists including Jazzy B, Diljit Dosanjh and Yudhvir Manak," the actor-singer explains.
"It gives people something new and different. I feel these kind of collaborations should always happen."
Also featuring on the incredible music soundtrack are Jazzy B, Fateh Doe and Dr Zeus for the track 'Etwaar'. Qawwali legend, Rahat Fateh Ali Khan sings 'Hathan Dian Lakeeran', while Manmohan Waris croons the melodic 'Parne Nu'.
It is clear that Faraar is a great all-round Punjabi entertainer. But even with all of these USP's, Gippy admits that he has been nervous about how the film will be received by critics and fans alike:
"An artist I feel has to work from the heart. I am emotional kind of guy and do get attached to my projects very easily."
"With Faraar I have been attached to it from the most basic stages including the story, screenplay and dialogues. So, obviously when you film is going to release you do feel nervous.
"You fear that will people get the film or will we get a backlash from audiences feeling let down by the film not meeting their expectations.
"I think it is important for an artist to be nervous. Because that fear keeps you grounded and avoids you getting over confident and bolshy."
But Gippy feels that today's Punjabi cinema and its global audience has transformed considerably. Fans now enjoy high-action and creative story lines:
"I have followed the industry for a long time and welcome the changes and feel different concepts should enter the industry," Gippy tells us.
"The Punjabi Film industry was very small. The genre of films did not change much. First it was the era of comedies. Then the 'rom-com' style of films started.
"So, I feel different styles of films are important to give viewers a change. This is why we have done Faraar but my previous films were also different.
"I think the audience is now prepared and ready to see different styles of films being produced for this industry."
With great action, comedy and talented star cast, Faraar is an unmissable all-round Punjabi entertainer. The film releases from August 28, 2015.