"That was my first [opportunity] of actually going to a village and the whole experience was fabulous."
Gippy Grewal and Bollywood actress Zarine (Zareen) Khan star in action packed Punjabi film, Jatt James Bond, directed by Rohit Jugraj.
Zarine Khan makes her Punjabi cinema debut as Grewal's leading lady. A relatively new star, she is most famous for being another of Salman Khan's new finds after he cast her in Veer (2010). She was nominated for the Zee Cine Award for Best Female Debut for her role.
As well as Gippy and Zarine, the film features Gurpreet Guggi, Yashpal Sharma, Vindu Dara Singh, Avtar Gill, Shahbaz Khan, Karamjit Anmol, Mukesh Rishi, Irfan Gujjar, Saeed Gujjar and Maher Ali in supporting roles.
Jatt James Bond is a story about three young men who are struggling in life as they are placed in desperate and terrible conditions. A bus driver, Shinda (played by Gippy Grewal) soon falls in love with a beautiful woman who is played by Zarine Khan.
Their love prospers with flying colours. However, her father is against the match because the economical status of Shinda is terrible.
Shinda's friends played by Gurpreet Guggi and Yashpal Sharma are facing similar troubles. It is not long before a heist is cooked up by the three friends in order to earn some easy cash as quickly as possible.
The robbery goes well until they fall into trouble with the local villain who alleges that he has a claim over the money. From there the three strugglers find themselves in even more trouble than they were in the first place making their lives yet more depressing.
Many have already commented on the film looking like a big budget Bollywood film, and Gippy is all for the Punjabi film industry moving forward. He says:
"Having the ability to compete with any Bollywood movie, it has come like a ray of hope for the Punjabi industry and we are sure that we have made a wholesome entertainer for all kind of viewers."
The film has huge expectations with the hype of Zarine taking on a lead role in her first Punjabi movie. Khan decided to star in the film when she was narrated the script for Jatt James Bond; she liked the concept of it and she admits: "I was actually visualising things."
She found the script very interesting and being able to work with Punjabi superstar Gippy Grewal was a bonus, Zarine mentioned that it wasn't difficult for her to make a decision to star in the film.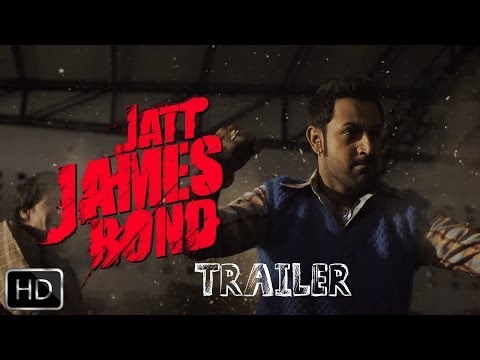 As Zarine doesn't speak Punjabi, she admits it was a little bit difficult, however she soon picked it up as she can understand Punjabi well: "It was because of the accent but I'm sure after doing a couple of more films I will be a pro in that too," she says.
She also said there were a lot of people such as Gippy, Rohit and others on set who helped her get used to the language. It was also Zarine's first time to experience and see the classic Punjab 'Pind' (village) lifestyle. She loved the beauty of the greenery, the small houses and the people in the village: "That was my first [opportunity] of actually going to a village and the whole experience was fabulous," Zarine says.
In the near future we may see Zarine take on more projects for Punjabi movies as she pointed out, that she will definitely work in more Punjabi films if she gets scripts like Jatt James Bond.
Along with the huge hype around the film, the music itself has been a big hit, and also sees a crossover with Bollywood.
As expected, Gippy Grewal sings many of the tracks for the film, but big Bollywood playback singers like Rahat Fateh Ali Khan, Sunidhi Chauhan and Arif Lohar have also come on board to be a part of the music album, singing songs like, 'Duniya' and 'Sariyan De Akh'.
The album has been composed by Jatinder Singh-Shah and Mukhtar Sahota. Garry Sandhu also features on two of the film's tracks: "We have tried to create a balance with songs. And all the songs are unique for the fact they fit in all the situations," Jatinder explains.
Jatt James Bond has also released a game called JJ Bond Game, which is downloadable on Android devices soon to be followed by an iOS version. It is the first experiment for Punjabi cinema to release a game for mobile devices that is linked with the film. Speaking about the game, Gippy says:
"The concept of the JJ Bond correlates with the movie where Shinda runs for his life. It is surely an apt platform for every gamer to engage with Shinda.
"My endeavour has always been to entertain the audience and this game is a perfect blend of entertainment and action that will leave every game lovers asking for more," he adds.
With the name of the famous character 'James Bond', hopes are high for Gippy's movie; Jatt James Bond promises to be a fun romantic action-packed Punjabi film. It releases from April 25th.