"It's a mass film with a bit of class and a class film with a bit of mass."
A moving film about injustice, Kaanchi is Subhash Ghai's latest film that sees a powerful female in the lead role. It is released under the famous Mukta Arts banner, which has bought success to many Bollywood beauties like Madhuri Dixit, Mahima Chaudhry and Aishwarya Rai Bachchan.
The movie stars a new female face, the Bengali actress, Indrani Chakraborty as Kaanchi. Interestingly, she has been renamed as Mishti by Subhash Ghai. The filmmaker often renames his actress with the letter M. The actress herself loves the name saying: "I would not be known by any other name any more."
The story of Kaanchi is about a woman's strength in the face of injustice. Mishti says: "You can call it the saga of today's women.
"Kaanchi will appeal to every class. It's both a class film and a mass film. It's a mass film with a bit of class and a class film with a bit of mass. It has all the masala, romance, thrills, action, a social message, politics, inspirational plots. It caters to all sections of society."
Speaking in more detail about her character, Mishti says: "Kaanchi is a character that every group of Indians can relate to – male or female. She falls in love, she fights with her mother, she loves her family and her birthplace. Her character is someone that every Indian can relate to."
The film also stars Kartik Aaryan Tiwari as the male lead. Kartik was last seen in Pyar ka Punchnama (2011). Another actor to watch out for, Kartik comes from a non-Bollywood family of doctors and has worked hard to realise his passion:
"I could never tell my parents I wanted to be an actor. Also, it was honestly not feasible for a guy from a small town like Gwalior to think about coming to Mumbai to become an actor," he admits.
Well-known actors like Rishi Kapoor and Mithun Chakraborty are also seen in strong supporting roles. We also have Mahima Chaudhry and Isha Sharvani in special cameo roles.
While audiences are already excited to see the return of a Subhash Ghai classic, the media also took some notice over a steamy kissing scene between the two lead actors.
As Bollywood catches up with its western counterpart Hollywood, kissing scenes are a common addition nowadays. However, as sources suggest, the scene in question needed 37 takes to get right.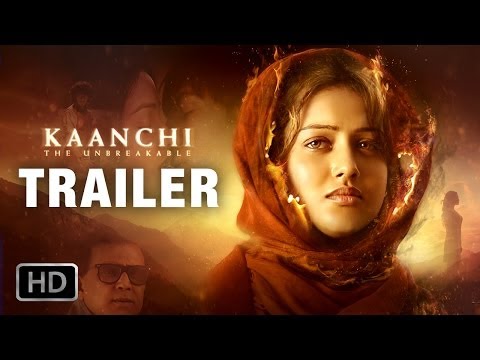 Sources also suggest that as the two lead actors are relative newcomers to the industry they have been cosying up fast, and there might be some off-screen chemistry between Mishti and Kartik, as well as on-screen. But Mishti insists: "We are super good friends off-screen, which helped onscreen."
Speaking about his new venture, Ghai, who has been on a considerable break from the industry for the last few years explains:
"I have been working on the script of Kaanchi for last three years and it's good to see that it is going to be on the floors. I am as excited as I was in Kaalicharran or Taal, it's something that I have to make for one and all."
One beautiful quality of Ghai's movie is the cinematic canvas and the serene calmness the characters portray. Praising her director, Mishti said: "He makes everyone feel comfortable. He can even make a non-actor act to a level of excellence."
The music has been very well received by audiences; 'Hindustan Kaha Hai' is a patriotic number sung by Sukhwinder Singh, Mohit Chauhan and Raj Pandit. It almost feels like a song that is probing the nation on its success since independence. With the ongoing election in India, filmmakers have got it right and are hitting the right chord at the right time.
Sonu Nigam also has two songs in the movie, and he is full of admiration for the final product. He has called the final result 'almost divine'. High Praise indeed and rightfully said with the positive music reviews that have been making the media rounds.
The music has been called flawless by many. The music and cast perfectly complement the beautiful locations and characters. Bollywood star Salman Khan has also congratulated the director by saying it was 'beautifully shot'.
Subhash Ghai has used Auro 11.1 3D sound for the film. The sound is meant to give viewers the most natural realistic experience. Ghai is so impressed with the technology that he says: "I can't think of releasing Kaanchi without this magnum technology in all theatres." He believes the sound will do complete justice to the beautiful natural location in the movie.
Subhash Ghai is finally back after a long wait. His last movie was Yuvvraaj (2008). This five-year gap will be worth the wait if the movie fulfils our high expectations. The promos and songs have left audience eager to see the film, and Ghai rarely disappoints.
We hope to see him re-create the magic he made with Aishwarya in Taal in this movie with his new find Mishti, who he has in many ways moulded to look like her too. The wait is over from 25th April when the movie releases worldwide.