"It feels amazing. It's surreal. I never expected this reaction."
Move over Alia Bhatt, Priyanka Chopra and Katrina Kaif – there's a new girl in town who has stolen everyone's hearts! Who is this starlet? None other than debuting actress Priya Prakash Varrier.
The 18-year-old turned into an overnight sensation, thanks to her brief appearance in the music video 'Manikya Malaraya Poovi'.
The track is part of upcoming Malayalam film Oru Adaar Love, where Priya, who also studies B.Com at a Kerala college, makes her debut. Set in a high school, the song itself feels romantic and harmonious, perfect for Valentine's Day.
But Priya's appearance steals the spotlight. The video, set during a school assembly, captures a sweet scene between the characters of the actress and her co-star Roshan Abdul Rahoof.
They catch each other's eyes, exchanging adorable, flirty glances. While Roshan impresses with his own handsome looks, Priya enchants the internet with a cute wink!
The original video on YouTube went live on 9th February 2018. Yet, a Facebook video depicting the moment is making the rounds, garnering over 1 million views.
With Valentine's Day approaching, it seems Priya's wink has got everyone in the romantic spirit. She has become the talk of social media, with many gushing over her and declaring the actress their new crush.
Of course, social media found an amusing side to the actress' clip and made an array of memes.
From a comparison to wrestler Dwayne 'The Rock' Johnson to Narendra Modi and motorcyclists getting flustered over the actress, the internet can't get enough of Priya!
Sakht launda be like…@Zakirism#PriyaPrakashVarrier pic.twitter.com/8yRqI3iiGI

— Frustrated Salesman (@salesdiaries) February 11, 2018
*SAKHT LAUNDE to pighal Gaye…*
But
*Who did this*
#PriyaPVarrier #PriyaPrakashVarrier #PriyaPrakash #NarendraModi #sakhtlaunda #cutegirls #Valentinesweek pic.twitter.com/wsFNDRlc1R

— Abhishek Joshi (@itsmeabjoshi) February 11, 2018
When #PriyaPrakashVarrier winks at you ? pic.twitter.com/pcJiGmO5Bs

— Amit A (@Amit_smiling) February 12, 2018
Meanwhile, Priya herself seems stunned that she has become such an internet sensation. She told International Business Times: "It feels amazing. It's surreal. I never expected this reaction."
On Twitter, she also thanked her fans for their support and felt overjoyed that she entered in India's trending hashtags. She tweeted:
Good morning everyone. Can't belive this, #NationalTrend Thank you so much for your love and supports ??? pic.twitter.com/CblAfSWm55

— Priya Prakash Varrier (@priyapvarrier) February 12, 2018
The debuting star only created her Twitter account on 11th February, in the run-up to Oru Adaar Love's eventual release. However, thanks to the clip, she has amassed 57,700 followers in just a few days!
Even on Instagram, she has now garnered over 2.5 million followers!
Watch our video of Priya Prakash Varrier here: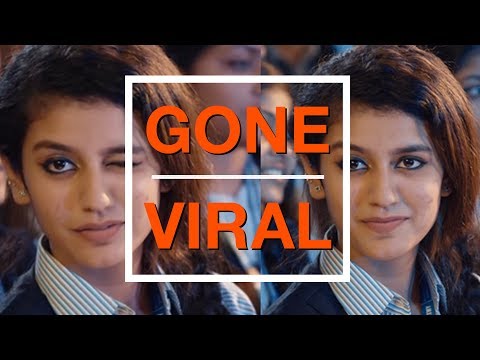 With her growing fame, fans will be interested to learn more about the starlet – and if she is single! When asked about this by Indian Express, Priya answered:
"There's no one special in my life. My studies and my dream of becoming an actor are the two focal points of my life.
"On Valentine's Day, I'll have to go to college because attendance is a problem. I'm not thinking much [about getting mobbed] — after all, I go to a girl's college."
Her co-star Roshan also shared more details of the upcoming film, revealing that he and Priya have significant roles. He told The News Minute:
"This is my first film. I never expected this. There are five heroes and five heroines in the film. Priya and I are one of the pairs."
As the buzz continues to grow about the 18-year-old, we can't wait to see more of the starlet in Oru Adaar Love. While the film is currently slated for a 2018 release, we're sure fans will hit cinemas to watch the romantic flick!