"If you haven't heard it, check it out, hope you enjoy it."
Renowned British Asian music producer Rishi Rich presents 'Das De Tu,' a Punjabi fusion song with elements of R&B.
The Mumbai based successful producer releases this amazing east and west song as the first under his newly launched label, Break The Noise Records.
Singer-songwriter Kiranee and executive producer Richard 'RDV' from Mumbai are the co-founders of this label.
Break The Noise Records has a creative alliance with premier digital distributor 'Believe,' which has offices around the world.
Recognised for his Asian-R&B fusion music and Desi movement, Rishi Rich is the producer for 'Das De Tu.'
Rishi roped in Jagtar for the main vocals. He is a singer who had grown up in Birmingham and was inspired by the Sahotas and Stereo Nation.
After making his music debut in 2015, Jagtar had several hit singles.
The dream team was completed with Rush Toor from San Francisco, California adding a global touch via his rapping tone and lyrics. Influenced by the likes of 2 Pac and Drake, Rush aspires to conquer the world.
The song came about organically across three continents, with Rishi Rich connecting with Jagtar and Rush Toor during the lockdown.
This contemporary track with fresh lyrics saw its teaser released on May 31, 20. The full track came out on Junee 3, 2020.
The trio exclusively converse with DESIblitz about 'Das De Tu', Break The Noise Records and the music scene.
Rishi Rich: Initiating Break The Noise Records
The world recognised British-Indian producer Rishi Rich who made an eye-opening and discovering move to Mumbai in 2017 is the controlling master behind 'Das De Tu.'
This is the first track that Rishi releases under his multi-genre label, Break The Noise Records.
According to Rishi, the label aims to bring together "different kinds of artists from different places in the world."
Rishi reveals that 'Das De Tu' has a Britsh, USA and Indian connection, reflecting roots and where the final mixing of the single took place:
"Das De Tu is a single, which really represents my route being a British Asian. It's totally my sound.
"Having Jagtar on it… who's a UK lad and then having a Rush Toor from the States and myself producing it in this room [Mumbai]. I think it just kind of puts all the flavours together."
Encouraging his fans about the track he also adds: "If you haven't heard it, check it out, hope you enjoy it."
Sharing his views on desi music, Rishi believes that it has "evolved." He feels with so much talent and collaborations, along with crossing boundaries and languages it will continue to evolve.
Jagtar: 'Das De Tu,' Singing and Desi Music
Originally from Birmingham UK, Jagtar is rising up the ranks as a British Asian pop and soulful singer.
When asking what 'Das De Tu' is about, the lead singer Jagtar replies, describing the song and his involvement:
"Das De Tu is a fusion. It's about a person asking this girl, tell me, what you want, where you from because I want to know more."
"Rishi reached out saying they have this song and they think it could suit me…vocally
"And they sent it over and I did what I did to it. I wrote a verse to it then, and then I sent it back to them. Within a couple of hours and they said they loved it."
Jagtar states it was a "dream come true" to work with Rishi for the debut song of Break the Noise Records.
Jagtar also told us that he had a very good relationship with the "down to earth" Rishi.
He felt "comfortable" throughout working with a passionate team, which is evident in the audio and visuals.
From a singing point, Bhangra, Punjab and his culture certainly have had a heavy influence on him. He says his early inspirations include singers Kuldeep Manak and Surjit Bindrakhia
Growing up, he adds that the likes of Jazzy B, Rishi Rich, Jay Sean also inspired him. Hence, Jagtar began performing LIVE on stage and getting a thrill from it.
Jagtar tells us one of his aims through singing is to spread love regardless of background and colour. Sharing similar sentiments to Rishi, Jagtar is also of the opinion that Desi music is in a "good place."
For him whilst collaborations are key, there is always room for improvements in terms of new artists and unique music breaking through.
Rush Toor: Rapping and Singing
American singer-rapper Rush Toor is known for his "lyrical flow, energy and style." Rush states he became part of 'Das De Tu,' after Rishi came reaching out to him through his manager.
Rush came on board as the rapper with most of the song having been done, including the "amazing vocals of Jagtar" and "Rishi blessing it."
Even though Rush and Rishi have come together before, he mentions that it is a privilege to be part of the debut track for Break the Noise Records.
Rush who sang a K-CI & JoJo song in his first performance during fifth grade also spoke about rapping in more detail.
Watch 'Das De Tu' here: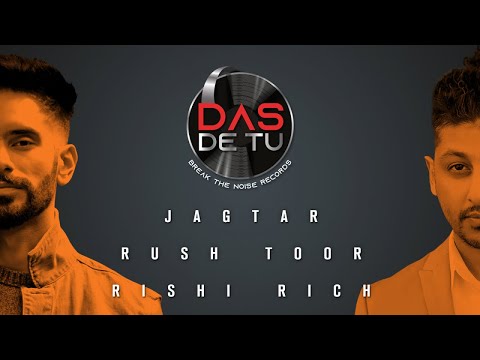 Despite being a late learner of this genre, defining and advising on what makes a good rapper, Rush said:
"Honestly, anyone can be a good rapper if you have some type of flow, some type of rhythm. And if you can…articulate your words, really well and make them flow.
"Pretty much that's about it. You don't need much to be a good rapper."
From a desi-rap artist perspective, Rush expresses he wishes to carry on making good music. He is happy to rap and sing, wherever music will take him.
Watch our Exclusive Interviews with Rishi Rich, Jagtar and Rush Toor here: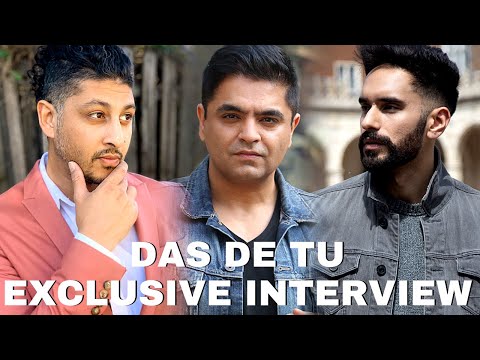 The stunning video of 'Das De Tu,' which is almost three minutes in duration has over 110,00o YouTube hits.
Music lovers will enjoy 'Das De Tu' especially with Rishi Rich, Jagtar and Rush Toor having a big fan following.
'Das De Tu' can be streamed through Apple Music and Spotify, as well as many other sites. Hats off to the trio for accomplishing a phenomenal feat during the extremely testing lockdown period.