While it might be the "media's job", have they simply gone too far? 
When Suhana Khan felt helpless in front of an elevator hounded by Indian paparazzi, not knowing where to go and completely uncomfortable, it raises the question: "Is it fair for Bollywood kids to be chased like this?"
In recent years, it seems the Indian paparazzi has grown a new obsession with the children of Bollywood stars.
Not content with just the celebrities themselves, the press now follows the movement of the youngsters, eager to get that perfect shot.
But it doesn't end with photos. These Bollywood kids also have to endure endless speculation about themselves. From rumours of potential debuts to criticisms over their appearance, they face pressure from all angles.
In this latest viral video, the Indian paparazzi hound Shahrukh Khan's daughter Suhana with cameras and dazzling lights. Clearing looking uncomfortable and nervous, she hides from the cameras. Yet they still persist with their intrusive behaviour.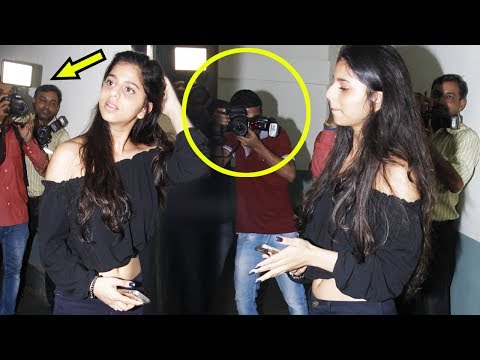 The Indian press has faced a surge of public disrespect as they use such methods and cheap tactics. It seems the celebrities have also grown tired of this hounding behaviour.
Even before this elevator incident occurred, SRK made a public request to the media, asking them to leave his children alone.
Suhana and Aryan Khan mainly study abroad in the UK. In the country, it has laws which imposed stricter restrictions on how the paparazzi can take their photos. For example, celebrities can obtain the right to have their child blurred in paparazzi photos.
Those who have applied for this include Adele and Kate Moss. This means that their children's faces cannot be revealed in UK papers. In addition, paparazzi have less freedom over how they can take snaps in the country.
This means then that Suhana and Aryan may have the odd photographer snapping photos of them. But it would never rise to the levels of the Indian paparazzi. Where they would become a lamb, desperate to get away from a pack of wolves.
While it might be the "media's job" to take snaps, have they simply gone too far?
Body Shaming and Ridiculous Rumours
In the past, many Bollywood kids have faced the pressures and backlash of the Indian paparazzi. In 2015, Navya Naveli Nanda, granddaughter of Amitabh Bachchan, became the victim of cruel body shaming, with many trolling her for being "too skinny".
Her mother, Shweta Bachchan Nanda, delivered strong criticisms of this body shaming, saying: "She is not a public figure. Yes, she is related to some very famous people, but that is something completely out of her control.
"But you can well imagine what it would do to the self-esteem of a young, impressionable girl, who hasn't asked to be thrust into the spotlight in this way."
Aryan Khan also became the centre of ridiculous rumours, which claimed that his younger brother, AbRam, was actually his "love child".
In his recent TED Talks, Shahrukh Khan explained how this disturbed not only Aryan but the whole family.
In addition, some of the Bollywood kids have not enjoyed the constant spotlight caused by Indian paparazzi. Karisma Kapoor's son, Kiaan, made headlines after he put his hand up to hide his face from the cameras. A source at the time said:
"Nowadays they are everywhere, outside restaurants and airports. They don't care how you're looking after flying for 14 hours or how cranky your child is, they just want their pictures. Kiaan was tired and irritable after travel when the cameras suddenly opened fire."
And even with babies such as Taimur Ali Khan and Misha Kapoor, the Indian paparazzi are eager to catch new pictures. Hoping to sell them for a high price.
On the other hand, some Bollywood kids have taken well to the media spotlight. For example, Aaradhya Bachchan, daughter of Aishwarya, now seems to enjoy the paparazzi taking her photos. She appeared with big smiles as she attended Cannes 2017 with her mother.
But what kind of overall effect can the spotlight create on Bollywood kids?
The Pressures from Indian Paparazzi
Psychiatrist Samir Parikh believes that how these children handle the abundant attention depends on their parenting. He explained:
"It all comes down to how the parents are able to give them a normal upbringing. Social media is in nobody's control, but you can teach your child to ignore things and not to take things to heart."
One can arguably say it seems easy to ignore these situations. But when faced with intrusive cameras, dazzling lights and endless rumours, should these celebrities now have to teach their kids about stardom? Or should the Indian government impose some restrictions?
Throughout the elevator incident, Suhana appeared uncomfortable and keen to get away from the situation. Despite already having prior exposure to the Indian paparazzi. Surely then, this says something about the media's hounding behaviour?
There is a surge of public disrespect for Indian media using such methods and cheap headlines too. With many people feeling that they are getting out of control.
However, it seems this culture will likely stay and continue. Archana Sadanand, public relations specialist, explains:
"Ideally, the media themselves should take out a mandate and not click infants as harsh lights, clambering for the best picture, can hurt them … [But] I guess the celebs have come to terms with the paparazzi culture and have slowly got their kids also accustomed to the same."
One can argue these methods are an invasion of privacy and unfair on Bollywood kids. This leads to the question; "Can the government do anything about it?"
Unless it decides to take action and enforce restrictions, they will have to, unfortunately, become familiar with the constant lights and camera. Just like their famous parents. But is this the right kind of lifestyle for the Bollywood kids?
Loading ...