"I peddle love to millions of people in India, who assume I am the best lover in the world."
There are not many who can stand in front of an unfamiliar crowd and mesmerise them with a brutally honest, yet simple, message. As it turns out, India is home to one such individual with the rare ability to capture hearts and minds across the globe – Shahrukh Khan.
Bollywood's intellectual superstar delivered his first TED talk, in which he spoke his life and humanity.
The impressive speech, which was delivered in Vancouver on 28th April 2017 sees SRK address his own journey to fame.
He opens up about his own past and his family, while also addressing the speculation that surrounds his third child, AbRam.
The Badshah of Bollywood is known for his charm on-screen and off-screen. And even from the outset of his 17-minute talk, it is not hard to see why he is known as the King of Romance:
"I sell dreams and I peddle love to millions of people back home in India, who assume that I am the best lover in the world."
Never failing to make the crowd laugh, SRK carried his speech with sharp wit and shared funny anecdotes about his life.
Even while revealing personal hardships, such as losing his parents when he was still very young, he would not dwell on grief and instead reverted to his best mode – as an entertainer. He quickly adds in the words of Oscar Wilde: "I must admit, seems a bit careless of me now," showing off his well-read mind.
The Bollywood legend continued to place the focus of his TED talk on humanity, comparing it akin to his own career. Describing life as once "simple", he explained how, through the recent decades, society has moved towards a more conscious, self-aware state.
Much like his own life experiences. SRK said of himself and humanity: "We were both pretty much flying off the handle, actually."
But then, he addressed the rise of the internet as it brought both benefits and consequences. Thus, the Bollywood legend explained to the audience how the internet and social media massively impacted on humanity:
"We had expected an expansion of ideas and dreams with the enhanced connectivity of the world.We had not bargained for the village-like enclosure of thought, of judgment, of definition that flowed from the same place that freedom and revolution was taking place in."
He then revealed his own experiences of that judgement, concerning his four-year-old son, AbRam. He explained the rumours of how many believed his third son to actually be the "lovechild" of his first son, Aryan. SRK described the whole experience as "disturbing".
In a nutshell, he described the current state of humanity as: "Reality became virtual and virtual became real."
Through showing off the famous lungi dance, he highlighted how social media can elevate films, events, even people, to new and confusing heights.
In recent years, we now witness an age where people can so easily attain the status of "being famous". However, it's debatable on whether they have earned this fame fairly or not.
Towards the end of his TED talk, SRK began to explain the lessons he learnt from people in India. From all of these lessons, he emphasised how love remained at their core.
Therefore, he felt that for the future of humanity, it needed love in order to thrive. Connecting to the audience he explained:
"The future "you" has to be like an aging movie star who has been made to believe that there is a possibility of a world which is completely, wholly, self-obsessively in love with itself."
Watch the full video here: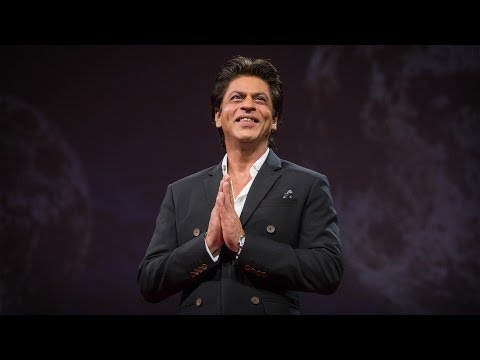 Shahrukh Khan certainly leaves us with a great amount of food for thought. One can arguably say it's refreshing to hear a celebrity speak so intellectually on society and its future.
In this age, the word "celebrity" carries a sense of narcissism to it, as both Bollywood and Western stars become too superficial. More concerned about their social media and appearance, we can often become accustomed to celebrities who only care about themselves.
But SRK's TED talk reveals a more humane side to stardom. We see him laugh at himself unreservedly, never taking fame too seriously. We see an actor and entertainer who philosophies about the future and its effect on global humanity.
With such an inspirational speech, perhaps society can learn from SRK and become that "aging movie star".