"If I have a short time on this earth, I'm gonna make it worth it."
Famous Bollywood actress Manisha Koirala who had released her first book Healed (2018) partook in a panel discussion during the 2019 Jaipur Literature Festival at London's British Library.
Manisha shared her story of successfully overcoming ovarian cancer and how it had changed her life.
She was diagnosed with the disease in 2012 and fortunately became cancer-free in 2014. Manisha's battle with cancer, she explains, reminded her how lucky she is to be alive.
Whilst facing this life-threatening disease, Manisha decided she would enjoy life, especially if she only had a few years to live.
Her experience with cancer and the life lessons it gave her, inspired Manisha to write the novel Healed.
Manisha exclusively spoke to DESIblitz, explaining her inspiration for writing the book and what readers can expect:
Manisha's Story
In 2012, Manisha was diagnosed with ovarian cancer. It was a total surprise to her, and initially, she did not believe it. She hoped that it was a mistake.
In her interview with DESIblitz, she recalls that time saying:
"I really didn't believe it at first […] I kept on hoping it was a misdiagnosis and I kept on hoping that it was wrong."
Eventually, however, Manisha came to terms with the fact that she had been diagnosed with late-stage ovarian cancer.
She was admitted into a hospital in Mumbai but flew to the USA for treatment. She underwent the process of chemotherapy, which she had documented on her social media platforms such as Instagram.
In her book Healed, she mentions what this experience was like for her, and takes the readers along her ovarian cancer journey.
It was, and still continues to be, a challenging experience for her. Although she has been cancer-free since 2014, there is always the risk that the disease will return.
Despite the challenges she has faced, she gives her story a positive twist, asserting that the battle with cancer has inspired her.
As she writes on the cover of Healed, her journey with cancer gave her a new life.
Inspired to Live
When presented with the traumatic news that you have cancer, one can feel hopeless.
It is particularly difficult to maintain a positive outlook on life when you are suffering from the pain and nausea that comes from cancer treatment.
In addition to this, being diagnosed with cancer is mentally painful. It fills you with fear of death as well as concern that your loved ones are struggling to accept the news.
Manisha experienced this trauma as a result of her cancer diagnosis but decided that she was going to turn her experience into a positive life-lesson.
"To me, it's [cancer] been a gift of some sort because it's opened doors for me to see the world differently and see life differently."
Manisha made the choice to make the most of the time she had left, deciding to spend her time doing things that fill her heart with love, joy, and gratitude.
"I started saying okay if I have a short time on this earth, I'm gonna make it worth it."
Manisha hopes that by writing Healed, she can help others.
"I tend to see things in a more positive way, so it [Healed] could be of some help to people who are going through a similar kind of crisis."
Writing the Book
Manisha explains that she was initially reluctant to write Healed, as she felt unqualified to be an author.
She felt much more confident in her comfort zone, which is acting. After all, she is a multi-award-winning actress.
"I took a while to say yes to write this book because I'm not a writer per se, I'm an actress […] language is not my forte."
She gained the confidence to write Healed after getting support from Neelam Kumar, who co-authored the book.
Manisha saw her as the perfect assistant writer as she had also survived cancer.
"I had help of a co-author, Neelam Kumar, who's written a couple of books and she's also a cancer survivor, so it kind of matched.
"She could understand the pain and trauma that I've gone through."
Manisha felt that it was important for her to write Healed because despite her experience fighting cancer being challenging and traumatic, there were positive elements to it.
At the 2019 Jaipur Literature Festival interview, Manisha explained the importance of her book.
"The reason I felt this book was necessary is because I wanted to give a positive twang, honestly, in the sense that it is a painful journey, when you read a few incidences [in Healed] it is quite scary and hurtful.
"But at the same time when you finish the book there is a positive message in that, and I believe in that."
Looking Ahead
After taking a sabbatical, Manisha has gone back to Bollywood. She made her return with the thriller Chehere: A Modern Day Classic in 2015.
She has successfully pursued more roles ever since, such as Reena in the Netflix series Lust Stories (2018.)
Manisha is using her celebrity status to promote cancer awareness, especially by discussing her book Healed at various events.
She spoke at length about her experience and book inspiration during the prestigious Jaipur Literature Festival 2019. Film critic Nasreen Munni Kabir led a panel discussion, with Manisha and
Watch our exclusive conversation with Manisha Koirala: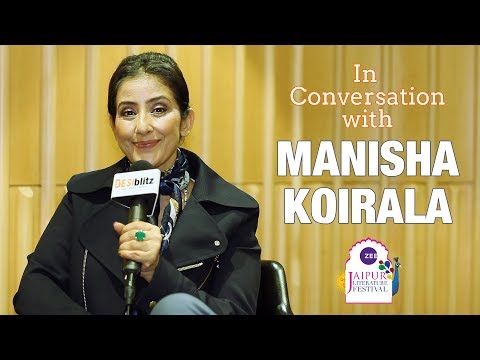 Manisha Koirala's cancer diagnosis was naturally upsetting at the time for everyone.
Despite the challenges she faced, a cancer-free humble Manisha is determined to turn her traumatic experience into something positive.
Sharing her story through the book Healed is a brilliant way of doing so.