"Yo it better not be a f*****g snake! And you want me to carry the ba***rd?!"
It's been a wonderful series of I'm A Celebrity… Get Me Out Of Here, 2017, with Amir Khan being a particular highlight of the hit reality TV show.
Despite Georgia 'Toff' Toffolo winning the show on December 10, Amir's hilarious antics were a brilliant side-story to the series.
During his 22 days in the Australian jungle, the British Asian boxer brought non-stop entertainment to viewers.
From screaming "I'm A Celebrity, Get Me Out Of Here" in his first Bushtucker Trial. To asking if there's ever been a female UK Prime Minister, and being a part of the massive 'Strawberry-gate' scandal.
Watching Amir Khan, until his jungle exit, has brought us endless comedy. So DESIblitz reminds you of his 7 funniest I'm A Celebrity moments, but which is your favourite?
1. A Screaming Start for Amir Khan
Speaking to ITV before going into the jungle, Amir says: "I don't think I'll be one of the guys to say 'I'm a celebrity, get me out of here'."
But Khan was soon regretting his words after being chosen to participate in the first Bushtucker Trial of the series.
Amir and Toff were taking on 'Critter-Cal Rescue', on Day 2, attempting to win meals for their hungry campmates.
With Toff locked away in an underground tomb, it was up to Amir to save her by finding the keys. The former world boxing champion, though, couldn't rescue his teammate as he was KO'd by a small jungle python.
Instead, he screamed "I'm a celebrity, get me out of here" to forfeit the trial after pulling out a snake.
Find out exactly what we mean, by watching Amir Khan in 'Critter-Cal Rescue' here: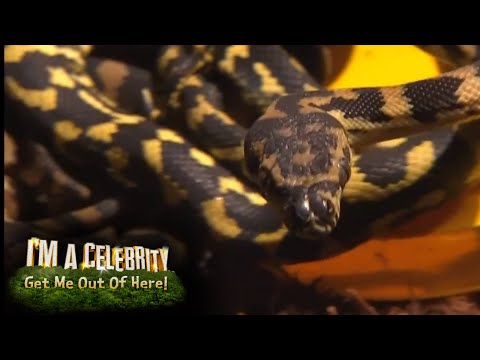 2. Man Don't Like Spiders.. or Camels
On Amir's sixth day in the jungle, he was chosen to compete against Vanessa in 'The Fright House' trial. And a house full of jungle horrors and surprises is the perfect setting for another hilarious Amir Khan moment.
Despite coping well in the first two rooms with fish guts, insects and pigeons, Amir soon had a huge fright.
In the video below, you can see Amir screaming after walking into a room with 'Donald Hump' – a camel! But an even bigger scream came from Amir Khan when he was looking into the next room, full of spiders.
Before receiving another surprise from the camel, he says: "I'm scared of this, I can't do this man. I don't do spiders."
You can watch the best bits of 'The Fright House', here: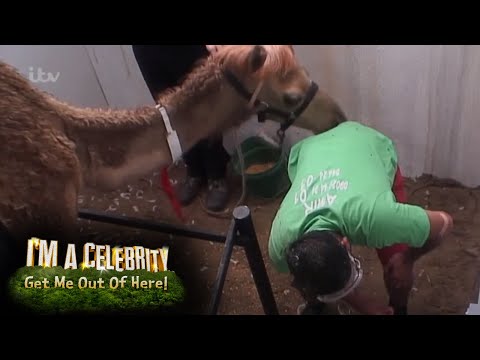 3. A Giant Cat Scared of Cuddly Toys
Who could ever imagine Amir Khan dressed up as a giant cat before I'm A Celebrity 2017?
The Dingo Dollar challenge on Day 11 brought exactly that, Amir dressed from head to toe as a cat. He had to rely on directions from his campmate, Iain, to find specific items.
But without his own sight to guide him, the British Asian contestant was unbelievably paranoid about being around snakes. Be sure to watch Amir and Iain's hilarious discussion about whether a giant cuddly toy is a snake or not.
About the purple dinosaur toy, Amir says: "What is it?" And after being told it's a teddy, he says: "Are you sure, what is it though?"
He then adds: "Yo, it better not be a f*****g snake! What do you want me to do with it? [You want me to] carry the ba***rd?!"
You can listen to and watch the comedy gold for yourself, here: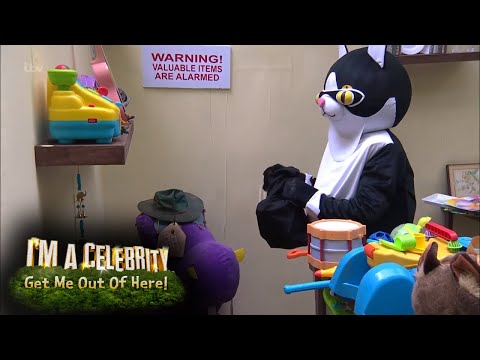 4. Amir Khan Causes Jungle Scandal
After completing their Dingo Dollar challenge, Amir and Iain won a treat of strawberries and cream for everyone in camp.
But, in the biggest ever scandal in I'm A Celebrity history, the pair stopped to eat the treats for themselves.
During their walk back to camp, Amir says: "Let's stop and eat them. They're never going to find out. I'm having them. I won them, and I want to eat them now, are you going to have them now or not?"
While sitting down, looking at the delicious strawberries, Amir adds: "Listen, we're eating these now. Nobody is going to see."
And after pouring the fresh cream on the fruit, he says: "We're eating them! Sorry guys, we're eating them." The pair go on to eat the strawberries and cream before hiding the evidence!
Watch the incredible scene unfold in the video below: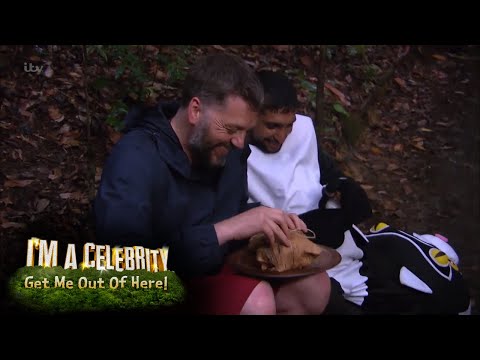 5. Confessing to 'Strawberry-gate'
Not long after returning to camp, Iain and Amir are discussing whether they should admit to their selfish actions.
Speaking among themselves in the Bush Telegraph, Iain says: "We have done a terrible, terrible thing. We're going to go back and we're going to tell them."
And Amir Khan produces the funniest facial expression while saying "You can't tell them!" in a sudden high-pitched voice. He goes on to say:
"Are you mad?! While they're hungry, you're going to tell them that? While they're starving in that jungle, you're going to tell them that?"
The pair agree that Iain will confess and take full blame for 'Strawberry-gate', with Amir saying: "Tell them it was you, not me. If you mention my name, you are dead."
But while Iain is out taking the blame, Amir Khan has a change of heart.
He says: "I think it's wrong me sat here and not telling them. I think I should go and tell them as well that I ate one or two."
Watch the whole shocking admission to 'Strawberry-gate', here: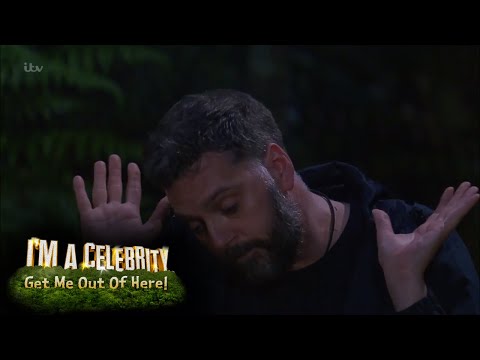 6. Amir Khan Drinks Blended 'Womit' Fruit
Following his role in the strawberry scandal, the results of a public vote chose Amir to take on the Bushtucker Trial.
Amir and Toff were drinking unimaginable cocktails from 'Kiosk Keith's Outback Refreshment Shack' on Day 12 in the jungle. And after drinking blended vomit fruit, I'm A Celebrity hosts ask Amir what it tastes like.
To everyone's, amusement he says: "Womit. [It tastes of] really bad womit."
Check out the video to see Amir and Toff downing some shocking sounding drinks:
7. Wrestling with Naked Dolls
Just days before leaving the jungle, Amir Khan was with Iain and Toff in the 'Grim Grotto'.
In order to win a luxury breakfast for camp, the three celebrities had to dress and package hundreds of naked dolls.
But Amir's attention to the task didn't last long. Soon enough, the former world boxing champion was hilariously fighting with the dolls, and annoying his campmates!
This is something you really do have to see for yourself if you want to believe it. Check it out here: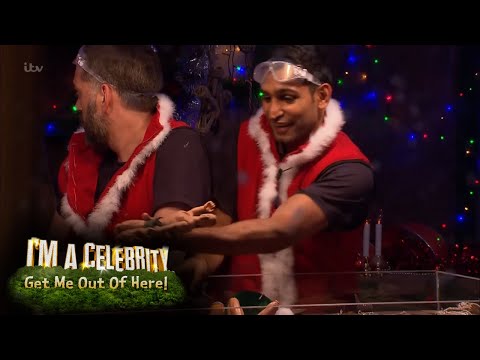 Find Out More about Amir Khan
Amir Khan is reportedly the highest-paid I'm A Celebrity contestant ever, but it's been far from easy money.
The British Asian athlete battled past snakes, spiders and crocodiles during his rollercoaster first week in the jungle. But in week 2 he became the camp villain for his part in the unforgettable strawberry scandal. And finally, in week 3, Khan left the Australian jungle, narrowly missing out on reaching the I'm A Celebrity final.
You can keep up to date with the entertaining Amir Khan through Facebook and Twitter.
But for now, here's the very best of Amir's hilarious one-liners and high-pitched screams of terror for you to enjoy!
You put up a good fight @amirkingkhan (and those screams will never get old!) ?#ImACeleb pic.twitter.com/fGMpTbEI4D

— I'm A Celebrity… (@imacelebrity) December 9, 2017