"I never expected it to be this good. It's all been a massive surprise to me."
After spending nearly three weeks in the jungle, Amir Khan is now out of I'm A Celebrity… Get Me Out Of Here 2017.
The results of a public vote mean that Amir exits the hit TV show just hours after celebrating his birthday.
Khan, 31, leaves the Australian jungle after coming agonisingly close to reaching the final which takes place on December 10.
He leaves Jamie, Iain, Toff, and Jennie in camp for the final two days of the show. And speaking after his exit, Amir says: "I'd like Jamie to win it because he never gives up."
Since first being confirmed for the show, it's been a roller-coaster time in the jungle for Amir Khan.
The British Asian boxer is reportedly the highest-paid I'm A Celebrity contestant ever. But it's been far from easy money for the star who is married to Faryal Makhdoom.
In his first week after entering the jungle, Amir Khan fought past crocodiles, camels, snakes and spiders.
And his second week didn't get much better, as Khan instigated the biggest ever scandal in I'm A Celebrity… Get Me Out Of Here history – 'Strawberry Gate'.
So after his vote-off on December 8, here's all of Amir Khan's highlights from week 3 in the jungle.
Amir Khan is the Forgetful Jungle Cook
Thanks to public voting, Dennis and Toff became the new leaders of '10 Downing Creek' on Day 14. And while they were dishing out camp responsibilities to all the celebrities, Amir Khan was given cooking duties.
After the announcement, Amir says: "Me?! Forget that mate. Me, a chef? Give me a break!"
He adds: "I don't really want to be a chef, it takes a lot of work and patience. I like cooking, but there are ten better chefs than me."
Day 15 passed quite uneventfully for Amir, but he did take charge in impressively cooking an ostrich egg for camp. And you can see Amir Khan's cooking skills for yourself here: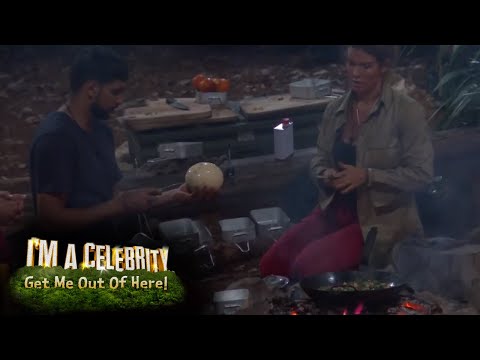 But then came a moment of madness for the boxer as he sensationally forgets his daughter's birthday!
While speaking to Jennie on their hammocks, about home life, Amir says: "My little girl is so far away. I don't know if they're in the UK or America because my wife is from New York."
And when asked about her age and birthday, he says: "She's 3, turning 4 in a couple of months, in summer. [Her birthday is in] summertime, like June. June 23 I think. I don't even remember my own birthday man, I forget."
Soon enough, though, things were much more serious.
An Emotional Jungle Evening
After working together in the 'Forgotten Library', Amir and Jennie helped to win messages from home for all but two campmates. Unfortunately, incorrect answers meant that Jamie and Iain could not receive theirs.
Nevertheless, though, it was a heart-touching evening as celebrities read aloud messages to their campmates.
Amir's message of support came from his wife, Faryal, who writes: "The family and I get together every night to watch you. Lamaisah is your biggest fan, she loves cheering you on when she sees you on TV. I'm so proud of you, and we love you with every bit of our hearts."
Speaking after hearing his message from home, Amir says: "Home support means everything. It gives me the determination to do well and put a smile on their face. I'm going to appreciate life when I go back home. Appreciate, my life, my house, everything."
He also speaks of his desire to start living a more righteous life. Amir says:
"I still live a young, bachelor's life. I've now realised that I need to live a family life. Being here is cleansing my head, making me realise what I want in life and how I want to change myself. I've done wrong, but I don't want to live that life."
Final Jungle Days for Amir Khan
Day 17 brought an evening of karaoke, snacks, and drinks for everyone at 'The Jungle Arms'. But, in order to do so, each celebrity had to survive in the 'Rank Taxi' for 15 minutes.
The challenge saw 4 celebrities in a taxi which was soon of with snakes, spiders, and insects. And, as always, there were constant screams from Amir Khan.
Speaking before taking on the Dingo Dollar Challenge on Day 19, Amir says: "Geography is probably one of my strong points because I'm always on aeroplanes and looking at maps."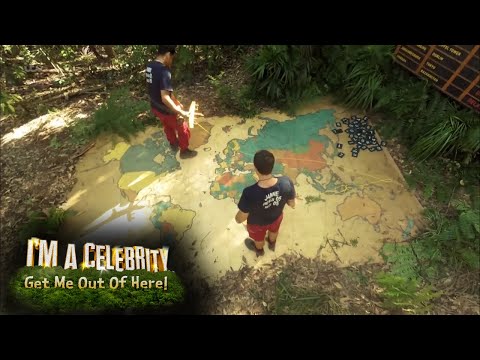 But Amir and Jamie were awful in the challenge, failing to find major cities on a world map.
Eventually, after taking over an hour to complete the task, they won chocolate cupcakes for camp. You can watch the whole hilarious challenge above.
Cupcakes, though, weren't to be the best treat of the week for the campmates, especially Amir. With Day 20 falling on December 8, it means that Amir Khan turned 31 in the jungle.
And about doing so, he says: "It's wonderful to spend it with such a brilliant team down there in the jungle. That's something I'm always going to remember."
To complete a truly unique birthday, the camp also won a birthday cake for Amir. You can see the celebrities singing 'Happy Birthday' and sharing cake, here.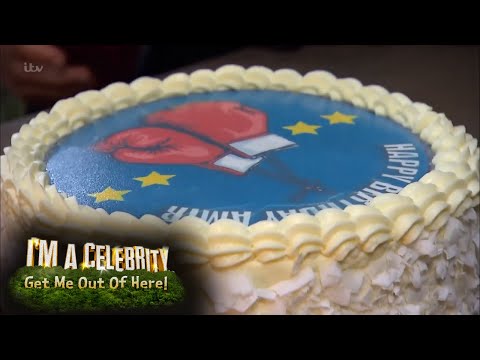 About his special jungle cake, Amir says: "I'm not really a big cake fan, but that cake was amazing."
Unfortunately, Amir was then voted out of the show. About his experience, though, he says:
"I've had such a great time. I'm very proud of myself. I've learnt how strong I am as a person, which makes me a tougher man. The jungle didn't win. I won, and this is a good win for me."
Find Out More about Amir Khan
If you want to watch any of the 2017 episodes of I'm A Celebrity… Get Me Out Of Here, featuring Amir Khan, you can find them on ITV Player.
Simply follow the link above, sign up, and watch Amir take on jungle life.
But if you'd rather relive his best jungle highlights, then you can check out how he fought past crocodiles, camels, snakes, and spiders in Week 1.
Or how Amir Khan became the biggest villain in I'm A Celebrity history in Week 2.
Love him or hate him, Amir Khan has been truly entertaining to watch. And if you want to keep up to date with him, you can find him on both Facebook and Twitter.
You can watch Amir leaving the jungle here: