"Let's stop and eat them, they're never going to find out. Shall we do it?"
Following Week 2 in the jungle, Amir Khan is now the ultimate villain of I'm A Celebrity 2017.
After battling past crocodiles, camels, snakes and spiders in Week 1, Khan is now having to overcome…strawberries and cream!
On Day 11, Amir Khan and Iain Lee became massive jungle villains by creating the 'Strawberry-Gate' scandal.
Thankfully for the British Asian boxer, though, his campmates have been forgiving towards him. But the same cannot be said for Iain, and it's leading to some huge tensions in camp.
So after another rollercoaster week in I'm A Celebrity… Get Me Out Of Here, DESIblitz brings you all the highlights.
And with the vote-offs beginning, how much longer will a cheeky, villainous, Amir Khan last on the hit TV show?
Amir Khan Begins Bickering
Amir Khan's first week in the jungle ended with him winning the boys a head start in the race against the girls.
Dennis and Jamie duly beat Becky and Shappi to win the boys a ticket to the biggest luxury feast in I'm A Celebrity history. But only just about.
On Day 9, while their teammates were out racing, the boys in camp lost a mini challenge to the girls. Although Becky and Shappi couldn't maximise on their advantage in the race, the boys did begin bickering with each other.
And you can see a very awkward looking Amir Khan in between an arguing Iain and Stanley for yourselves, here: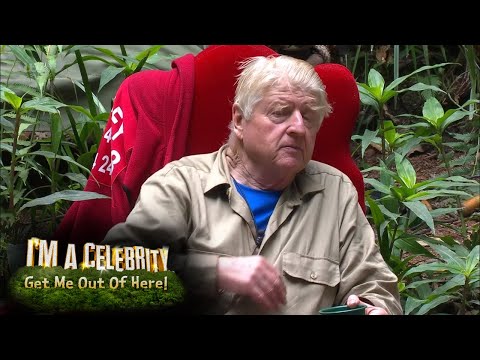 On Day 10, though, Amir Khan was much more involved in the jungle tensions. While Kez was boiling water for the campmates, things soon got heated between her and Amir.
With jungle life proving to be difficult, Amir thought less wood was needed in the fire.
Speaking about the situation on the show, he says: "Why waste logs? One thing about Kez is that she doesn't like to be told when she's done something wrong. She likes her way to be the right way all of the time. She's just mad isn't she?"
You can see the tensions rising between Amir Khan and the Scottish MP, Kez, here:
Uh oh, @kezdugdale and @amirkingkhan are at loggerheads… ??#ImACeleb pic.twitter.com/Oh07hgnta0

— I'm A Celebrity… (@imacelebrity) November 29, 2017
Amir Khan in 'Strawberry-gate' Scandal
But it was Day 11 which brought the biggest scandal ever on I'm A Celebrity… Get Me Out Of Here.
Every day, campmates are given a chance to win a luxury treat for camp by completing an embarrassing 'Dingo Dollar Challenge'.
On November 29, 2017, it was Amir Khan and Iain Lee taking on the challenge. And it was a hugely entertaining watch from beginning to end.
The challenge saw Amir dressed in an oversized cat costume while being directed by Iain to find certain objects. But without his own sight to guide him, Khan was paranoid about there being snakes in the room!
About an oversized children's cuddly toy, Amir says: "What is it?" And Iain's explanation did little to help Amir who went on to say "Are you sure? What is it though?"
With Iain encouraging Amir to feel it for himself, Amir says: "Yo, it better not be a f*****g snake. [You want me to] carry the ba***rd?"
Check out this hilarious video to see Amir Khan scared of a teddy bear and a room full of toys: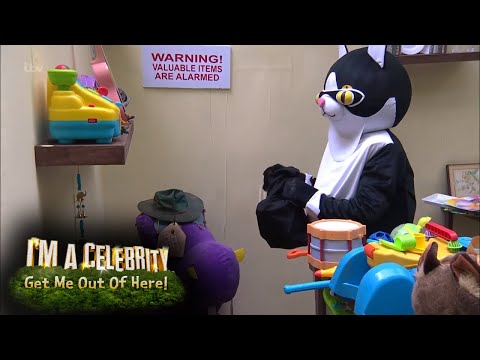 But things soon took a scandalous turn. While walking back to camp with a treat of strawberries and cream, Amir says: "Let's me and you stop and eat them. They're never going to find out. Shall we do that? Shall we eat them and say we got the wrong answer?"
With Iain admitting that it's tempting, Amir Khan adds: "Are we eating them or not? I'm having them. I won them and I want to eat them now."
And without letting Iain speak, he goes on to say: "I want them now, are you going to have them now or not?"
Feeling under pressure from a former world boxing champion, Iain opens them to have a look. But Khan soon pours the cream all over the strawberries and begins eating them with Iain.
Watch Amir Khan in the sensational 'Strawberry-gate' scandal, here: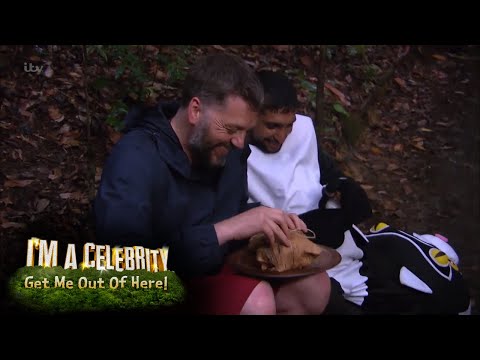 Admitting Their Guilt
Upon their return to camp, after telling their teammates that they didn't win the treat, Amir and Iain discuss admitting to their actions.
Amir reacts in a hilarious high-pitched voice to Iain saying he is going to tell everyone the truth. And you can see that in the video below which shows their shocking revelation to their horrified campmates.
At first, Iain agrees to take all of the blame for 'Strawberry-gate', with Amir saying: "If you mention my name, you are dead."
But eventually, guilt also gets the better of Amir Khan, who soon joins Iain in admitting to their guilt to their campmates.
Watch Amir Khan admitting to 'Strawberry-gate' here: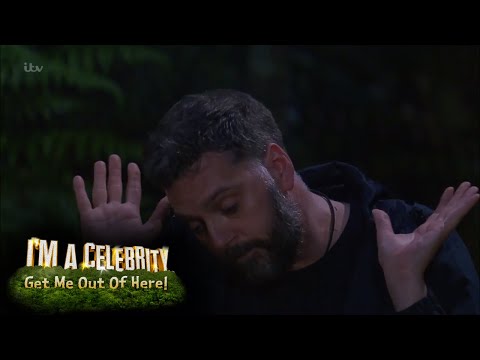 Kiosk Keith's Outback Shack and Fright Club
Possibly due to his involvement in the strawberry stealing incident, a public vote put Amir Khan in for the Bushtucker Trial.
Alongside Toff, they took on 'Kiosk Keith's Outback Refreshment Shack', a vile drinking trial. But the two celebrities did incredibly well to win ten out of eleven stars.
And you can check out Amir Khan downing a delightful blend of sheep's brain, here:
.@amirkingkhan knocks back blended sheep's brain… #ImACeleb pic.twitter.com/nskbRMOs4c

— I'm A Celebrity… (@imacelebrity) November 30, 2017
After completing the trial, Amir and Toff became founding members of the 'Fright Club'.
Being in this secret jungle society involves completing secret missions to help their teammates win immunity from the first vote-off.
Thanks to winning their Bushtucker Trial, the two randomly chose Iain to be the first celebrity safe from the first vote-off.
Amir and Toff then choose Vanessa and Dennis to also join Fright Club. In turn, they also complete their first challenge and reveal Amir as the random celebrity sure to stay at leat one more night in the jungle.
On Day 13, the Fright Club members also recruit Jamie. He, Amir, and Toff then take on a final challenge to try and win immunity for a campmate.
But you have to hear Amir's hilarious screams in the video below:
.@amirkingkhan can't stop screaming in Thread of Dread challenge… pic.twitter.com/jCEsX2homY

— I'm A Celebrity… (@imacelebrity) December 1, 2017
The First Celebrity Vote-Off
Day 13 brought the first celebrity vote-off. And with Dennis, Amir, and Iain all safe for this, who would it be?
Speaking to Toff about the first eviction in their secret Fright Club camp, Amir says:
"Shappi might go. She's a comedian, so she needs to start telling some jokes because otherwise she'll be the first one out. I've not heard a joke from her once."
And show presenters, Ant and Dec, soon reveal that it is indeed Shappi who is the first celebrity out of the jungle.
But after the drama of Strawberry-gate, how long does Amir Khan have left in the jungle?
Be sure to tune in to ITV daily from 9 pm to watch the latest episodes of I'm A Celebrity… Get Me Out Of Here. Or you can follow the hit TV show on Facebook or Twitter by following these links.
But click here if you want to remind yourself about Amir fighting crocodiles, camels, snakes and spiders in Week 1 of I'm A Celebrity.