"One of my strongest attributes is my mental strength. I always want to win."
From terrifying heights to crocodiles, camels and snakes, Amir Khan is really facing it all in I'm A Celebrity 2017.
The British Asian boxing champion has only been in the jungle for seven days, but what a week it's been. Although, some will say it's worth it being the highest-paid I'm A Celebrity Contestant ever.
Speaking before the show, Amir Khan says: "I'm scared of spiders, I'm scared of snakes, and I'm scared of heights. I'm literally scared of everything."
But since being on I'm A Celebrity… Get Me Out Of Here, which places celebrities to live in the Australian jungle, Amir's been busy facing his fears.
Watching Khan tackle his jungle terrors is strangely satisfying and hilarious. So, DESIblitz brings you all of the best Amir Khan highlights from Week 1 in the I'm A Celebrity jungle.
Amir Khan Begins I'm A Celebrity
It was a wonderful beginning to the latest series of I'm A Celebrity… Get Me Out Of Here. But it wasn't such a great start for Amir Khan.
On the first day, while talking to show hosts, Amir sensationally admits to now watching the show before, saying: "It doesn't look too bad from the clips I've seen so far."
But he was surely regretting those words not too long afterwards. While on top of an Australian skyscraper, Amir and some of the other celebrities had to walk along a terrifying plank 100-metres up.
And then, thanks to the results of a public vote, soon after entering the jungle camp, Amir found that he would also be facing the first Bushtucker Trial of the series.
Click here to find out more about Amir's first day on I'm A Celebrity, including how he coped walking off a skyscraper.
Day 2 didn't get much better for the Bolton-born boxer. In his trial, Critter-Cal rescue, Amir Khan came face to face with some of his greatest fears.
Although he did throw his fears to the side, he, unfortunately, did so a little too literally. Check out what we mean by clicking here to find out about Amir's comical Day 2 in I'm A Celebrity.
Amir Khan Faces 'Flushed Out' Trial
Speaking to ITV officials before going into the jungle, Amir says: "One of my strongest attributes is my mental strength. I always want to win."
And on his third day in, I'm A Celebrity… Get Me Out Of Here, Amir Khan finally proved his words. After his hilarious display in Critter-Cal Rescue on Day 2, many thought he wouldn't be able to complete the trial.
But he did, showing fantastic calmness in his battle against time, rising water, and crocodiles to win the challenge. You can relive it all by watching the highlights of Amir's 'Flushed Out' trial here: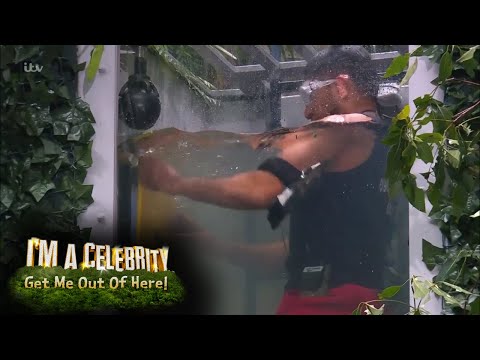 Some Welcome Rest
Possibly thanks to his fearless display in 'Flushed Out', the public vote didn't choose Amir for the 'Worst Dates' trial.
I'm A Celebrity… Get Me Out Of Here is famous for pitting celebrities against thousands of jungle critters, as well as getting them to eat unimaginable things.
And it was Rebekah Vardy, and Georgia Toffolo who were unlucky enough to have to eat cockroaches, crickets, and eyeballs.
Day five brought another welcome rest for Amir, but it also introduced two new celebrities to the show.
The radio presenter, Iain Lee, and the politician, Kezia Dugdale, were made to face-off against each other with the others watching on. After winning, Iain then chose to take Amir, Dennis, Jennie, and Shappi back with him to Croc Creek.
Thanks to being on the winning team, all five celebrities, were told that they have won their care packages, which contain one luxury item and a welcome message from loved ones back home.
But to win care packages for their other five campmates, they had to beat them in a series of trials. And after winning one by beating them in a jungle quiz, it was then down to Amir Khan…
Amir Khan in the 'Fright House'
Beating Vanessa in the 'Fright House' challenge would mean that they win two care packages for their campmates. But that means fighting past fish guts, fluttering pigeons, a curious camel, and over 70 spiders!
Despite getting off to a slow start, Amir fought back to eventually win the race through the 'Fright House' by seconds.
It was a terrifying end to the trial for Amir Khan as was put up against his greatest fear, spiders. He hilariously screams as he opens the hatch to see what's behind it, but not before another amusing shock.
You can see for yourself in these highlights of 'Fright House' here: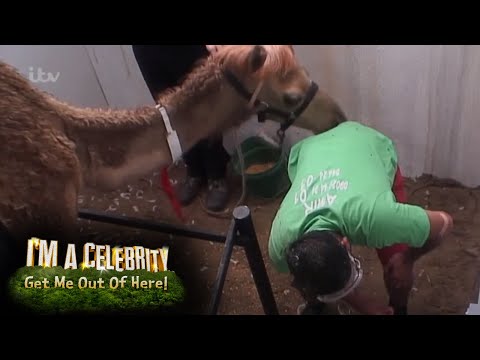 Amir's 'Bromance' and Live Trial
Despite ten out of eleven celebrities receiving their care packages, morale in the camp was soon down.
A public vote chose Iain to do the 'Temple of Gloom' Bushtucker Trial. But with panic setting in underwater, he said "I'm A Celebrity, Get Me Out Of Here" to lose the challenge.
This means that it was another day and night of eating rations of rice and beans for Amir Khan and his campmates. But what did come on Day 6 of I'm A Celebrity, was a strangely beautiful 'bromance' between Amir and Stanley.
Speaking about their special jungle friendship, Amir says: "It's one of those love-hate relationships. I love it, and we connect quite well."
Find out exactly what we mean by watching here: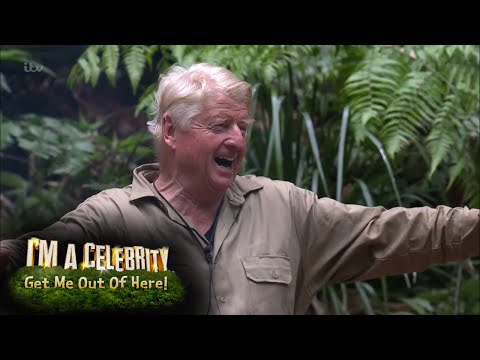 It was then boys vs girls competing in a live Bushtucker Trial. Amir, Stanley and Iain were fighting against Vanessa, Jennie, Toff, and Kez for a head start in the other half of the trial.
In the first challenge, Amir Khan took on Jennie in 'Crappiest Minute of the Week'.
While wearing an astronaut-like helmet full of jungle critters, they had to count a minute in their head before ringing a bell when they think the 60 seconds over. This GIF shows you exactly how horrible the challenge was:
When you dreamed of being an astronaut and somehow wound up here #ImACeleb pic.twitter.com/GAvzOT0rtF

— I'm A Celebrity… (@imacelebrity) November 26, 2017
In his second challenge, Amir was once again in a race against Vanessa White. The celebrities had to unwind two stars from a box containing a huge mud crab, while a massive python was around their necks.
Incredibly, Amir won both challenges to help the boys gain an early advantage in part two of the live trial!
Overcoming your fears = wrapping them around your neck on live TV. Where is the old @amirkingkhan?! #ManDontMindSnakes #ImACeleb pic.twitter.com/Hswzezk1rb

— I'm A Celebrity… (@imacelebrity) November 26, 2017
What Next For Amir Khan?
Be sure to tune into ITV at 9pm to watch the latest episodes of I'm A Celebrity… Get Me Out Of Here.
It will almost certainly be another terrifying week for Amir Khan, but he is definitely settling into jungle life now.
DESIblitz will be back next week to bring you all the best highlights from Week 2 in I'm A Celebrity! But if you want more, then here's what Amir Khan thinks of the jungle so far: