"I don't think I'll be one of them guys to say 'I'm a Celebrity, get me out of here'."
Amir Khan failed his first jungle Bushtucker Trial in quite hilarious circumstances on November 21, 2017. And DESIblitz brings you the comical video highlights for you to see for yourselves.
Things could also be going from bad to worse for the British-Asian boxer. At the end of the show, hosts revealed that Amir Khan will be taking on the next Bushtucker Trial, too.
After a public vote during the opening, I'm A Celebrity episode, Amir was chosen to do the Critter-Cal Rescue trial.
Speaking before-hand, he says: "I'm quite nervous about my trial, but I've had to deal with it now. I just want to get myself going and get time moving quicker because it goes slow in the jungle."
But here's all the Amir Khan highlights from Day 2 in the I'm A Celebrity jungle.
Amir Khan in Critter-Cal Rescue
While attempting today's daunting Critter-Cal Rescue task alongside his campmate Georgia Toffolo, Amir could not overcome his fear of snakes.
Khan was searching for keys in terrifying, dark tunnels to save Toff from her insect-filled underground chamber.
After successfully managing to untie two keys which were covered in bugs, the boxer then had to put his hand through three small holes in the wall to find the third key.
In the first hole, viewers saw Amir's hand wrestling with a mud crab as he felt around for the key. I'm A Celeb hosts, Ant and Dec, then encouraged Amir to try the next hole knowing the key is there.
But with two snakes in there with the key, this would only end in a jungle KO for Amir Khan.
However, nobody expected it to be quite so hilarious. Unable to see for himself, Amir grabbed hold of the snake thinking it was the rope tying the key.
And as he pulled his hand back through the hole, the snake came out into the tunnel with him!
This led to Amir Khan scampering away, screaming "I'm A Celebrity, Get Me Out Of Here" to end the trial.
You can watch the highlights of this absolutely hilarious Bushtucker Trial in the video below: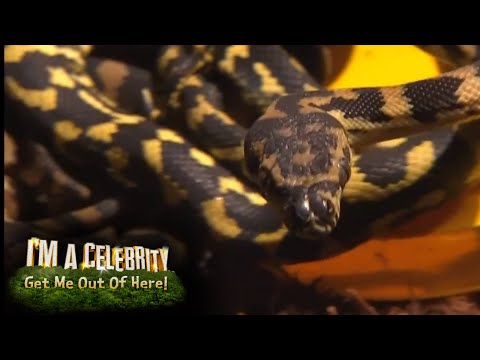 However, with Khan saying those dreaded words, it means that they fail the task. Due to failing, all ten celebrities were forced to eat rations of rice and beans for dinner.
More Amir Khan in the Jungle
When first meeting all of his celebrity teammates for the first time, Amir said: "I don't think I'll be one of them guys to say 'I'm a Celebrity, get me out of here'."
But it's been a harsh lesson for the boxing hero, and he's been made to regret his words. How will he cope in the Flushed Out trial which awaits him on Day 3 in the jungle?
Make sure you tune into I'm A Celebrity … Get Me Out Of Here on ITV at 9pm to find out. And be sure to download the app, which is available for Apple and Android to make your opinion count.
Will you be voting for Amir to tackle more gruesome, but hugely entertaining trials?