"Fiery music... variously delicate and rousing."
Arun Ghosh, an Indo-Jazz musician, from London, portrays talent of a unique kind with a superb fusion of Jazz music with other styles including Hip-Hop, Indian classical and folk, western Classical, Rock and Pop. As an amazing clarinet player; Arun's plays his music to cross boundaries like no other.
DESIblitz met up with this incredible musician when he visited The MAC in Birmingham in 2011.
Conceived in Calcutta, bred in Bolton, matured in Manchester, Arun lives in London. His musical vocabulary and vision reflect his rich geographical heritage.
Arun started playing music when he was young and started playing the recorder as his first instrument. He loved playing music for friends and people around him. He was influenced at that time by Bengali folk songs and filmi songs of that era.
He then moved onto the clarinet and playing Western classical music. As he got older he began playing with tabla players and performing with ethnic dancers, which made him realise the importance of the Eastern sounds in his music. His classical Indian music influences come from Ravi Shankar, Pandit Hariprasad Chaurasia and especially, the Shenai player, Bismillah Khan.
Out of all the wind instruments, Ghosh chose the clarinet. Talking about the clarinet as his chosen instrument, Arun says: "When I got to play it I knew that it was the instrument for me. It felt just really natural to me."
Arun Ghosh performs his music as a quintet called 'The Arun Ghosh Horn E Bass Quintet' which features himself on the front line playing the clarinet and then fellow musicians on bass clarinet, tenor saxophone, upright bass and drums.
The band combines the sounds of the clarinets and saxophone into sweet and timeless raag explorations and melodies cultivating soaring improvisations, all sown together with intricate drum beats. The music is original, of South-Asian origin, and has a contemporary jazz attitude, rocking urban beats and the passion of punk.
The concert performed by Arun Ghosh at The MAC featured some of the most delightful and zesty pieces of music heard in this form. The band had the audience completely mesmerised by its sound as it witnessed the dynamic of sounds played by the musicians as individual solos, harmonies and in unison.
The set featured tunes from Arun's album Primal Odyssey and from a previous release Northern Namaste.
Constantly experimenting with live formats and arrangements has been key to Arun Ghosh's growing reputation for creating music that is and The Telegraph newspaper put it: "…at once no-nonsense, thrilling and beautiful…uproarious and irresistible."
The Metro paper reviews his sound as: "Fiery music…variously delicate and rousing."
Watch our conversation with this Indo-Jazz musician to find out more about his music, his career and see some of his exhilarating performances from The MAC concert: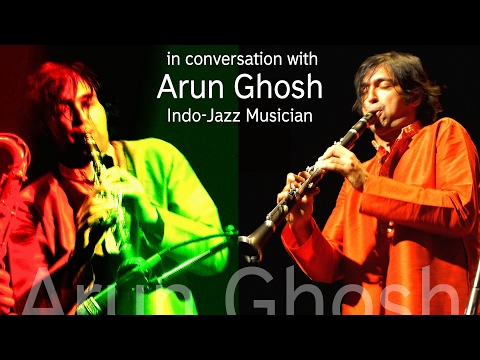 Arun describes his music as the collection of influential styles that he witnessed as he matured into the musician he is today and says:
"The music is very much driven by the drums and the bass and Western instruments but the compositions and the roots of the music are very much Indian."
Arun's album Primal Odyssey was in the Critics Choice of Top 10 CDs to review for Jazz Journal in January 2012. Dave reviewer at the Jazz blog 'Bird is the Worm' has high praises for Arun's album and said: "If you only buy one jazz album this week, this should be it. Highly recommended."
In 2008, he was selected for Edition IV of the Jerwood/PRS Foundation 'Take Five' initiative for emerging jazz musicians produced by Serious. Two performances at the London Jazz Festival 2008, saw Arun Ghosh's bands playing to a sold-out audience at the Purcell Room, Southbank in a double-bill opposite Rudresh Mahanthappa Quartet plus a capacity crowd at Ray's Jazz Cafe at Foyles.
In 2009, Arun was invited to perform at the Jazzahead! Festival in Bremen, Germany as part of the UK showcase presented by Jazz Services. Also, in the same year, a sold-out double-bill with Zoe Rahman at Ronnie Scott's Jazz Club in August, and his role as Musical Director and performer with Malian legends Amadou and Mariam at the Manchester International Festival were highlights of his career.
Arun Ghosh is also an established musical director and composer for theatre, dance, performance and radio. His first work was Storm by Lemn Sissay (Contact Theatre, 2002) and he has since worked on over 40 major productions.
In March 2010, Arun Ghosh wrote a new score for Lotte Reiniger's 1926 feature-length silhouette animation "The Adventures of Prince Achmed" with its premiere performance taking place at the Albany, London. He found this musical challenge particularly interesting and says: "How I wrote it was I sat with the piano and played and watched what was happening. I thought about what I wanted to express. Obviously, it's a silent film so there are no words, so the music tells the story."
Radio work by Arun Ghosh includes "Bora Bistrah" (Radio 3) and "The Healing Pool" (Radio 4). Television/short film work includes "Rappin' at the Royal" (Channel 4), "Dream Factory" (BBC) and "One More Bridge (ACTV).
Alongside his performance and composing activities, Arun likes to get involved with educational projects, particularly in the world of theatre, in addition to collaborating with other musicians, writers, poets, filmmakers and dancers.
To relax, Arun Ghosh likes socialising and spending time with family, he loves listening to different genres of music and above all, he enjoy cooking.
Arun Ghosh is a unique musician in his genre and his live performances with his quintet show how much energy, depth and zest his music portrays and we definitely recommend it is an experience not to be missed if you get the chance to catch him live.