"I tend to respond to life through my music, and so all my emotions end up coming out in my music."
A leading world musician, sitar player and composer, Anoushka Shankar is as musical as she is beautiful.
She can be defined as an inspiring woman, whose music innovately crosses musical genres and cultural borders, whilst maintaining dignity for the sound of Indian classical music throughout.
In an exclusive Gupshup with DESIblitz, Anoushka admits that her music is 'a mix of heritage and modernism': "I'm really into carrying forward traditions, to renew them and keep them current," she says.
"I'm quite a perfectionist so I really do look at my own work with a critical eye… the thing about music or any art it's not always about perfectionism it's just about honesty."
Today, Anoushka lives in East London with her son and husband, Joe Right, who is an award-winning film director. When asked about life in London, Anoushka told us that Hampstead Heath is one of her favourite hangouts.
Anoushka is the youngest of two daughters to Sitar maestro Ravi Shankar, who is widely regarded as being one of the first Indian musicians to introduce the sound of the Sitar to the West.
During his lifetime, and even after his death, Ravi Shankar is known to have influenced the work of many Western musicians and was regarded as having 'laid the stepping stones from West to East':
"Genuinely what I wanted to do is have the base as pure as possible Indian music within the framework of raga and tala, and use non-Indian musicians, non-Indian instruments for a special sound," said Ravi in a memorable interview.
Amongst those inspired by him were the Beatles. In the 1960's, during the development of a number of youth movements, curiosity in Eastern teachings was high.
The spiritually inquisitive George Harrison in particular, developed a close bond with the Sitar master. Even Hollywood director Martin Scorsese once described Ravi Shankar's music as having 'such power, seeming ancient and immediate, impassioned and meditative, full of sorrow and joy'.
Ravi Shankar, a 'musical philosopher', strongly advocated that both performer and environment should be sacred. On performing for 'hippie' audiences who were intoxicated with drugs and alcohol, he said:
"I had to explain to them, please try to listen with a pure mind, because I assure you that our music has that power, that it can make you feel high."
Anoushka often speaks about her father's influence in her life and music. Although Ravi Shankar spent much of his time travelling as a musician, it was only after he and Anoushka's mother Sukanya Rajan married, when Anoushka turned 7, that she began training under her father: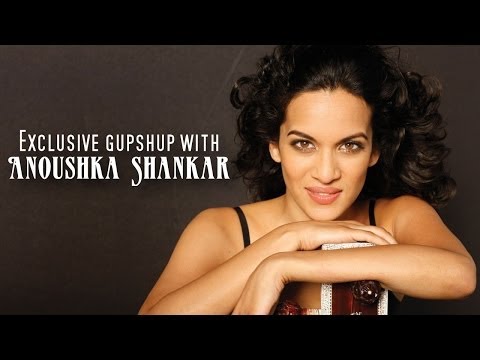 "Being taught by him gave us, I think, an almost unique relationship. It gave us a deep connection because we suddenly had this whole undercurrent of communication that you can only really get when you play music together," Anoushkar says.
Born in London, Anoushka's first public performance took place at the age of 13 in New Delhi. Her cultural expedition continued as she accompanied her father on stage around the world.
As a teenager, living and completing schooling in California, Anoushka landed her first record contract with Angel records at the age of 16.
Her first album Anoushka (1998) was released at the age of 17, next followed Anourag in 2000 after which Live at Carnegie Hall in 2001 earned her a Grammy nomination in 2003.
Rise, her fourth album released in 2005, is described as significantly revolutionary to her as an individual, as well as her talent and sound.
Although Anoushka wrote a biography of her father, Bapi: The Love of My Life in 2002, Rise brought the opportunity for Anoushka to write lyrics for the first time, to a melody.
This album features a hypnotic mix of electronic and acoustic sounds. Further remixes of Anoushka Shankar's tracks featuring Thievery Corporation and Karsh Kale were released thereafter.
Her progress as a performer continued with her pushing 'the cultural dialogue her father began, even further in her own music'.
In 2011, under classical music label Deutsche Grammophon, Anoushka released the album, Traveller. Recorded in Madrid, Spain, it explored Spanish Flamenco music with Indian classical music.
Traveller has been described as: "The spiritual link across time and space of two highly evolved forms of musical expression, from their ancient gestation to their modern zenith. This is an album of innovation and rebirth – a perfect culmination of old and new."
This breakthrough experimentation continued in her work with world-renowned composer and producer Nitin Sawhney and led to her current album Traces of You (2013).
Innovative in every way, it brings a new instrument called the 'Hang', which is described as something that looks 'like a cross between a steel drum and flying saucer'.
Traces of You, also features her half-sister and American singer-songwriter Norah Jones on vocals: "I really wanted to create a consistent journey throughout the course of multiple tracks, so that it was one cohesive album," Anoushka explains.
"I knew having one singer would really help me to do that, and of course Norah being my sister and someone whose music I obviously admire, she was the perfect person."
"The album really was about a journey, about a process of discovery, and allowing the music to follow, an evolution of life really. I tend to respond to life through my music, and so all my emotions and reactions or what is happening to me end up coming out in my music."
Original and contemporary beautifully blend with traditional Indian rhythms. The underlying message that flows throughout is how 'despite our widely varying social, cultural, religious and geographical circumstances, our fundamental human experiences are broadly similar'.
Successfully balancing career, home life and a dedication to a number of humanitarian campaigns, it is no wonder that her efforts have been recognised with India Times' 'Women on the Year' (2003) and as one of the Top 20 Asian Heroes.
Anoushka continues to revolutionise contemporary world music for today, whilst preserving the beautiful flavours of a rich musical lineage, and it is clear that her creative talent will be appreciated world over for many years to come.