"It's about bringing people together, communities together, promoting South Asian community dance."
A leading music and arts organisation, Punch Records seeks to encourage Black and South Asian talent across the Midlands.
Through its series of outreach programmes, the organisation has supported and nurtured some of the finest talents in the UK.
Headed by CEO, Ammo Talwar MBE, the company was initially founded in 1997, where it used to be a record store selling vinyls of Black and urban music to DJ's.
While it is no longer a shop, Punch Records predominantly promotes Black sound, and now more increasingly, British Asian sound, across the UK.
Speaking about Punch, Ammo says: "It's a music development agency that could really only have come out of multicultural Birmingham.
"We came out of a record store, and we're really interested in working with artists, looking at new ways of engaging with new communities."
Ammo believes that being in Birmingham offers Punch a unique chance to be at the heart of innovative ethnic creativity. The Midlands of course, is already the home of bhangra and is responsible for some of the best British Asian artists on the scene right now.
Punch offers a variety of support and development services for young ethnic talent looking to break into the highly competitive music industry. They offer music workshops, training and specialised classes for both artists and arts organisations.
In addition, Punch regularly hosts grand concerts and club nights, giving a public platform to new and young creative talent: "We devise productions, theatre, music and dance around Black and Asian art forms," Ammo explains.
As an Arts Award centre, Punch has also created some touring productions, including spoken word, theatre, dance, film and visual arts. Some of its biggest events have included the BASS Festival, Midlands Best Dance Crew, and #iLuvLiveBham.
Most recently, Punch held its popular Desi Moves Showdown in November 2013. Spearheaded by Punch's Head of Office and Finance, Gurpreet Bilkhu, Desi Moves is a successful competition that reaches out to young people across the Midlands to showcase their dancing talent.
From the likes of traditional Punjabi dance like Bhangra and Giddha, Desi Moves also welcomes urban, street dance, contemporary, Bollywood, and a fusion of East meets West.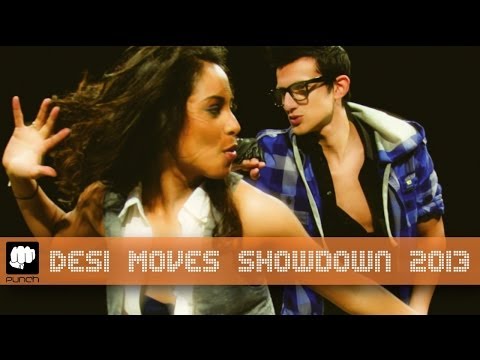 As Gurpreet explains: "It's about bringing people together, communities together, promoting South Asian community dance. Just getting people on board, get people moving, promoting health and well-being, using dance as a way of fitness."
Only in its second year, Desi Moves has been applauded for its encouragement of young people from both ethnic and non-ethnic backgrounds, getting them to work together and learn from each other.
The competition always sees a huge mix of talent and 2013 was no different.
DESIblitz caught up with all the guests to see how they felt about the night, and what such an event means not only for the development of creative young minds in the local community, but also the constantly evolving music and dance industry in Britain.
Sponsor of Desi Moves, Kashif Latif from Latifs said: "I think it's great for British Asian culture. Unfortunately, there's not enough of these events going on. It keeps kids out of trouble, and it's a great way for communities from all ages to participate and get involved."
Headlining the show was Team PBN, including PBN, Raj Bains and Bambi, who kicked off the night performing their latest singles.
PBN sang 'Go Crazy' alongside a stage full of dancers from all backgrounds, performing his signature moves from the video. Raj Bains performed his single 'Superstar', and Bambi performed 'Aashiq' originally sang by Miss Pooja from PBN's album, Homegrown (2009).
Judging the finalists were a celebrity panel; popular dancer and choreographer Karan Pangali, who took part in Hrithik Roshan's Just Dance show in India, was one of the judges and also took to the stage mid-show. He performed in true Bollywood style and glamour.
Fellow judge, Toffee also performed on the night, as choreographer of Tru Street Dance; the group gave an energetic street dance performance.
Also judging was Adi Khan, who has choreographed some of Bollywood's biggest names such as Shahrukh Khan and Salman Khan. He announced that the lucky winners would not only be winning a cash prize of £1000, but will also dance alongside Salman Khan and his brother Arbaaz Khan in their new Bollywood movie.
Last year's winners, Ankhile, were also at the event performing their signature dance style in full traditional Punjabi fashion. 7 acts performed at the event including a wildcard group, Asian Street Remix. The shortlisted acts were: Desi Nach, Haripa, WDC, I Have A Dream, Jin N Tonic, Laurelle & Jo and Sahil Handa.
All the performances of the night showcased a wide diversity and fusion in both music and cultures. The dance styles on the night ranged from giddha, contemporary and street dance.
Winners of the 2013 Showdown were none other than street dance crew, 'I Have A Dream'. The crew mentioned that this was an exciting opportunity for them to be a part of a such diverse competition and see other cultures and forms of dance. In particular, they researched different Asian dance styles for inspiration within their own routine.
Asked how it felt to have won, they said: "Just amazing, completely overwhelmed and didn't expect it. It's come as a big shock, but its nice to see what can come out of hard work and dedication."
With such a great second year, the future of Desi Moves can only get bigger and better. The organisers of the event hope to take the dance competition international next year to India. The plan for the competition is to make it recognised worldwide.
All in all, the event was hugely successful and gave the young people of Birmingham a platform to showcase their talent and be rewarded for it. Thus, Punch Records continues to expand on its philosophy of promoting the cultural cohesion of South Asian and ethnic creativity in Britain, and we greatly look forward to their future community events and projects.