"I've always been lucky because I've maintained two parallel careers."
Alisha Chinai is a well-known household name in the music industry. With many successful hits under her belt, she has earned herself a great reputation as India's 'Pop Princess'.
Her collaborations have gone on to be popular worldwide and she has made countless hits one after the other.
It is clear that music in in Alisha's blood. She began her career by singing on stage in the Indian theatre production of Evita where she received a standing ovation from the crowd.
The performance led to her being signed by HMV and she began recording her first albums.
With a sweet and poptastic voice, she is also a favourite among Bollywood actress and music directors for her foot-tapping disco numbers.
Director and composer Bappi Lahiri was responsible for bringing Alisha to Indian cinema. Alisha made her début singing songs for Adventures of Tarzan (1985), Dance Dance (1987), Commando (1988), and Guru (1989).
Alongside her career with Lahiri, she was also a playback singer for many top actresses, such as Karisma Kapoor, Sridevi, Juhi Chawla, and Madhuri Dixit, and notably sang 'Kate Nahin Kat Te' (Mr. India, 1987) and 'Raat Bhar Jaam Se' (Trivdev, 1989).
With playback singing firmly under her belt, Alisha released the hit single and album, Made in India (1995), which was composed by Biddu. In an exclusive Gupshup with DESIblitz, Alisha explains:
"It was like a dream come true to do 'Made in India'. It just hit the roof, it became an anthem, it was a trendsetter, because it was a completely new sound."
Made in India went on to become one of the highest selling pop albums of its time and Alisha became a household name.
This album featured well-known songs like; 'Aaja Mere Dil Mein', 'Ek Baar Do Baar', 'Sun O Meri Dhadkan', 'Tu Kahan', 'Ooh La La', 'Tu Jo Mila', 'Dhokha Diya Hai Re Tune Mere Dil' and 'Lover Girl'.
Growing in popularity everyday, the 90's were her stepping-stones and an expansion of her career. She began to branch out and be more selective about her music choices:
"I don't do an overkill, I don't sing so much that I myself get burned out. As an artist one tends to get a little burned out, one wants to do different things. One wants to take a little departure away from doing Bollywood soundtracks and solo albums which I have been doing."
Making sure not to saturate the Bollywood scene with her songs, Alisha carefully collaborated with various music directors, developing and offering a unique style of sound including Anu Malik, Anand Milind, Rajesh Roshan and Nadeem Shravan.
Some of her most memorable tracks are; 'Tere Ishq Mein Nachenge' (Raja Hindustani, 1996); 'Roundhe' (Pyaar Tune Kya Kiya, 2001); 'Sona Sona Roop Hai' (Bollywood/Hollywood, 2002); 'Ruk Ruk Ruk' (Vijaypath, 1994), and the controversial 'Sexy Sexy Mujhe Log Bole' (Khuddar, 1994) which remain popular tracks to this day.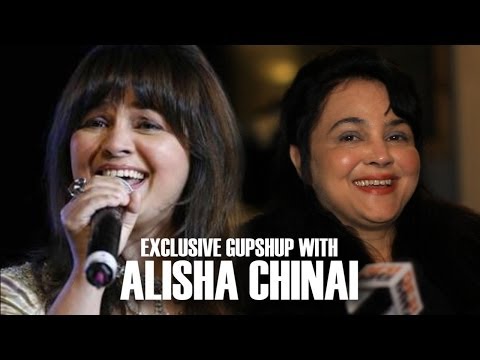 "I'm essentially a Mumbai girl, very much born and brought up in Bombay. I've always been lucky because I've maintained two parallel careers.
"I've had a solo album career as a pop artist and that gives me my identity as Alisha: 'Made In India'. But playback singing is also very essential in India because that's how you reach out to the masses."
Despite dipping in and out of playback singing over the last two decades, Alisha has probably recorded some of the most influential songs that Bollywood has ever come across.
In 2005, 'Kajra Re' (Bunty Aur Babli, 2005) took her up the ladder even more helping her hit one of the highest points in her career. The song was a hit and Alisha won her first Filmfare Award for Best Female Playback Singer.
Alisha admits that with playback singing she has very little creative control as the music director envisions the performance that they expect from the singer. In comparison, Alisha admits that her own music allows her more freedom to explore her own creativity:
"When you're doing a solo track, it's an expression, it's a statement. It's a story you are telling about some experience in your life through a song. So there is a lot of artistic gratification."
But while Alisha has moved away from playback singing for the most part, she admits that the chance to work with some amazing music directors entices her back. Most recently, she recorded two songs for the blockbuster superhero film Krrish 3 (2013), where she sang 'Dil Tu Hi Bataa' and 'You Are My Love':
"The producer and the composer, Rajesh Roshan, called up one fine day and said 'Ek gana hai Krrish 3 ke liye'. And you know, I'd kind of been out of the loop for a while so I said, 'Okay, great'. When Rajesh Roshan called, I was very excited because I love his melodies, I think he's a very melodic composer."
Alisha is now geared up for her new album which she has written and composed herself. Helping produce the record are Sunny and Annand of London-based label, XXL Productionz.
Speaking about her new material, Alisha says: "I think in English so the whole song is essentially in English, which I hope to crossover to mainstream."
Of course any young music singer can only aspire to have the level of fame and success that Alisha has had and continues to enjoy. Her advice for any new budding singer:
"They've got to understand that they have to have talent above all and to recognise that, and then to focus on it. You really have to dream big and make it happen for yourself."
It is clear that Alisha's musical talents have truly allowed her to achieve her dreams and we can't wait to hear her new new musical masterpiece releasing very soon.