"I feel like electronic music transports me to different realms"
British Asian artist Swaati draws on her personal life experiences to create beautiful and meaningful music.
Her immense creativity in songwriting has seen her experiment with many different sounds and genres of music growing up.
Having been brought up in West London and then moving to India to be trained by the world-renowned Tulika Ghosh, Swaati uses both her Western upbringing and Eastern heritage to inspire her music.
Swaati first emerged on the British Asian music scene in 2012 where she gained considerable recognition for her unique talent.
Her latest track, 'On Fire', encapsulates the Swaati's love of house and electronic music, blending dance beats with the singer's haunting vocals.
In a special interview with DESIblitz, Swaati reveals her musical passions and tells us more about her latest single, 'On Fire'.
Swaati, where did your passion for music come from? And what is your earliest memory of music?
One of my earliest memories was of playing a Casino keyboard player while watching Madonna perform on TV and dreaming of being her keyboard player. I was about six years old and I had no idea how to replicate a song or read music then; I experimented with sounds and started a journey to discovering music.
But even since I was a toddler music has been a way of life; my parents held a lot of parties and I was able to witness the effect music was able to have on people; the emotions it evoked or the memories it triggered. As an introvert, seeing the way music helped people tell these stories helped me communicate with myself.
My parents discovered I had musical talent and pushed me to further explore academically. I've been very fortunate with the support that I have received during my musical journey.
"As I grew with music I became able to express the thoughts and emotions I could never verbalise. Music became the language of my soul."
So, I guess, that's where my passion for music comes from. The passion you have for something or someone who has never let you down. The someone or something that has carried you safely through the roughest oceans of your life and given you the brightest, sunniest of days.
Who were your musical inspirations growing up?
Growing up, my musical influences were very much moulded by whoever my parents and siblings were listening to. I naturally took a liking to Depeche Mode, Madonna, Prince & Queen. My parents were avid lovers of classical Bollywood singers such as Mohammed Rafi & Mukesh and so naturally I fell in love with them too.
The artists both my sisters and parents listened to had a major influence on me growing up. I was fascinated by generational and cultural diversity and began to observe how music is often a product of its environment, how music can not only define cultures, subcultures or a generation but it could also unite them.
Madonna's continual reinvention and exploration of musical genres, Queen's sonic experimentation; and the deep versatility in the work of Prince were large contributors to my musical development. Breaking down barriers, challenging labels… evolution. These concepts drive me.
My parents gave me a passion for classic Bollywood. But again it was artists who experimented and redefined the genre, like Mohammed Rafi & Mukesh. Of course, I always felt a raw energy from artists, like these, who could present their craft in many different languages.
You're described as India's Eclectic Princess, what makes your music so unique?
Myself and the group of talented producers I work with all come from different influences, it took years of getting to know one another and finding our own sound as a middle ground fused from our individuality. When you hear the result of that, it's a truly special moment.
Although in the easiest terms we could be labelled as electronic, you will find that within that, it is a fresh polished sound unique in itself from anything else.
You are heavily influenced by electronic and house – what do you love most about these genres?
I feel like electronic music transports me to different realms. It creates a pathway to dancing, with the freedom that it brings along with the clean sounds of the production. You can make sounds that don't exist in a physical form.
It can conjure emotional experiences almost similar to a meditative state. It gives freedom to be individual and each experience will differ from the next.
How has your time in India influenced the music you create?
I was fortunate to get to go to Mumbai when I was 16 years old to get my classical Indian training under Tulika Ghosh. It was a complete eye-opener to be in such a vibrant city that doesn't bubble wrap you away from the realities of poverty and wealth all in the same vicinity.
Everything is out in the open, not being hidden away for the sake of tourists. I have been to Indian many times and through music especially. My first tour was in India, I got to perform at Rajasthan Festival held in the open deserts of Rajasthan, and also at Blue Frog in Mumbai.
"The love and support I get from other artists and the public there is like no other. I feel like India – specifically, Mumbai is my second home."
Can we expect any Indian-inspired songs from you in the future? With you singing in Hindi/Punjabi?
My British-Indian roots will always continue to influence me, though in certain songs you may not hear that influence in the forefront, for it is deep rooted to form my backbone.
My obsession with Indian folk music remains and as a result, I can almost guarantee that I shall continue working to create relatable variations of Hindi and Gujarati folk songs that would appeal to the younger generation as well as old.
What do you enjoy the most about songwriting?
My songs are representative of my life at that particular moment in time. My soul speaks through my music; I get to reveal my true self through the different personas through the stories I tell through the songs. Since a very young age, I loved reading fiction and also picked up a love for writing.
I kept diaries and made a habit of exploring my emotions and jotting it all down. It was only natural that I then was able to organise those emotions triggered by life experiences and convert them into songs.
The entire process is therapeutic to me, making me feel lighter with hopes that others could relate to my lyrics and in that sense, it unifies me with my listeners.
'On Fire' is destined to be a party anthem. Where did you draw your inspiration from for the song?
'On Fire' came out as a result of channelling emotions of power, the sense of coming out stronger on the other side. Fire as an element is not only a powerful destructive force, it also has the capacity to cleanse, renew, and start fresh.
'On Fire' is about a time in your life when everything is going your way. You wake up and your hair is amazing, you get dressed and everything fits perfect and you feel great. You go out feeling like a ray of light, confidence is sky high and it feels like you've got that magic touch!
There is a great feeling of empowerment that comes with listening to that song.
You have already done several collaborations with other artists. Any other big names on your wish list?
Stromae, Lykke Li, London Grammar.
What's next for Swaati?
To keep creating music that allows me to express who I am at that moment in that time that others can relate to. I believe it to be selfish for me to keep this gift hidden behind the four walls of my studio, sharing is caring after all.
Someone somewhere needs to hear my voice more than myself, and I will continue to do everything in my power to keep writing, singing and pushing it out to the world.
In the near future, I will be releasing singles from my project with my production team 'Lodge 92', and performing around London and Mumbai.
Watch and listen to Swaati's brilliant track 'On Fire' here: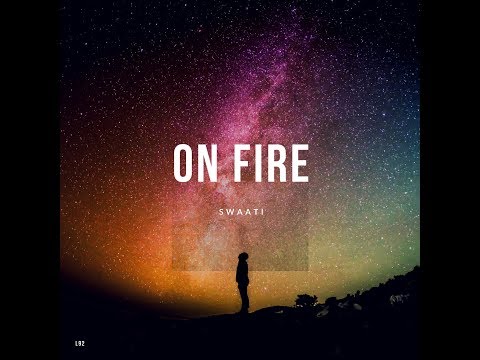 Love, passion and creativity drive Swaati, and this is very evident in her music. The young singer-songwriter has managed to produce a fresh and original sound that truly reflects the British Asian music scene.
As an incredibly talented writer, singer and musician, there is no doubt that Swaati has a bright future ahead of her. What's more, she inspires the rest of us to realise our dreams and make our own unique mark in the world.
Follow Swaati on her Twitter page here.