"I just wanted to share something which is simple and pure."
'Hari Hari Bol' is the beautiful, brand new single by Rita Morar which releases on November 30, 2017.
The singer-songwriter is back with her third single after a recent break due to a serious throat illness. But it's certainly been worth the wait as Rita shows off her stunning voice in 'Hari Hari Bol'.
And ahead of its official release, Rita Morar speaks exclusively to DESIblitz all about her upcoming single.
She explains why 'Hari Hari Bol' is such a special song before revealing more about some exciting projects which she is currently working on.
We also bring you the incredible official music video to Rita's soulful new track.
Rita Morar – 'Hari Hari Bol'
'Hari Hari Bol' was originally a short sample which Rita Morar put on SoundCloud to share with everyone.
But after receiving many positive responses from friends, family, and fans alike, Rita produced a full version.
And the religiously inspired track could have been even longer too. Speaking exclusively to DESIblitz, Rita says: "I did consider expanding the lyrics, but because I want it to be a devotional song, I kept it pure and simple."
Nevertheless, 'Hari Hari Bol' is 3 minutes and 14 seconds of beautiful listening which you cannot miss out on hearing.
Rita says: "The words were very poignant to me at that point in my life. I just wanted to share something which is so simple and pure, and that's how 'Hari Hari Bol' came about."
But equally unmissable is the official music video to the track. Rita Morar says:
"In most of the music video, you will see real emotions and settings while we were on our yatra [pilgrimage] in India. Nothing is staged, and for me, that is special because I am showing my spiritual side and our real experiences."
The music video to 'Hari Hari Bol' actually came about by chance for Rita. Completing the song came at the same time in which she and her family were planning a sacred pilgrimage to India.
And with wonderful responses to the song coming while they were in the luxurious settings of Rishikesh, Haridwar and Varanasi, they decided to shoot some natural clips.
You can now watch the official music video to 'Hari Hari Bol', here: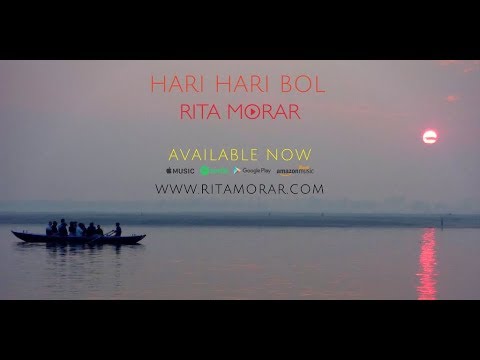 Rita Morar in 2018 and Beyond
Due to a serious throat illness, it's been a tough time for Rita recently. But now with 'Hari Hari Bol', she is well and truly back.
Excitingly, she will be releasing more brand new music soon. She says: "My new track, 'Signs', will be coming out in the near future. I'll be releasing it in many varying ways."
But how has it been for the singer, from London, UK, to come back to music? She says: "I've now been given the go-ahead to sing again, and I recently performed with the poet and motivational speaker, Hussain Manawer. It was extremely beautiful, and an amazing way to come back to music."
And the two could also be collaborating again soon. Rita adds: "There was a great response from my recent show with Hussain, and hopefully it'll lead to more live performances. There is also a possibility that we will collab again."
It's not all about live performances, though, and Rita Morar is also back in the studio. She is currently working on a unique project which will fuse English and Hindi music.
This is what she can tell us: "I've been in the studio with an EDM producer called Drifta. Together, we're working on a track which is a fusion of English and Hindi. Although I can't say much more about it, the song will be something people will enjoy."
Despite there being no immediate plans for an album, Rita does say: "However, I've got a few tracks coming out and once I've fully recovered, then I'll definitely be planning more releases."
Keeping up with Rita Morar
With the release of 'Hari Hari Bol' on November 30, 2017, and 'Signs' also releasing soon, these are exciting times for Rita Morar.
She is recovering well from her illness, and once again blessing us with her pure voice.
So, to keep up to date with Rita, you can find her on both Facebook and Twitter. You can also check out her website by clicking here.
Or, by following this link, you can pre-order 'Hari Hari Bol' on iTunes. But click here if you want to remind yourself of Rita's stunning performance alongside Raxstar and TaZzZ in 'Teardrops'.