"We wanted to make it funny, and cool and, representative of our culture"
Meet Faras Amir and Shah-Ameer Wali, better known by their online avatars, Farosty and Shimmer.
These two Desi Americans are the creatives behind Alif Theory, a media brand that promotes Desi culture and heritage through fashion, music and comedy.
Through their YouTube comedy channel, RwnlPwnl, they have produced some of the best Desi parodies of popular Western tracks that you are bound to find anywhere.
Their most prominent is 'Paki Gang', which is a parody of 'Gucci Gang', by Lil Pump. The track which went live in December 2017 quickly went viral and has since amassed over 600,000 views.
But it's not just funny videos that these two YouTubers enjoy making. As brand creators, they also run a fashion brand, Alif Theory and a regular podcast, called Strange Flavours, that also features fellow vlogger, Amber Khan.
In a special interview with DESIblitz, Farosty, Shimmer and Amber reveal more about their love of Desi culture and why they are keen to make exciting creative content online.
Making Desi Comedy the American Way
Hailing from the DMV area (DC, Maryland, Virginia), Shah-Ameer and Farosty first met through family connections.
Interestingly, each of them had been making vlog and online content for a while before they actually met, with Faras producing popular Desi parodies and music.
They eventually met in 2015 where they instantly hit it off creating the unbreakable bromance that we see today:
"I was so excited to meet him, and then we actually meet and we clicked straight away," Shah-Ameer tells us.
Over the course of two and a half years, their creative partnership has accelerated – leading them to produce music, videos, and performing at live shows together.
While they have their other active brands still going, the duo is best known for the comedy channel, RwnlPwnl.
Faras tells us that it was actually created many years ago, before he met Shah-Ameer, as a "troll channel" in 2011.
"We made a video called, 'I'm a Desi Boy', and it got a couple thousand hits, which was really surprising to us. We live in a predominantly white area, so we went to school and all our white friends were singing the song. And we were surprised by that," he says.
Noticing a clear niche in the YouTube world, they began creating even more parodies for their friends to watch and enjoy. Instinctively picking up ordinary situations and turning them into light-hearted comedy.
Another music video titled, 'Dunkin Lovin' was about the Doughnut chain, Dunkin Donuts which also proved popular, before creating 'Desi and I Know It', a parody of 'Desi and I Know It' which gained a hundred thousand views in the space of a week:
"We got comments from all types of people around the world, saying 'We found this hilarious', 'It's really great that we are being represented in this way… with this comedy and this music… keep doing what you're doing'. So that was really encouraging," Faras admits.
Since then, their YouTube channel has grown to around 18,000 subscribers and regularly produce parody videos as well as other content.
Going Viral with 'Paki Gang'
For those who have heard of RwnlPwnl, or Farosty and Shimmer, you will certainly be familiar with their highest-viewed parody, 'Paki Gang'.
A hilarious take on the 'Gucci Gang' hit track, the video is set at a large secluded house, with some classic Desi-approved cars parked in front: a white Mercedes-Benz and Audi, plus a red BMW.
Farosty and Shimmer wear leather jackets over their kurtas as they rap around the exterior of the house. It also includes Amber and some other Desi girls sat on a convertible car playing Ludo and smoking sheesha.
The song incorporates cultural references like: "Got a mango stain on my new pent," and, "Still rolling paan on the charpai".
Shah-Ameer explains: "We just wanted to make it cool, and funny, and representative of our culture, and so, we wanted to do it pretty big."
Interestingly, the duo didn't expect the video to go viral: "I think we had a lot of fun when we were making it, and I know Amber was super excited about it."
While the track is certainly a huge hit Stateside, the use of the term 'Paki' has very different connotations in the UK, amongst the British Asian community. Responding to this, Farosty explains:
"Growing up in the US, the word has never been derogatory for us. It's something we've proudly called ourselves. I knew there was something in the UK that had been there like many many years ago."
He continues:
"Nobody knows here, it can be used in that way. So why should we make it a thing to make a situation out of nothing. If we represent that word, if we empower ourselves with that word, it doesn't need to be going to the level that needs to be at a derogatory way."
"How it relates to the n-word is like, you know there's African Americans that empower themselves with the n-word and there are some that get offended by it, but I think that word is such a controversial word."
"There's no debate behind it because you know if you're not African American, don't say it. If you are it's debatable whether you should be saying it or not."
"We don't want the word 'Paki' to be at that level. I think growing up in the US, the word 'Paki' is just short for Pakistani and I think that's what we should leave it at. We should leave the history where it is."
"Of course, we can learn about the history and know it was used in this way but let's be the revolution and empower ourselves with it instead. And it's crazy to think things like that still exist."
Watch our interview with Faras, Shah-Ameer and Amber here: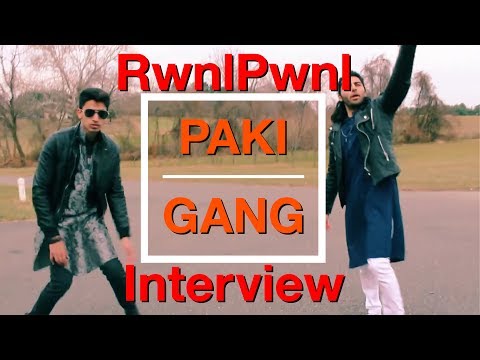 Alif Theory: The Brand
It's not just comedy that this multi-talented trio wants to be known for. At the foray of their creative brand is Alif Theory. For Faras, branding is incredibly important:
"Alif Theory pretty much encompasses the media ventures that we do. Shah-Ameer and I started the brand to pretty much to highlight our culture in a way but also inspire other creators to follow something that they believe in."
This is particularly the case living in DC, Maryland, Virginia, where creative opportunities are lessened as many young Desi Americans are encouraged to pursue more secure careers:
As Faras mentions:
"A lot of people will sometimes comment 'What do their parents think about this?' and stuff, especially being where we come from, there's this stereotype that they want us to be doctors and engineers.
"But I think they always want the best for us and for us to be secure and confident in what we do. I think they see potential in what we do because of the way we've been promoting it.
"So we're super thankful to be doing it, to be inspiring other people in any way that we can."
Ultimately, their aim is to go beyond the success of the YouTube channel. By offering young Americans other avenues in which to express themselves, and not be disheartened by not having the right equipment, or being so far from LA:
"I think it's like huge on inspiring the brown youth, that it's possible… making content, going into media and stuff," Shah-Ameer admits.
Faras adds: "The motto behind our brand is that when and where are you willing to start? And the answer to that is now and here. And that's the Alif Theory.
"Underneath Alif Theory we have a lot of things, a lot of different brands, Farosty and Shimmer where we make music.
"Then we have the podcast Strange Flavours where we invite different strangers from all walks of life to come to chat with us in an entertaining way to either challenge us or educate us about their perspectives and their ways of living."
Strange Flavours, in particular, engages in fascinating discussions with 'strangers'.
Meeting new people and learning from their experiences encourages the trio's followers to connect with people they may not have done otherwise. Again, promoting inclusivity by breaking down barriers.
Celebrating Pakistani-American Culture
In addition to RwnlPwnl's music parodies, Shah-Ameer and Amber also run a web series called 'Brown Code'.
As Amber explains: "We basically wanted to put relatable content out there for brown people.
"We're all relating on the fact that we're first-generation brown kids with immigrant parents and we all seem to have similar tendencies within our lives and just relate so much, but only to ourselves."
Essentially, the series addresses those tendencies that all Desis have in common. From embarrassing parents, smelly food, to those typical Pakistani or Indian customs that may seem a little strange for non-Desis to understand.
One of the biggest things to have come out of this has been the fact that the series has been welcomed by many of the gang's white friends and circles, with many of them sharing the videos too.
This is especially important with Desis being so underrepresented in media.
Faras adds: "That channel just promotes our culture, to say, don't ever hide where you come from.
"Our culture is one of the most beautiful in the world, we are so expressive and vibrant with it. It would be a shame to let that go, so never hide from that."
When asked whether they view themselves as more Desi or more American, the trio has very different perspectives.
Shah-Ameer tells us: "I'm more American, but food – always Desi, music – always Desi.
"With making Desi content, it does influence us a lot more, like it makes us proud. Growing up, I had Desi people around me. But we weren't representing our culture a lot to those people and with our videos, we can do that. And it makes us more proud to represent Desi in America."
While Superwoman and Jus Reign are arguably huge influences for them, the trio hopes to offer something that speaks to the Pakistani-American subculture that they represent.
Faras adds: "For us, we're in the middle. We have a subculture that's Pakistani-American, which I think is very much a culture on its own.
"Like, you go to Pakistan and you're too American, and in America, you're too Pakistani. The kids in the middle that grow up with this… 'have to pick and choose between two cultures'… we take it as like the best of both worlds.
"You can experience the American lifestyle and still have your cultural roots. I think it's important to keep your culture alive in that way."
Ayeekhan: Empowering Other Brown Girls
One of the key brains behind the amazing content created is Amber. As a Pakistani girl living in America, she can thoroughly appreciate some of the cultural challenges that girls face when it comes creating videos.
From conservative parents, to what is deemed appropriate for Desi girls to wear or say, Amber has inadvertently become a much-needed role model for other brown girls to not be afraid of expressing themselves.
In particular, Amber draws huge inspiration from the likes of Superwoman and Liza Koshy:
"I think I come from kind of a unique place. Because I work with these guys and as you can tell, I'm the only girl here. So it's just interesting to see the different type of feedback that we get.
"You can just kind of tell, there's a difference what somebody will say to a guy and what somebody will say to a girl. Especially people who are Pakistani, and people of our own kind I guess, who may not always perceive, and comment on everything the same way. There is some hidden sexism that underlies everything that we do.
"Even things like my family and my extended family, they are definitely very supportive in a lot of things, but when it likes starts to push limits, do things that are in a comfortable comfort zone."
But Amber is not fazed by the comments that some of their followers may leave. She insists:
"I personally believe that to be great you have to be able to push boundaries, push comfort abilities and to just get outside your comfort zone. I mean if we have to hurt some people's feelings along the way then so it be."
Both Shah-Ameer and Faras also add that Amber's contribution is invaluable. Particularly, as it gives them the license to touch on issues that affect Desi girls as well as guys:
"What she does for other brown girls watching is pretty incredible," Faras says.
"Like no matter what we [Faras and Shah-Ameer] do, they'll just call us whatever they'll call us – it's not that bad. With women, they get it really bad. And for Amber to be there and put herself out there like that and empower young girl to do the same thing."
Other RwnlPwnl Parody Recommendations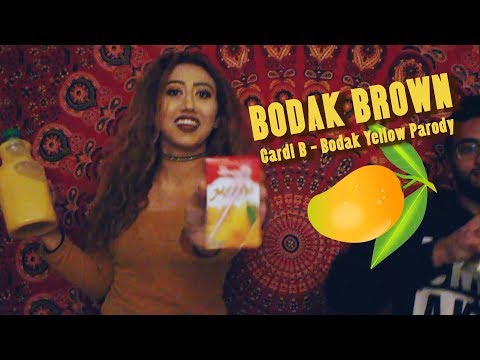 Some of the other great music parodies to watch on RwnlPwnl include 'Bodak Brown (Cardi B – Bodak Yellow Parody)' and 'Justice League Brownified'.
'Bodak Brown' hilariously pokes fun at white stereotypes whilst educating Chris on Desi stereotypes. This music video uses the beat of Cardi B's 'Bodak Yellow':
"Said listen Chris/ I can't be this white/ if I wanted to/ These are mirchay/ This masala/ There is more than salt in food."
The narrative follows Farosty going to university and sharing an apartment with a white guy Chris.
His typical Desi mother is shocked to find out that Farosty is sharing a room with a Caucasian. Upon leaving, she warns him about them being "different in their ways".
Realising his mother was right about Chris, Farosty raps about his frustrations and differences to him.
In 'Justice League Brownified', the parody sees a low-budget Desi spin on the Justice League. Complete with comic book speech bubbles. The narrative sees "little Thomas" (Shimmer) struggling to reach the microwave. He seeks out members of the Justice League to assist him.
The darkness covers Batman's face as he wears a black leather jacket over a T-shirt with the Batman logo, Bollywood protagonist style. As the garage door lifts, Thomas anticipates the Batmobile, only to be disappointed by a Honda.
Wonder Woman is willing to help, she spins into her Superhero costume. A modest floral salwar kameez. Again disappointed, Thomas shows her an image of the "real" Wonder Woman. Disgusted, Desi Wonder Woman slaps him.
It's clear that Faras, Shah-Ameer and Amber are paving the way to creating important and engaging content for their Pakistani-American followers.
Funny, intelligent and with bundles of charisma, these content creators are just at the beginning of their journey. We can't wait to see what's next in store for them
Subscribe to Farosty and Shimmer's channel, RwnlPwnl, and be sure to check out some of their other fantastic videos.