"When you can make people laugh, they warm to you"
Guz Khan is back and better than ever with the second series of Man Like Mobeen on the BBC.
The British Asian teacher turned comedian has enjoyed a stratospheric rise from self-produced content for social media and YouTube to television.
He has also performed stand-up for high-profile shows like Live at the Apollo. However, it is the comedy show, Man Like Mobeen that cements his status as a true comedic talent.
Following British Pakistani, Mobeen Deen, in Birmingham's Small Heath, the second series brings another four episodes to British screens.
Aired from February 7, 2019, on BBC Three, it aims to further break stereotypes of British Asians and Birmingham.
Rather than extremism and crime, the apparent no-go zone of Birmingham mostly sees Mobeen deal with the antics of friends Eight (Tez Ilyas) and Nate (Tolu Ogunmefun).
More hearteningly, Mobeen rethinks Asian masculinity by solely raising his independent and quick-witted younger sister Aqsa (Dúaa Karim).
The first series of Man Like Mobeen offered an insight into the working class experience as an ethnic minority. It addressed everyday issues in addition to deftly handling wider political topics like the rise of the far right.
The second series of Man Like Mobeen promises to continue this with even more great gags and wit.
DESIblitz had an exclusive rendezvous with Guz Khan about continuing to break stereotypes in Series 2, along with sources of his humour and inspiration.
Guz Khan The Actor
Mobeen is an incredibly well-developed character. Switching from almost-mothering his younger sister to mucking about with friends, Guz Khan has created a multi-faceted character.
Viewers can't help warm to the show's protagonist. But it is interesting to consider how much Khan differs from Mobeen.
He immediately quips:
"Depending on what my wife and mother would tell you, not very much! Especially the stupid elements to the characters I play."
Before adding:
"I think the fun thing for me – why I didn't really think that when I'm standing in front of a camera and there's like 40 people watching – that it's acting is because the characters that I play are mostly versions of people that I know, I grew up with, people in my own family.
"So, for me to slip into that, I'm always taking the mick out of my mates and my family, and vice-versa. So for me, it's very easy to get into the role."
Guz has gone on to play roles in films like Finding Fatimah (2017) as Rocky or in the TV series Borderline (2016-2017), playing Mo Khan. However, some roles can cause more of a challenge as he reveals:
"If someone asked me to play a Shakespearean or Downton Abbey role, then you'd see me flapping, most definitely, cos that's not my jazz.
"But essentially a lot of the roles that I write, and a lot of the roles that I've been offered thus far, I've been very lucky. They've allowed me to make the characters my own from the way I see it.
"For me personally, I always like to have fun, look on the fun side of life.
"And fortunately a lot of the characters that I have either written myself or get to be, they're all about having fun.
"Even in the worst of situations in real life settings, you always find humour in the worst kind of stuff."
Considering the success of Man Like Mobeen, it is clear that Khan isn't short on humour.
Laughter is the Best Weapon
Guz Khan is known for starting his career initially as a Humanities teacher in Coventry.
The online channel of BBC Three even features Khan finding the humour in his previous life as a teacher.
It is not difficult to imagine the comedian setting his students into fits of laughter. Yet, he explains that his path to comedy began long before any professional career:
"For me, it started even earlier. I think from when I was at school as a student. I was naughty, but I always used to get out of trouble by making teachers laugh or giggle.
As soon as you got a smile, you were like – 'come on miss. You can't even be angry, I can see you smiling.' Boom… Detention finished. Go home.
"So for me, I always used… to make people laugh, being able to make people giggle to my advantage, to get out of trouble."
Although, he goes on to explain how his upbringing in the West Midlands was not all fun and games.
"Being from a tough area, a lot of my family grew up in an area of Coventry, called Hillfields. It's where I used to play all the time, where majority of my cousins and family are from.
"In those areas, either you fight every single day or you develop something else – another string to your bow as it were.
"So for me, I would always make people laugh, who were around me. And I was always hanging around people who were older than me, either by a couple of years or even much more sometimes."
"When you can make people laugh, they warm to you. It's a very powerful tool to have."
Undoubtedly, humour is a useful resource in many situations. While it is unfortunate to hear Guz's quick wit was borne out of self-preservation, it has certain benefits for his life as an adult as he observes:
"I suppose it's just a natural extension of who I am in terms of what I do now."
Since Khan's success and humour come naturally to him, this does seem likely. Also, perhaps this is why he is capable of so easily crafting compelling characters.
A Quirky Cast of Characters
Mobeen is not the only memorable character in Man Like Mobeen. Rather, it boasts an excellent cast portraying an array of characters.
Mobeen's sister, Aqsa has all the confidence one has been longing to see in a young British Asian woman.
She is intelligent, self-possessed, has strong values and her good-heartedness occasionally extends to her brother.
Her tendency to speak up for what is right can land her in trouble. Yet, she is refreshingly different in avoiding common stereotypes of British Asian women.
Similarly, Mobeen's best friends and brothers-in-arms avoid stereotypes. Nate is sweet, incredibly likeable, a little cowardly and protective over Eight like Mobeen.
Nonetheless, Eight definitely adds to the surreal element of the comedy. It is easy to love his childlike innocence.
But Ilyas is particularly talented at depicting this well-intentioned but often bizarre character as Khan highlights:
"Tez, if you watch his stand-up, he's a very different performer to the character that he plays in the show.
"But Tez, is like Eight! He doesn't show it but there's so many elements in the way that he speaks and how quickly he'll speed up his vernacular when he's with the lads, or with me for example, and vice-versa.
"So a character like Eight….everybody in a social circle, regardless of demographic, has a mate like that."
"Or they've known a mate like that. Just the daftest dude of all time.
"But [he] can drop some really deep, insightful bars as well. Like you expect them to be plonkers, and then they'll come and resolve a problem with something crazy that they say.
"So he was a really fun character and Tez brought so much to the character as well."
The Case for Complex Characters
Guz Khan makes sure to develop multi-faceted Desi characters by taking inspiration from many sources – including himself.
Subsequently, Khan goes on to elaborate:
"But for me, in my own family, in my own four walls, there's elements of me that are like Eight and vice-versa.
"You tend to find the reason why people – thankfully the way we wrote it and intended it – gravitated to the characters in Man Like Mobeen…. because everybody recognises something in them.
"Yeah, Mobeen has outwardly got a huge beard, he's South Asian, he's living in the hood in Birmingham.
"But there's character traits to him in the fact that he loves his little sister more than anything in the world and is the sole carer for her.
"He cares so much for his extended friendship circle, he's trying to do the right thing."
Most importantly, Guz emphasises how unique it is to have a complex portrayal of British Asians on screen, stating:
"These are all things not necessarily shown on TV that regularly, especially in the comedy format. But they resonate with people, you know, it's like when you look back at the classics.
"Like only Fools (and Horses), Del Boy was breaking the law.
"Every single episode he was selling hooky goods and he was wheeling and dealing."
"So he was breaking the law. But you saw a character who was doing that to provide for his family.
And so for me, a character like Mobeen is reflective of just real-life. We've all been there really."
In many ways, this helps to sum up the approach of Khan to comedy.
Man Like Mobeen is brilliantly realistic. Even a simple scene of Mobeen and Eight waiting for Nate outside a mosque shows the pair mucking about like real-life friends.
Nonetheless, as Guz is always quick to stress, Man Like Mobeen simultaneously shows the high points of life and the comedy during tricky moments.
Serious Side of Man Like Mobeen
It can be difficult to pitch some of the show's more serious moments. Guz Khan explains:
"In the new set of four episodes, we explore the element of knife crime amongst young people in this country.
"Now when you pitch an idea like that to the BBC, I can understand why they might be like 'okay, how are you going to make that funny?'
"But the truth is, in even the most worst of situations, you can find examples of when humour and levity and human bonds can be found."
This was apparent in the first series of Man Like Mobeen as it examined the rise of the far right.
Excitingly, the second series looks to be no different since this is what makes the series so special and sets it apart from the usual comedic fare. Khan points out:
"For me, the outstanding feature of Man Like Mobeen is that it's authentic. That when you watch the show, it doesn't matter where you're from, you feel like you've been transported into Mobeen's world.
"You feel like you're in Small Heath, you feel like you're part of his friendship and his family circle."
"So being able to create a show with that warmth, but that also looks at the rise of the far right wing in this country, like episode 4 did, it's such a unique show."
This is a clear example of how Guz balances diversity and relatability.
He highlights issues that are important to British Asians. While starting conversations that are rarely discussed on television, this additionally has advantages for its creator.
Khan shares his pride in the show:
"I'm just glad we've been able to create something that is unique within itself."
"Because there was a temptation to make quite a traditional sitcom: a gag every 30 seconds, a gag every 15 seconds – whatever it might be, every 15 seconds.
"But that kind of bored me from a creative point of view. I like watching shows where you're having a laugh constantly, that's just a bit silly.
"But I felt the pressure to create something that was based in realism… authentic. That's what I feel I'm most proud of in the show."
A Midlands Man
There is a sense of realism, which extends to his choice of location for the comedy series. Guz Khan tells:
"We very rarely see anything to do with our region on TV. Let alone doing well."
"They might slap it on Countryfile (1988-present)… every now and then.
"You get those random insights. But everyday life and what life is like for people who live in the West Midlands is very rarely shown."
Alternatively, even if television shows are set in areas outside of London, they are sometimes lacking. Khan states:
"We've had comedies previously that are set in Birmingham. But I think, when you watch them in their entirety, they are missing the authenticity.
"So comedically the elements might be there, the characters might be something that we've seen many, many years ago. But what about now?"
Khan is not struggling for progress for his own sake. Instead, he feels a sense of responsibility as a representative of regional areas:
"I think it's such an important role that I have on my shoulders."
"Like I came into this late, I didn't intend to come into this, it's kind of come as it has. And I'm so glad it has because I'm having a great amount of fun.
"But, if I'm here, I should really tell the stories of the people who will be looking at me saying, 'If this fellow over here can make it from a tough area of Coventry, from a single-parent family, working class, never aspired to do this…' – I need to tell their stories."
"So they can see that 'wow, you can do this and not be a sell-out. You can do this and not just make what the industry wants you to make'."
A Working-Class Cast
Essentially, Guz Khan ensures the stories of the working-class are told via all the characters. He mentions:
"BBC nine o'clock is constantly like RADA trained actors and actresses, who are doing their thing. I watch nine o'clock, BBC One and I'm like, I can't do that, that's mad."
Before continuing:
"And again, why shows like Man Like Mobeen is important from its core – because from Duaa Karim, who plays my little sister Aqsa, all the way through – we're novices.
"It was Duaa's first gig, ever. She did so well. It was my first fully-formed written project that I had done myself… Tez's real first acting gig.
"Tolu who has been around for ages, who is a legend comparatively to us on Instagram… it was still one of his first big mainstream things.
"And so the fact that we're all so new, I just feel that it's nice that people are watching that from working-class areas [and] can say: 'yo, I'm on this journey as well and strive to do it'."
He concludes:
"So representation of the West Midlands from a working-class point of view was the very basis of why I wanted to make the show and I'm so glad that's who it resonated with.
"Because the worst thing could have been that I made it and those very people of the same demographic…white, black, Asian, no whatever it is – go 'I'd don't like what you've done there, that's a load of sh**e that.'
"That would have been my worst case scenario! But they loved it and so that's what really mattered."
Though, the question remains that, when being a pioneer, how do you go about it?
A No-Go Zone
Birmingham has been called a no-go zone and even Guz Khan himself has experienced some trouble while filming.
Regardless, it is still crucial to ensure fair representation of all groups on television as Khan admits:
"I mean, the truth of the matter is there are areas throughout the West Midlands and throughout the country that sometimes unfairly have become synonymous with crime.
"I understand why a production company would be worried about taking half a million pounds worth of recording equipment into an area that has statistically a significantly higher crime rate, of robberies etc.
"But the point is, those statistics don't reflect the area as a whole, right?"
In fact, Guz makes an excellent case for looking beyond shouty headlines and statistics without context:
"Those incidences take place when you look at the direct time. Because areas like that have less policing. They have the least funding allocated to them for community policing, for example."
Alternatively, Khan comments about what he wanted to show:
"'Actually guys, you can come to an area like this. And if you just explain to the local community what you're doing.
"If you take time for the local community when they come and ask a question…and not 'just shh, this is a set, be quiet'…you can make strides.
"And previously shows that have been made in the area have been like that. So that's going to leave a bad taste in the mouth.
"Especially when you go turn on the TV and as opposed to laughing with the show, you can see people are laughing at you.
"Do you get what I mean? It's a very tricky set of human connections to traverse.
"But for me, filming in these areas,…even though there's streets that we filmed on…had current criminal investigations going on, there were streets that were due to have a police raid within a fortnight and the police explained 'look if you film on this street, it might bring this level of attention'."
With a degree of frustration, he clarifies:
"I'm not denying that there are problems in all areas around the country.
"But you can't then tarnish the whole b***y area and say we're not going to film there."
"We're not going to show the amazing work that takes place. We're not going to show the doctors, lawyers, the nurses…people who live in these areas as well! I just don't think that's fair.
"So, it's very important for me that, as with anything in life, there's two sides to a coin, right?"
Guz has a valid point as this also applies to the portrayal of British Asians in the show.
Representation and Humour
Guz Khan highlights the setting of the show in Small Heath and how "there will be a large number of South Asians in terms of the community."
Although this can be a minefield for comedy writing. It is a tricky balancing act between authentically and fairly representing minorities versus making a show funny.
Khan's concerns reflect this:
"I was always super sensitive about when we do hear a South Asian accent that it's got to be right.
"And when we hear it, it's got to be them leading the joke, as opposed to us laughing at their accent, which is done all too often.
"Like there's this traditional thing when I was growing up where people would be like describing an Asian shopkeeper and be like 'buh buh ding ding,' 'duh duh duh.' That rhythm of voice.
"Don't get me wrong, I think it's hilarious! But there is a responsibility that I felt when I presented that accent, that a character like Uncle Shady was leading the joke."
He continues:
"So I wrote in that he was ripping Mobeen to shreds and…Mobeen was like 'look at this guy,' do you know what I mean? 'Look at this freshie guy.' Because that's being heard a million times, it's corny.
"But when Mark Silcox, bless him, who is outstanding at dropping those bars when he needs to punctuate a joke. He leads that… he's the boss in every circumstance or situation."
To do this effectively, Guz again drew from real life:
"And in our houses, traditionally, like my mum is the funniest person in our house."
"When I go to a relative's house, it will be their dad or their grandad.
"They're not getting the mick taken out of them, they're ripping us. So I wanted that to be portrayed on TV, you know.
"In terms of different kinds of humour, it was so fun for me to be able to have silly things that we say at our age and have them coming out of Mark's mouth…a guy in his early fifties… which is so important and again, I haven't seen on TV before."
Therefore, by thinking outside of the box and subverting expectations, Khan neatly crafts a representative but funny show.
In fact, he makes sure to employ this same process to his storytelling too.
Side-Splitting Scenes
One of the most attractive aspects of Man Like Mobeen series 2 is the storytelling.
Similar to its characters, Guz Khan transforms reality with the right dosage of something odd.
Many British Asians will be familiar with 'Rishta' meetings but when Mobeen experiences one, hilarity ensues.
Uncle Shady drags a rude, potential father in law to the ground.
However, the rest must be seen to be properly enjoyed.
When asking the comedian about the inspiration behind the scene, he quickly responds that they were not based on his own experiences. He expresses:
"I had a few mates, kind of men and women, who went on a traditional arranged marriage meeting. They didn't go through with it… but a meeting.
"It is the most awkward…the word that kept coming up is awkward, awkward, awkward. So writing a scene like that, when I sat down to write it… that's the basis of the comedy.
"It's finding the humour in the awkwardness.
For me when I watched that scene you can feel it….like you can feel, 'Oh my god, imagine being there yourself in that position where essentially you are selling yourself to a stranger and then later his daughter.'
"That's what Mobeen is there to do. The guy who's brought you doesn't give a shit about you. You are there to sell yourself as an entity."
He uses his own comedic preferences and responses to similar situations in order to craft such brilliant scenes. Khan says:
"So capturing that awkwardness to silence the pauses, I'm the worst at that. Like if there's silence and something seems awkward, I'll start laughing anyway.
"Even in the most serious of situations, I've turned up at people's wakes before and it's been a really emotional part of the wake and then, I don't know, someone's holding the kid and the kid farts.
"And I'm just like, 'oh, shit' [laughs] and then it just spreads! It's crazy! I'm just so silly for those things. I enjoy watching comedy where everything's being squeezed out of the awkwardness."
Guz accurately points out how familiar Uncle Shady's character is saying:
"We've had those aunties and uncles, who don't care, there's no limits. There's no rules."
"They will comment about your face, your weight, your job, how much of a disgrace you are, casually in front of thirty strangers.
"So to capture that was so, so fun. And in that first series, it was definitely why that scene was singlehandedly my favourite scene that we did. Yeah, very funny scene."
Above all though, anyone can enjoy this scene and the show as a whole. Khan finishes by commenting:
"At the end of the day, there's so many things going on there. But the reason why I think people found it so funny was that even if you're not from a family where that kind of thing goes on…
"You've always got the slimy cousin that turns up and who's chatting up your sister's best mate or whatever.
"You've got all these elements going on in the room that stinks of tarka. It's unbelievable. So to capture that was so, so important."
Watch Guz Khan In Conversation with DESIblitz here: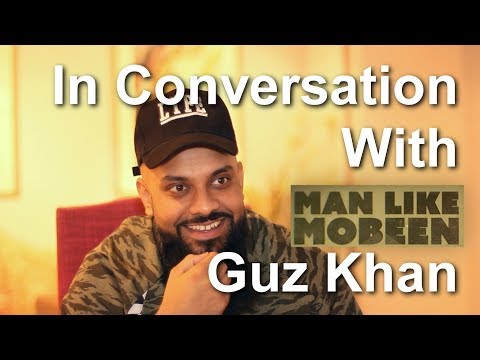 The second series of Man Like Mobeen promises many more of these hilarious situations.
Guz cleverly highlights many real experiences with humour and sometimes the surrealism of British Asian life.
Yet, as he highlights, capturing even the minutiae of British Asian life has an important effect. Many groups don't see any representation of their lives on television and the media
Nevertheless, thanks to Man Like Mobeen, they can find inspiration to follow the footsteps of Khan, Ilyas and Karim.
Television should accurately reflect all British citizens. Whether it is rooms that smell of tarka or the warmth of relationship with family and friends.
Also with Guz Khan having made such a gem like Man like Mobeen, why not encourage and support more shows like it?
Fans cannot wait to laugh along the warmth, oddness and much more that is certain to appear in Man Like Mobeen series 2.
Man Like Mobeen had an exclusive screening at the Glee Club on January 21, 2019. BBC Three will broadcast Man Like Mobeen on February 7, 2019, from 10:00 am.