Khan embraces how diverse, contradictory and funny British Asians can be.
Guz Khan has done it again. Following a string of funny Facebook videos and a 2015 viral hit, we have witnessed his meteoric rise to become an instantly recognisable face. His latest endeavour, Man Like Mobeen is no less successful than his other comedic offerings.
Filmed for BBC Three and then re-aired on BBC One, Man Like Mobeen leads the traditional British sitcom into a hilariously new multicultural era.
Set in Small Heath, Birmingham, the four-part series follows a British Pakistani called Mobeen as he attempts to navigate a fresh new life despite a somewhat shady past.
With a diverse cast of characters, familiar scenarios and brilliant one-liners, you'd be a fool to miss it.
It's incredibly difficult to choose the best moments from this witty and memorable show. Man Like Mobeen attempts to change the same, tired image of British Asians on mainstream TV. Instead, Guz Khan embraces how diverse, contradictory and funny British Asians can be.
But if you need more convincing to watch it, DESIblitz has put together the five best moments from Man Like Mobeen.
1. Small Heath's version of Toni & Guy (Episode 1)
It's hard to pick our favourite moment from the outspoken and spunky Aks (Duaa Karim), though our introduction to her character might be it. Her first scene perfectly shows off her banter-filled and affectionate relationship with her brother, Mobeen (Guz Khan).
It's heartening to see the enthusiasm that Mobeen applies to looking after his little sister. In a later episode, he even ponders getting married in order to bring a female role model into her life.
This scene isn't as dramatic as Mobeen's consideration of marriage. Nevertheless, it's heartwarming to see how Aks openly chats with her brother while he braids her hair.
She and her friend, Kareema (Yushra Mahmood) good-naturedly tease him about how slowly he manages it. Still, this doesn't lessen his enthusiasm for playing the elder brother role. Mobeen is up for everything from reading about extracts of volcanic ash cloud to reduce scalp tension and getting more volume in her hair to get it "hench".
We definitely wouldn't mind their hairdressing scenes becoming a regular feature on the show – The Kitchen Salon Chronicles with Aks and Mobeen, perhaps?
2. Shahid gets his Five a Day (Episode 1)
Shahid (played by Antonio Aakeel) is a local drug dealer enlisting teenagers to help him hide his gear. When Aks accidentally gets drawn into his plans to help Kareema, she turns to Mobeen for help.
Here, Mobeen is in a sticky situation. He doesn't want to snitch on Shahid, but now Aks is involved. Instead, his brotherly instinct leads him to take matters into his own hands.
He warns Shahid to keep away from Aks and the altercation inevitably ends in a fight – a fruit fight. Egged on by Shahid's insults, Mobeen grabs Shahid and pushes him into the nearby fruit display.
What happens next is a must-see. It's eye-waveringly funny to hear hard man Shahid squealing and seeing Mobeen pelting him with a leek. Mobeen makes his way through a few other of Shahid's five a day for Eight's camera, before landing Shahid with a solid punch.
This again shows off Mobeen and Ak's strong relationship, yet emphasises that Mobeen isn't a pushover. Mobeen may be trying to get on the straight and narrow, but his less-than-legal past has some benefits.
Plus, it's fun to see how Nate (Tolu Ogunmefun) and Eight (Tez Ilyas) provide a comedy duo and back up Mobeen.
3. Going "Tits" Up (Episode 2)
After a suspension for fighting, Mobeen worries about the lack of female influence in Aks' life. A trip to the mosque brings him into a hilarious conversation with two uncles, Uncle Habib (Simon Nagra) and Uncle Shady (Mark Silcox). Alongside their joking about his man boobs, they suggest an arranged marriage as the perfect solution.
Uncle Habib initially arranges a meeting with a prospective wife, Khadijah (Yasmin Kaur Barn) and her father, Uncle Ahmed (Asheq Akhtar). However, Mobeen's hopes of getting to "eat bear free munch and see some peng MILFs" are quickly dashed.
Uncle Shady ends up accompanying him rather than Uncle Habib and he's not a character you'll forget in a hurry. Every young person's nightmare, he is one of the most painful characters to watch in this series. You can't help but feel sorry for Mobeen as Uncle Shady seems to take every opportunity undermine him.
The whole situation is painfully funny and relatable for many British Asians today. Mobeen's stress during the meeting leads to genius lines in response to supposedly "light" questions. What are Mobeen's thoughts on women?
Well, he announces to the room: "If I wasn't a man, I'd be a woman." Groundbreaking.
Still, Mobeen's nerves are understandable, particularly when Uncle Shady helpfully adds: "He's got the tits for it."
Inevitably the meeting doesn't go well with Uncle Ahmed stating: "You, Mobeen Deen, are the scum of the bloody Earth."
Yet, after ruining Mobeen's chances, Uncle Shady tells Mr Ahmed that "no one speaks to Mobeen like this except me," and a fight ensues.
In a moment more shocking than a fight, Uncle Shady pours Ribena on Mr Ahmed's "almost racist-ly white" carpet and drags him to the floor to lick it clear and apologise.
It's honestly a beautiful if bizarre moment. Who wouldn't want their weird uncle to do the same after some of the awful rishta meetings that they've had to endure?
4. Eight and his Dadha (Episode 3)
Tez Ilyas' Eight is the absolute gem of the series. Whether it's his fixation on cheese during a serious conversation on arranged marriage. Or the boys discovering him hiding away in an old shed in the woods when he's sad that his Dadha (Jeff Mirza) is dying, Eight will have you smiling.
In fact, it's adorable to see how much Mobeen and Nate look after him, to the extent of installing a tracking app. As Mobeen says "[Eight] belongs to us."
Nonetheless, Eight's standout moment has to be his constant rejection by his Dadha in favour of Mobeen. This ultimately culminates in the blame for Dadha's old-school porn video stash landing on Eight. Tez Ilyas plays mopey Eight to such hilarious effect that you simultaneously laugh and pity him, just like Nate and Mobeen.
After his beating, Mobeen does try to stand up for him to Dadha. Or then, Nate tries to "lighten the mood" by reminding Eight that Dadha will soon die. While the method isn't always brilliant, the pair's efforts to support Eight are heartwarming.
Ultimately, Eight shines best when he's with his two best friends and the trio make a loveable gang.
Although, we definitely want to see this friendship reveal more. In what other situations has Eight thought that Three Men and a Baby was a documentary and not a film? Honestly, the man's mind is a mystery.
5. "Real Englishmen" (Episode 4)
This episode does the most for showing some of the ridiculous accusations levelled against British Asians today.
An anti-Muslim protest goes awry when Aks throws a bottle at the lead speaker, Robbie Worthington (Jason Maza). Mobeen takes the blame and finds himself in a van with Robbie, also placed in there for "his protection".
The two go head-to-head and it's easy to dub the A-plot a resounding success. Mobeen resignedly offers rebuttals to Robbie's clichéd accusations firmly telling Robbie:
"Real Englishmen don't want to integrate with Englishmen like you."
But everyone will make a note of witty retorts like Mobeen telling Robbie that saying 'pig' more than three times in a week will make him melt.
Unfortunately, however, the conversation between Robbie and Mobeen goes from bad to worse. In response to Robbie's cries about terrorism, Mobeen yells in frustration:
"The perpetrators aren't going door-to-door handing out samosas and mango chutney, and telling us about their plans, are they?"
This marks an important moment in the show and in television of how blindly ignorant some people will remain in the face of common sense.
Guz Khan is notably adept at dealing with the problem of prejudice and ignorance with humour. Nevertheless, the episode does well to address just how frustrating dealing with the same old stereotypes can be.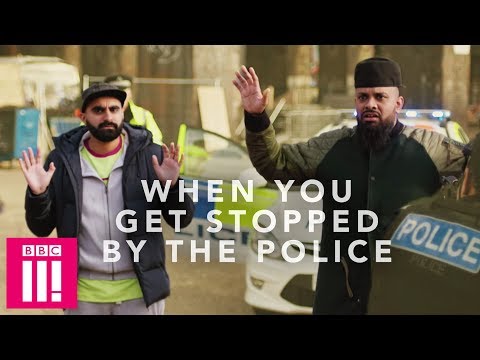 Hopefully, you won't need more convincing to watch Guz Khan's fantastic new comedy. It approaches everything from the ridiculous of a dead cat in a bag to the serious with levity and humour.
Even in a short twenty minutes, Man Like Mobeen completely immerses us in the world of Small Heath, Birmingham.
We leave feeling like we've got to know both Mobeen's closest mates, Nate and Eight, to even the elders that annoy him.
Constantly delivering clever one-liners, this is one for all the family to bond over familiar figures and enjoy seeing a more relatable depiction of British Asians on television.
DESIblitz can't wait to see where Guz Khan takes Man Like Mobeen next and we'll keep our fingers crossed for a second series. In the meantime, catch up with series 1 on BBC iPlayer.