"I've always been acting since I was a kid"
Antonio Aakeel is a rising British Asian star. The young actor from Wolverhampton first graced our TV screens as Trevor in the young adult drama, Skins (E4) in 2009.
Establishing himself as a one-to-watch performer, over the years, Antonio has diversified his acting skills with roles both on stage and film. Most recently, Aakeel appeared in the film, City of Tiny Lights which stars Riz Ahmed, James Floyd, Billie Piper.
Now Antonio is set for international fame with his latest project, The Hungry. Described as a 'contemporary re-telling' of Shakespeare's Titus Andronicus, the film stars acting heavyweight Naseeruddin Shah and was shot in Mumbai.
In an exclusive Gupshup, Antonio tells us more about his love of acting.
One of the first things that makes Antonio stand out aside from his cheeky boyish charm is his Italian name.
It's certainly an unusual step for what seems like an ordinary British Punjabi from the Midlands. But Antonio reveals that it was his parents' love for Italian culture that inspired them to give their children non-traditional Desi names.
Antonio jokes: "My parents thought, 'How can we mess up our Punjabi kids? Let's give them Italian names!' So yeah, they wanted something different for me. They didn't want me to have a traditional Indian name and they loved Italian culture.
"It was either Antonio or Dimitrius, so I think I got the better half of that there."
Of course, the stand-out name is a perfect fit for the natural born entertainer, who tells DESIblitz: "I've always been acting since I was a kid."
Watch our full Gupshup with Antonio Aakeel here: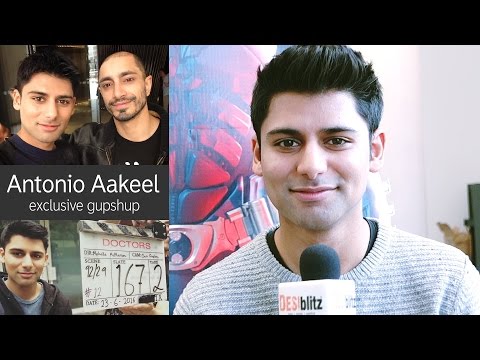 The young Brit Asian's first exposure to acting was a one-line role in a school play. Ever since, Antonio has been itching to perform.
Antonio Aakeel is heavily influenced by talented British Asian actors as well as some Hollywood greats like Leonardo DiCaprio and Meryl Streep:
"In the acting world, I was always fascinated by Jimmy Mistry, because he was another brown guy that was performing. And I always thought that he was really funny and he did the Love Guru, and of course, East is East is a classic."
When it comes to Bollywood, Antonio doesn't hesitate before declaring Shahrukh Khan as his favourite Indian actor, and Priyanka Chopra s his ideal woman. Antonio adds that his favourite Shahrukh film is Paheli because it has both magic and King Khan together.
After a string of BBC roles like Doctors and Moving On, Antonio went auditioned for the London crime thriller, City of Tiny Lights.
Initially auditioning to play the younger self of Riz Ahmed's character, Antonio was eventually given the role of James Floyd's younger character instead. This new casting meant that Aakeel had the opportunity to act in a couple of scenes with Riz himself:
"Everyone was really nice to work with, I had a few scenes with Riz Ahmed, because the film flits between the past and the present, and you kind of see our characters collide, as he [Riz] is seeing his memories. So it was really interesting working with everyone."
Having been exposed to different acting genres and mediums from an early age, Antonio adds that he enjoys all kinds of acting whether it be for theatre, film or TV:
"I like that TV runs at a much faster pace, you don't have a lot of time to get the shots. But with film, you go at a much slower rate and you can experiment with your character and the director."
Despite being exposed to so many different kinds of storylines, Antonio admits that the roles available for ethnic actors are still quite limited:
"I think the reason why it may be harder for British Asian actors, in particular, is that firstly, there aren't many of us from that background, and secondly, there aren't many roles being written for us."
Aakeel mentions that it is screenwriters and filmmakers who should diversify their scripts and films to suit a wider range of ethnic voices:
"If they are not familiar with coming from an Asian background, they have a certain stereotype and perception of what being Indian is or what being Muslim is. And sometimes this is perpetuated through the stories that you are being offered."
Antonio adds that it is because of these limited opportunities and scope of characters that he has turned down roles in the past. But the young actor is optimistic that things are changing:
"With the scripts that are coming out [now], there's some great stuff that I am reading, so definitely it's just a lack of opportunity that is creating the problem, but I think that the industry is changing now, and there are more roles being offered to ethnics."
The Hungry could be just the ethnically diverse and complex role that Antonio is after. The UK-Indian co-production marks the 400th death anniversary of esteemed British playwright, William Shakespeare.
Written and directed by Bornila Chatterjee, the film is a co-production between Cinestaan Film Company and Film London.
With Antonio Aakeel already getting used to the acting style of Indian cinema, could Bollywood be his next big move?
"If they'd have me, maybe. I'd like to do something. See if there was a role for me somewhere but maybe not as my main focus because I can't really speak Hindi and my Punjabi is just like [small gesture] that good," Antonio reveals.
It is evident the young actor is a rising British Asian star, with great things in his future. DESIblitz wishes Antonio Aakeel all the best in his acting career.