"Reza Golzar is considered to be the Shahrukh Khan of Iranian cinema"
Bollywood actress, Dia Mirza stars in Salaam Mumbai, an Indian and Iranian co-production that brings India and Iran's film industry together for the first time.
Alongside the wonderful talent Dia Mirza, is one of Iran's biggest actors, Mohammad Reza Golzar. Salaam Mumbai is directed by Iranian director, Ghorban Mohammadpour.
The romantic drama follows Ali (played by Golzar), an Iranian exchange student who is studying in Mumbai. He comes across Karishma (played by Mirza), his classmate, for whom life appears to be too much to handle.
Ali saves her and the two eventually fall in love. But their relationship causes many problems in Dia's family, as she has already been promised to a mafia leader played by Gulshan Grover. Will Ali and Karishma ever be together? Watch Salaam Mumbai to find out!
The film also stars Poonam Dhillon, who plays Dia's mother.
In an exclusive Gupshup with DESIblitz, Dia tells us more about filming for Salaam Mumbai, her co-star and her love for Iranian cinema.
How did you get involved with the Iranian/Bollywood co-production Salaam Mumbai?
For this cinematic confluence, I was approached by the Director, Dr Ali Irani and Behrooz Chaihel and was later introduced to the producer from Iran, Mr. Javed Noroozbeigi.
Tell us a little about your character in the film?
I play Karishma, the daughter of a businessman who has promised her hand in marriage to a business partner. A simple girl who is stuck in a situation that she cannot seem to find an escape from.
Despite finding true love she has to let it go, unable to go against her family. I personally don't have much in common with the character.
The only interest that I share with the character is our love for the poet Hafiz and her deep abiding respect for the people she loves. My thoughts, ideals and social values are different from the social construct my character comes from.
What attracted you to the script of the film?
I have always been an ardent admirer of Iranian cinema. Salaam Mumbai was a wonderful opportunity and I am glad it came along when it did!
The censorship guidelines in their cinema pushes their creative expression. It is classic example of art emerging triumphant when it is subverted.
Despite the many mandatory rules that filmmakers in Iran need to comply with it is their inner expression that gives their stories their gravitas.
In this film what was one of the most beautiful aspects was was seeking and discovering a nuance that went beyond physical expression. Love expressed through intonation, through the eyes, the pause or smile…
How was it working with your Iranian co-star Mohammad Reza Golzar?
Reza Golzar is considered to be the Shahrukh Khan of Iranian cinema, and through him and Salaam Mumbai, I thought it would be interesting to be exposed to a new audience of 80 million Iranians.
He was a thorough gentleman and an absolute delight to work with!
Are there many differences between working on a Bollywood film to an Iranian film?
"There are many differences between Bollywood and the Iranian cinema, which made working on this project a truly unique experience for me."
It was my first English speaking part; their grammar of storytelling is very different from ours. The way the scenes are staged, the meter of performance is very honest and organic in its approach.
While we tend to heighten experiences they choose to underplay them.
You've mentioned that you're a fan of Iranian films. What do you like about Iranian cinema?
I feel connected to the Iranian cinema and the people of Iran. The Iranian cinema that I have seen were films made by Majid Majidi and Abbas Kiarostami.
So naturally I have a great respect for the cinema and I share a sense of deep human connection with the Iranian people.
This connection was established not just by the cinema I was exposed to but also the fact that my father had done a road trip from Germany to India in the 1970s, and spent time in Iran holding exhibitions of his art works.
I grew up with a connection that was so personal to Iran because of the stories my father had shared with me.
How does it feel to be back in front of the camera after few years break from acting?
I never went away. I'm happiest in front of the camera!
What do you hope will come from this collaboration between Iran and India?
I am delighted for the success the film is enjoying in Iran. It was deeply gratifying to be embraced and loved by the people of Iran. And I truly hope this leads to many more substantive collaborations!
Watch the trailer for Salaam Mumbai here: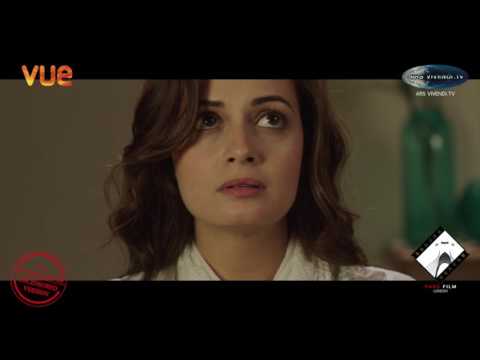 Salaam Mumbai has already been a huge success after releasing in Iran at the beginning of December 2016. The film has broken all box office records in the country. Dia even visited the country for film promotions.
The film is now being previewed exclusively throughout the UK in various cities, including London, Leeds, Glasgow and Manchester.
To purchase tickets, please visit Pars Film London, here.