"I also like to control my own destiny and content."
The comedy YouTube star, QPark has been taking the internet by storm with his hilarious performances in public.
The star became famous through his random acapella imitations of popular musicians in busy public areas.
More recently fans have been requesting for him to take on Bollywood and he gave the people what they wanted.
QPark took on a series of hit Bollywood numbers out in the streets of New York City and they were brilliant!
Watch QPark's Bollywood Songs In Public: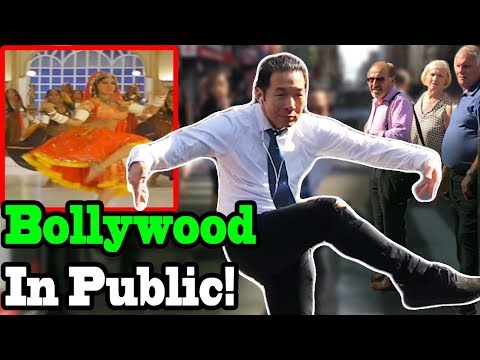 Firstly, he takes on Madhuri Dixit's Choli Hai Peeche Kya Hai from the classic film, Khalnayal (1993). He pops up from behind a bin singing "Ku Ku Ku Ku" with pedestrians looking confused.
He then proceeds to take on the choreography of the video on the road, in the subway stations and outside restaurants.
Next, he channels Hrithik Roshan with Dhoom Again from the blockbuster, Dhoom 2 (2006). Loudly yelling the lyrics "Dhoom machale, dhoom machale" and "Rollercoaster ride".
It is followed by the title song of Prem Ratan Dhan Payo (2014) as QPark copies the chorus moves of Sonam Kapoor.
He also shows us the "Badshah of Bollywood" has nothing on him as he sings and dances to the Akon song Chammak Challo from Ra One (2011). Lastly, he gives us his version of Badri Ki Dulhania.
With over 3 million subscribers, QPark is one of the most loved YouTubers as he constantly makes people laugh out loud with his hilarious antics. His videos are widely shared across all social media platforms.
After working exhausting hours as an investment banker, he decided to pursue a career as a restauranteur but realised he has more passion for eating food than making it.
In 2014, he sold his restaurants and joined social media full time making Vine videos. With the death of the platform, he transitioned to YouTube.
He told ABC:
"Social media is a combination of a lot of things I like to do. It is artistically fulfilling. I like to perform and entertain. I also like to control my own destiny and content."
Like many other minority personalities, he is out to change perceptions and avoid the racial stereotypes. He adds:
"It's important to me not to sell into Asian stereotypes because it's an easy way to get views and likes, but I'm trying to portray Asians, especially Asian men in a different light because I don't think there's enough representation in traditional media."
One of the funniest features of his videos is the zoomed in reactions of people watching on with witty captions added in post-production.
Since he has become a star, fans recognise him whilst filming his videos. Seeing him embrace his adoring fans is something quite special and definitely puts a smile on people's faces.
His other other viral videos include him singing and twerking to Shakira, Jennifer Lopez and KPop videos and more!
After this rib-tickling Bollywood video, we are definitely joining the #QSquad.
Hopefully, we can see more Bollywood moves in the future.