"I'm Rayun and everybody in my family calls me RayRay."
Lil RayRay has quickly become a social media sensation with his enjoyable videos and infectious personality.
The five-year-old from Wolverhampton has a growing fanbase on YouTube but it is on Instagram where he is receiving the most attention.
With over 17,000 followers, the youngster keeps them entertained with his refreshing content.
Lil RayRay has quickly become an established Instagram star despite only starting to create content in March 2020.
During the lockdown, he and his father Nick came up with a funny, yet serious video, telling people to stay at home during the Coronavirus pandemic.
In the video, the schoolboy urged people to follow guidelines so everyone could be safe and the quicker that it is done, the quicker he could return to school to see his friends.
Watch our Exclusive Interview with Lil RayRay here: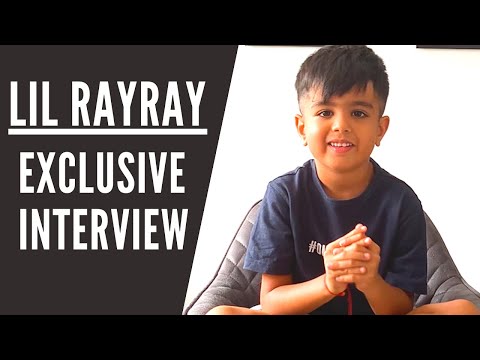 Nick has come up with content that his son could do and revealed that it has brought them closer together as they spent a lot of time together during the lockdown.
His success also led to a live Q&A in order to collect money for Birmingham Children's Hospital and saw more than £6,000 raised.
Lil RayRay exclusively spoke to DESIblitz and gave an insight into the videos he produces as well as his life away from the camera.
Beginnings and the Origin of 'Lil RayRay'
The Wolverhampton Royal School pupil's real name is Rayun Sanghera and he revealed that he has two siblings.
He said: "I have a sister called Amara and a brother called Zoran."
In his videos, which are mostly comedy sketches, Rayun is on his own but sometimes, they feature Amara, Nick and other members of his family.
As with other social media stars, Rayun is best known by his brand name Lil RayRay and he explained the origins of his name.
He revealed that his small stature is the reason why 'Lil' is in his name while RayRay stemmed from a combination of his actual name and the fact that his family call him RayRay.
Rayun said: "Because I'm little and I'm Rayun and everybody in my family calls me RayRay."
It is a simple origin of a name but an effective one as he has quickly amassed a loyal following in such a short space of time.
Playing Characters and Preeto
Lil RayRay's videos typically see him playing different characters in short sketches, whether it be on his own or with members of his family.
While he could have created videos by being himself, Lil RayRay said that he likes playing the characters for a number of reasons.
"I like doing the characters because they are so funny and I like to dress up every time because they are different."
Lil RayRay's choice to play characters is for his own enjoyment but he knows that his fans like seeing him taking on different roles and in unique outfits.
In his videos, the youngster can be seen in a shirt and tie, sunglasses and even with a drawn-on beard.
Many viewers express their love for his outfits by commenting on their enjoyment for the videos.
Lil RayRay plays characters when making videos but one of his most popular ones is Preeto, a female character which sees Rayun wear a blue dupatta on his head.
Preeto is a recurring character in a series of videos where she is Rayun's girlfriend.
The love saga between Rayun and Preeto has kept viewers engaged to see what happens next.
The popularity of Preeto has made Rayun reveal what he likes about the character. He gave some thought before realising what he likes about Preeto.
He said: "What do I like about Preeto? Nothing, it's me wearing a chunni (dupatta)."
Life away from the Camera
Away from the camera, Lil RayRay gave an insight into his daily life which includes the type of Desi foods he likes to eat.
As well as talking about his food likes, he also revealed some of his food dislikes.
Lil RayRay explained that many of his favourite meals are meat dishes like chicken tikka masala and keema, however, he expressed a dislike for yellow daal.
He bluntly says: "I don't like yellow daal."
After revealing his dislike for the vegetarian dish, he gave a big thumbs down, reinforcing that yellow daal is definitely not one of his favourite foods.
He has a preference for meat dishes but Rayun does not mind having vegetarian meals like paneer and aloo gobi.
Apart from food, Lil RayRay also spoke about his taste in music. The social media star stated a varied spectrum of music that he likes to listen to.
He mostly enjoys upbeat genres like dance and rap but is also open to slower tracks depending on his mood.
"I like dancing music, I like rap music, I like slow music."
Creating content is one of Rayun's loves but away from videos, he enjoys playing in his bedroom.
One of his main passions away from videos is superheroes and he has an array of action figures.
He also plays the piano and rides his bike, two things which have been documented on his Instagram.
Both were different from his usual comedy sketches, instead acting as challenges to keep children active during the lockdown period.
Success and his Parents Thoughts
His father Nick expressed how proud he and his family are of Rayun's newfound success, detailing the time and effort he is putting in every video.
Nick, who manages the Instagram account, said that the main thing when making the videos is that everyone is having fun.
Nick explained: "People see content weekly and for what we see is a young man, five-years-old, putting a lot of time and effort, dedication, commitment to it.
"The bottom line is that we're having fun, you guys are having fun and are enjoying the content we are releasing."
He went on to say that he is incredibly proud of his son for bringing happiness to so many people at such a young age.
"To think that this young kid, so much personality, so much character, is bringing so much laughter, smiles to people's faces is an incredibly proud moment as parents and we do hope that for the rest of his life, he can be such a good boy, showing so much love in everything that he does and continues to make people happy and smile.
"We're just incredibly proud of the kid."
A Look Towards the Future
Making videos started during the lockdown and it has been liked by thousands of people across the world but Lil RayRay has plans for the future and that is going back to school.
The content creator has been wanting to return to school since the lockdown started in March and it even became a source of inspiration for his first video.
His first video, which was telling people to stay home, revealed that the quicker people listened, the quicker he could return to school to see his friends.
Like other schoolchildren, Lil RayRay is on his summer holidays and while he continues to produce entertaining videos, he is excited to return to school.
"I'm gonna go back to school in September and I'm gonna see my friends and I can't wait."
Lil RayRay has grown a large fanbase in such a short space of time and at such a young age.
Whether it is his sketches as Preeto or comedy interviews with Prince Harry and Meghan Markle, Rayun has quickly amassed a legion of fans who love his fun personality.
He has also cheered many people up. Those who were struggling to cope during the lockdown had smiles brought to their faces after watching Rayun's videos.
His father Nick explained: "I'm just extremely pleased of the fact that someone so young is making such a difference to the world.
"We've had so much good feedback about the videos, with one person telling us that her mum has severe depression, but when she watches his videos, she starts laughing.
"There's a lot of negativity out there, so it's nice to know there's something that can put a smile on people's faces."
He is most popular on Instagram, with new videos out every Sunday, but his YouTube following is quickly growing.
At five-years-old and so popular already, the sky is the limit for Lil RayRay when it comes to creating original content.