"He has left a mark and in his own style has made an impact."
The epitome of the American dream, The Great Gatsby, has finally arrived onto the big screen. The classic novel written by American great, F. Scott Fitzgerald sees a stellar Hollywood cast including Leonardo DiCaprio, Tobey Maguire and Carey Mulligan.
But despite such a prestigious line up, it seems that Bollywood legend, Amitabh Bachchan may have well and truly stole the show. Bachchan plays a minor role in the Hollywood movie, of an eccentric Jewish gambler, Meyer Wolfsheim.
Although a very small role, it seems that the impact that Bachchan leaves on audiences is truly extraordinary. Hollywood's Variety magazine was quick to point out Bachchan's great acting skills in their review:
"By far the liveliest work in the film comes from two actors with only a few minutes of screen time between them: the lithe, long-limbed newcomer Elizabeth Debicki as gabby golf pro Jordan Baker, and, in a single scene that marks his belated Hollywood debut, Bollywood superstar Amitabh Bachchan as the flamboyant Jewish 'gambler,' Meyer Wolfsheim," critic Scott Foundas insisted.
The Great Gatsby is a 3D adaptation of the American classic novel and is directed by Baz Luhrmann (Romeo + Juliet, Moulin Rouge!). It reportedly cost an impressive $125 million to make, and is one of the most hotly anticipated films of 2013.
The film saw its premiere in New York where both Bachchan and wife Jaya joined DiCaprio and the rest of the cast on the red carpet.
Interestingly, American fans were overcome by the Bachchan's presence and the Bollywood powerhouse received the biggest cheer of the night.
Referring to his global fans as his extended family, Bachchan later tweeted: "Lovely meeting [my fans]. Such humility in them, such respect and admiration from them. They are the winner. I know that it was an emotional moment for many when we met up, but never forget it was equally emotional for me, too."
"American media, fans, security in shock. Thank you, my ED [extended family], and thank you to those who cheered their lungs out. US media thought Leonardo had come, when noise went up," Bachchan added.
Acclaimed director, Baz Luhrmann was overjoyed at having Bachchan a part of the movie:
"I am personally thrilled that one of the world's great screen legends, Amitabh Bachchan, is joining the cast. Over the years, Amitabh's films have made a tremendous impression on my life and work. His film Sholay was my introduction to Indian cinema."
"With the pivotal role of Wolfsheim, we [Amitabh and I] have found the collaboration. I couldn't be happier. I know that Amitabh is doing this from the point of the quality of Fitzgerald's text, the tremendous cast, and, most importantly, as a gesture of goodwill and friendship. I'm honoured to have him on board," Luhrmann said.
For Bachchan, the chance to work on such a Hollywood blockbuster was too good an opportunity to miss:
"My experience of working with Baz Luhrmann, and the greats like Leonardo DiCaprio, Tobey Maguire and Carey Mulligan. It's all been a wonderful experience," he said.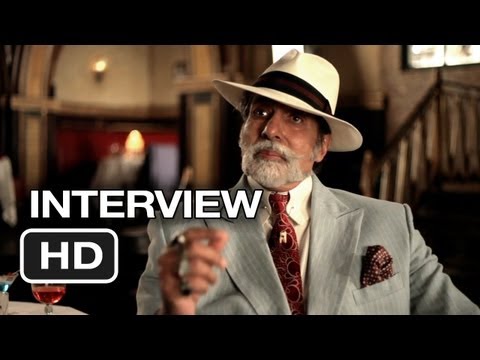 "F. Scott Fitzgerald is a literary genius in the West. And almost every home and every student has been through his works. The Great Gatsby is one of his more famous ones. Many films have been made, I think perhaps this is the third version.
"The amount of detailing and research that goes into subjects like this…the whole system of working is so organised. It was just a great pleasure to be there and to be working with such great company.
"My role is, you know, just a small one, hardly a minute…A year and a half ago, he [Baz Luhrmann] just called and said, you know, Amitabh, I have this small little role, I know it's not worthy of you…he was just being too generous but it'll be nice if you could do it and I readily agreed," Bachchan added.
Another source close to Bachchan insisted: "He's extremely delighted with the way the film has shaped up. And even though his role may not be as big, he has left a mark and in his own style has made an impact."
Although a veteran of the film industry, 70 year old Bachchan is still at the height of his acting career. It looks like this is the potential start for more global projects like these for Bollywood's legendary superstar.