"We know there are a lot of people in [India] who haven't seen such zombie films."
Just few weeks back, Bollywood witnessed the film Rise Of The Zombie which claimed to be India's first movie on the Zombie genre. Now Saif Ali Khan is all geared up to release his next film, Go Goa Gone which is a Zombie Comedy a.k.a Zom-Com.
Vj, actor and musician Luke Kenny produced, directed and starred in Rise Of The Zombie which was made on a shoe-string budget. The film was well received and appreciated by most critics across India.
Saif Ali Khan has followed in Kenny's footsteps and come up with the Zombie Comedy titled Go Goa Gone which stars himself in the lead along with Kunal Khemu, Vir Das, Puja Gupta and Anand Tiwari.
Produced by Saif Ali Khan and Eros International, Go Goa Gone is being directed by Raj Nidimoru and Krishna D.K. The film is certainly on its way to attract a lot of attention, with a number of upbeat tracks and a good-looking cast.
Go Goa Gone is the story of a couple of youngsters who visit Goa. They are looking for an escape from daily workaholic life but find themselves trapped on a Zombie island.
Saif Ali Khan plays the role of a bleached-blonde desi Russian mafia who hunts zombies. And hence begins a comical adventure of survival:
"He is a Russian mafia. So Saif has been given that kind of look…beefed up, blonde look, tattoos, etc. The credit goes to Saif as he had the guts to do something that is radically different," the director duo said.
Puja Gupta has also gone to a lot of effort to prepare her perfect bikini body for a James Bond-inspired entrance into the film:
"I was lucky enough to shoot my bikini scene at the very end of the schedule. It gave me all the time to prepare my body for this particular scene. It's my entry shoot in the film and I wanted it to just be right. Moreover this shot has received immense accolades when it was first done in James Bond Doctor No and now I will be revisiting the same," Puja said.
The makers of Go Goa Gone have come up with a unique marketing and promotional style by initially releasing one track called 'Slowly Slowly' from the movie.
Here's the official trailer to this Bolly-Zombie movie: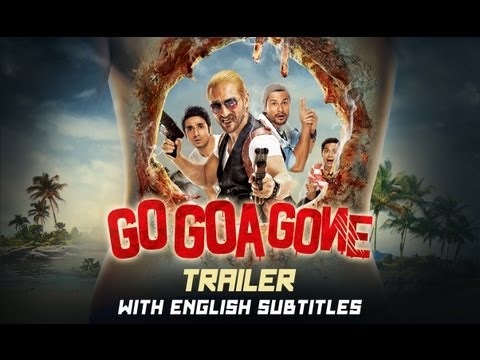 While attending various press conferences and addressing the media, cast members Puja Gupta, Vir Das and Kunal Khemu gave us a small glimpse of what to expect by with the Zombie get-up and look. More over, Kunal Khemu claimed this film will attempt to explain the Zombie genre in an accessible way to the common movie goer of Bollywood:
"We know there are a lot of people in our country who haven't seen such zombie films. What are zombies? How do they become a zombie? And what should be done with them? Answers to all these questions are being given in the film," said Kunal Khemu.
"The story has been told in a simple manner. So if you haven't seen a zombie film before, or you don't know what a zombie is, you can still watch it. Even our characters in the film don't know what are zombies and what is happening with them."
A second song, 'Khoon Choos Le', was released on Monday. It generated a tremendous response on all the social networking platforms. The song is a youth-based number which talks about how a youth feels irritated when he get's up to the routine work on Monday, after partying hard over the weekend.
Bollywood seems to be trying different genres in it's contents. And Go Goa Gone definitely promises something that audiences have never seen before, including the creepily eerie walking dead on the beautiful sands of Goa. Whether a typical Bollywood movie goer is ready for such genres remains to be seen after its release on May 10th 2013, worldwide.