"This film is about the presence of Indian cinema in our lives."
New film, Bombay Talkies celebrates a tremendous 100 years of Indian cinema. Produced by the young and confident Ashi Dua, this film consists of four short stories directed by Karan Johar, Zoya Akhtar, Anurag Kashyap and Dibakar Banerjee.
The film will be presented at the grand Cannes Film Festival. Bombay Talkies showcases four short stories that are very close to each filmmaker's heart. They are set against the chaotic and captivating backdrop of modern Mumbai and follow the lives of very different characters.
Karan Johar's film stars Rani Mukerji, Randeep Hooda and Saqib Saleem. Life appears to be going well for the happily married couple (played by Randeep and Rani) until the wife meets a colleague (Saqib Saleem) at work and their life changes forever.
Dibakar Banerjee's film stars Nawazuddin Siddiqui and Sadashiv Amrapukar. It is based around an actor (played by Nawazuddin) who is struggling to make a living. While watching a film shoot one day, he gets an opportunity that helps him prove himself to his daughter.
Banerjee says: "I took a short story written by Satyajit Ray, a very interesting story and I adapted it. It is similar and yet different.
"I have taken the core of the story, and have changed the setting from 1960's Calcutta to 2013 Bombay and given it new elements and dimensions. The story is also about a man defining his own success for himself.
"This film is about the presence of Indian cinema in our lives. At another level, it is an universal story. You take that as a means to say something that is bigger and more meaningful."
Zoya Akhtar's film surrounds a child (played by Naman Jain) from a middle class family who is captivated and inspired by an actress (played by Katrina Kaif). He decides to break the rules of the society and chase his dreams.
Zoya expresses: "I am very excited, the film releases on Friday. It's fun, very special, has been made by the four of us, four different films, three very awesome directors. I am a little nervous but looking forward to it. What I got was that it works as a unit. Everybody who saw the last screening said all four films work and I think that is the best compliment."
Anurag Kashyap's story is a heart-warming journey of a young man (played by Vineet Kumar Singh) who is a die-hard Bachchan fan who travels to Mumbai to fulfil his ailing father's (played by Sudhir Pande) last wish.
However, Anurag has recently been accused of plagiarism over the story. Nishant G Ranjan, an aspiring film writer, has alleged that Kashyap's story is very similar to the story he wrote in 2011. He has also taken the matter to Film Writers Association.
Ranjan says: "The basic premise of the story is same – the struggle and the last wish of a fan to meet his idol Amitabh Bachchan, I had given my story to Anurag Kashyap in 2011. He did not reply so I thought he did not like the idea."
Anurag denies these allegations. He responded by tweeting: "Mr Nishant Ranjan, you have accused the wrong guy. I don't allow free publicity at the expense of my reputation."
When speaking about the film, Anurag reveals his inspiration came from Amitabh Bachchan and how he influenced the cinema industry. He says: "My impact is about the impact of cinema when I was growing up in Benares, and when I came here [Mumbai] and saw people standing outside Mr Bachchan's house.
"So it's about Indian cinema and how the stardom of certain heroes affects the north Indian middle-class boy. That was what Amitabh Bachchan did to them and that is what Salman Khan does to them now."
Here is the official trailer to the film which has gained over 1 million hits on YouTube: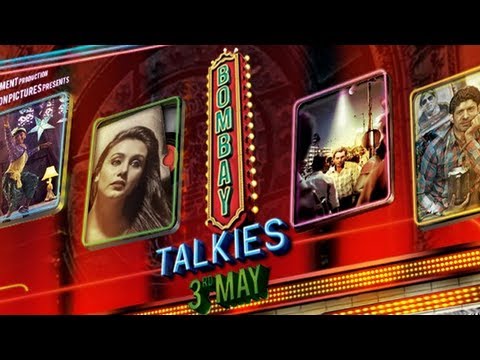 For the first time in Bollywood Cinema, 20 of the best actors in the Indian film industry have come together for the title song as a tribute to 100 years of Bollywood.
A-Listers like Shah Rukh Khan, Vidya Balan, Madhuri Dixit and many more will be appearing in the song as well as the younger acting generation including Ranveer Singh, Ranbir Kapoor, Imran Khan, Sonam Kapoor and Deepika Padukone.
Title song, 'Apna Bombay Talkies' was choreographed by world renowned Vaibhavi Merchant. The official press release stated:
"[Vaibhavi has] beautifully choreographed this number. There was a strict dress code for all the actors. All the men had to wear black tuxedos and the women wore gold outfits, designed by their own stylists."
Over 20 singers also lent their voices to the song. Some of the prominent singers are Sunidhi Chauhan, Shaan, Kavita Krishnamurthy, S.P. Balasubramaniam, Abhijeet, Kumar Sanu, Alka Yagnik, Mohit Chauhan, Sonu Nigam, Sudesh Bhosle, Shreya Ghoshal, Shilpa Rao, Udit Narayan and Sukhwinder Singh:
"For the first time, 20 singers will be part of the same song. The title track has been sung by some of the most reputed singers in the industry," a film spokesperson said.
However, the absence of superstars such as the Bachchan's, Salman Khan, Hrithik Roshan and Dilip Kumar has drawn a lot of attention from fans. It is still unclear as to why these actors have not appeared in the song as of yet.
Bombay Talkies is one of a kind film, the public get to enjoy the efforts of four top filmmakers in less than two hours. The modern, realistic setting makes the film a compelling watch, it will take you on a journey that can inspire you.
This celebration of 100 years of Indian cinema gives you a great combination of four stories in one, is worth a watch and great value!
What did you think of Bombay Talkies?
Mind Blowing (54%)
Time Pass (38%)
Okay (8%)
Loading ...