"I couldn't even fight with him. I started to cry like a chick."
Acclaimed director Anurag Kashyap takes audiences back to the Golden Era of 1960s Bombay, with his period crime drama, Bombay Velvet.
Being one of the most awaited and most extravagant releases of 2015, Bombay Velvet showcases the novel pairing of Ranbir Kapoor and Anushka Sharma.
The film also enjoys a surprise addition with Karan Johar, marking the official acting debut of the hit commercial director.
Set in the backdrop of the flamboyant and jazzy 60's, Bombay Velvet follows the life the life of Johnny Balraj (played by Ranbir Kapoor).
Johnny is an up-and-coming boxer who is madly in love with a Jazz singer at the Bombay Velvet club, called Rosie Noronha (played by Anushka Sharma).
Johnny wants nothing more than to be a rich man, so he can have a better life for himself and Rosie. Promising to take him to the top, he meets the owner of club Bombay Velvet, the villainous Khambatta (played by Karan Johar).
But before he can make it, Johnny needs to follow Khambatta's every instruction. Stuck between committing a crime and his lady love Rosie, Johnny finds himself in a fix, one he cannot get out of.
With a budget of a staggering Rs. 80 crores (approx. £8 million), Bombay Velvet is one of the most expensive films Anurag Kashyap has ever made.
The extravagant sets took a whopping 11 months to construct. According to a source: "The 9.5 acres of land and the set of Bombay Velvet were created in Sri Lanka. Further to reports, the buildings, their interiors, the roads and even signage and decor matched the 60s."
This explains why the film took nearly 2 years to shoot. Furthermore it has been said that a lot of blood, sweat and tears went into the making of the film.
And they weren't joking about the tears, as Anushka recalls that Ranbir made her cry on set: "He's easy to work with as he's my friend. We would fight. I even cried once, didn't want to fight with him because we were going to shoot a romantic scene. I couldn't even fight with him. I started to cry like a chick."
Moreover another talking point of the movie, and a definite USP is Karan Johar's role in the film, but he wasn't the director's villain of choice. According to Anurag, Naseeruddin Shah was the first choice for the role:
"Yes, it is true. I was upset that we couldn't get Naseer. And actually, he can't be replaced. While bouncing off the script to Karan, I felt he would be great for the role."
But getting Karan on the film was a shock to everyone, especially to Karan himself, as he mentioned in an interview:
"Anurag came to me with the script, I was expecting him to ask for my feedback. But when he said he wanted me to play Khambatta. I was in shock."
Ranbir also describes how he ran after the role of Johnny as he wasn't even considered for the role, and he called Anurag after reading the script on the plane.
Anurag admitted that he was considering other actors for the role: "I wanted someone who was not only a good actor but also made it possible for me to raise that kind of money.
"My first choice when I wrote the film in 2006 was Saif Ali Khan. From there it went to Aamir and Hrithik."
Finally Ranbir was able to convince Anurag and bag the role as the male lead.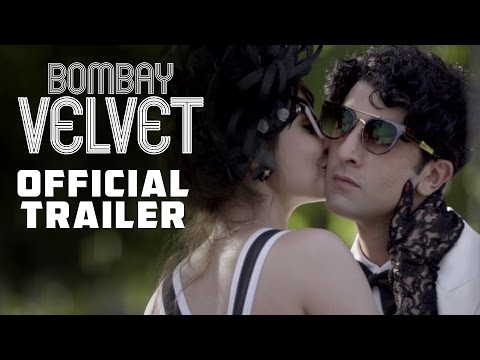 One of the great talking points of the film has been the music. Music director Amit Trivedi and lyricist Amitabh Bhattacharya have created an entertaining assortment of 14 tracks on the Bombay Velvet soundtrack.
Capturing the golden jazzy era of the 60's, Trivedi uses more than 100 musicians for the whole album. It starts with 'FiFi', a remixed version of the track from the film C.I.D (1956). A peppy upbeat tune, the song perfectly represents the jazzy fun era of Bombay in the 60s very well.
But as Bombay Velvet is also a love story, Trivedi has made sure to keep the romance through songs such as 'Naak Pe Gussa', 'Behroopia' and 'Conspiracy', which all have slow and beautiful melodious composition.
Trivedi also decided to do three versions of the track 'Mohabbat Buri Bimari', which exuberates the theme of deception in love and goes well with the tension in the film between Anushka and Ranbir's character.
Pre-screenings of the film have already gotten a thumbs up from B-town. Actors such as Arjun Kapoor have been hugely impressed, tweeting out:
Bombay Velvet has a world which is a film lovers wet dream & the performances a viewers delight @anuragkashyap72 @karanjohar @AnushkaSharma

— Arjun Kapoor (@arjunk26) May 12, 2015
Visually stunning and great performances – Bombay Velvet. @anuragkashyap72 take a bow ? @karanjohar makes debut of the year ?

— Sonakshi Sinha (@sonakshisinha) May 12, 2015
#BombayVelvet years later will b named a classic, next week it'll b the film that puts @anuragkashyap72 in the list of most wanted directors

— Kalki Koechlin (@kalkikanmani) May 11, 2015
So, do you want to be whisked to the golden era of Bombay? Bombay Velvet releases from May 15, 2015.