"I enjoy the process more than the outcome."
Indian musician Yash Narvekar released his soul-stirring track, 'Kya Hua' (2020) which depicts the journey of love which was destined for doom.
Having written 'Kya Hua' himself, Yash Narvekar, in fact, partnered up with music producer Rishi Rich four years ago when Rishi moved from London to Mumbai.
The heart touching song explores the personal experiences of both Yash Narvekar and Rishi Rich.
The powerhouse duo has collaborated on several songs including 'Mere Dil Mein' from Half Girlfriend (2017) and 'Teri Yaadon Mein' from Behen Hogi Teri (2017). 
The video to the track premiered via YouTube on November 24, 2020. Visually, the track seizes the essence of love as well as highlighting the themes of "rejection, loss and pain."
Lonavla, a hill station in Maharastra, India was the location of the shoot. The video was specifically shot in a stunning farmhouse.
Watch an Interview with Yash Narvekar on 'Kya Hua' and his Music Career here: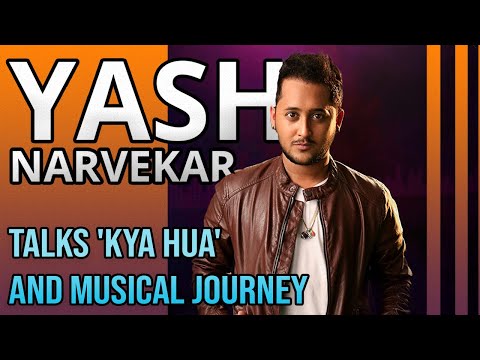 The song features actress Aasha Sharma. Richard De Varda is the director of the song, with Vijay Sharma being the Director of Photography.
Yah Narvekar, who is classically trained since the age of 13 and is a law graduate, has also delivered great hits like 'Muqabala' for Street Dancer 3D (2020) and 'Ek To Kum Zindagani' for Marjaavaan (2019).
We speak exclusively to the multifaceted talent, Yash Narvekar about his song 'Kya Hua', his musical journey and collaborating with Rishi Rich.
Kya Hua Release Delay
Despite being made four years ago, 'Kya Hua's release was postponed. Explaining why this happened, he said:
"What happened was that this was one of the first songs that we wrote together when Rishi Paaji came down to India.
"We wrote it and after that, we had a couple of projects which were in the pipeline which had to be released so we got caught up with that."
Even though other projects took over, the pair did not forget about the song. He said:
"We always used to remind each other about this song, deciding we should release it now.
"This year there was a lockdown, the world shut down and we said, 'If this song doesn't release now then it never will.'
"So, we sat back on it and rearranged it. It is looking really good."
Yash Narvekar and Rishi Rich's decision to release 'Kya Hua' during such unprecedented times acts as a catalyst for many people who use music as a form of comfort.
Working with Rishi Rich
The collaboration between Yash Narvekar and Rishi Rich is certainly not the first as mentioned above. The dynamic duo have worked together on various songs.
Speaking about partnering with Rishi Rich for 'Kya Hua', Yash states:
"Rishi Paaji for me, when I heard his first couple of tracks was the defining moment for me as a musician.
"I had never heard somebody use sound and mix different genres like pop, use Indian instruments and vocalists. It's such a western way."
In fact, Yash continued to mention that Rishi Rich has also been one of his musical inspirations. He continued:
"When the song from Half Girlfriend, 'Mere Dil Mein' happened it was like a dream come true."
There is no denying that this amazing pair deliver exceptional songs every time they join forces.
Musical Childhood
Yash Narvekar's musical ambition was nurtured by his parents who he described as "really great listeners."
Besides being exposed to numerous artists from an early age linked to ghazal and classical, Yash was also surrounded by music-loving friends. He explained:
"When I was studying at school, my friends were completely into the Disc Bangle time. So, writing CDs of multiple songs from the west there was great exposure.
"Both of my parents were interested in music. My mother and father sing really well but never took it up professionally.
"A bit of that rubbed off onto to me and I started showing interest in music and vocals."
Yash further added that it was as though his parents anticipated his musical ambitions. As a result of this, they immediately got Yash a guru.
Composing or Singing and Favourite Raag
Answering whether he prefers composing or singing, Yash Narverkar highlighted the concept of an artist in India as someone who becomes "a singer or music director or lyric writer."
Identifying that the musical landscape has changed since he first entered the music scene, Yash stated that as time has progressed an artist knows "a bit of everything."
Yash further reveals that an artist cannot sit idle waiting for somebody to offer him/her a song. He expressed:
"You can't just keep waiting around because then it'll get a little tougher. But you learn how to write songs and compose them.
"If you're a singer, you have an edge, which you can use and get the notes right and it becomes easier."
The talented musician believes an artist should have an all-round approach to make it in the music industry.
In reply to a question about what his favourite Raag was and why Yash Narvekar mentioned:
"My favourite Raag is Yaman Kalyan. I started learning from Ghulam Mustafa Khan Saab's son, Qadir Mustafa Khan Saab
"For one year he made me sing Yaman and my Riaz was only in Yaman. He said, 'Learn this properly then I'll teach you further.'
"I grew an attachment to it like it's your first baby."
Yash continues to mention that many songs, which are sung are Yaman and they "have a different vibe."
Indian Music Scene
The Indian music scene is always changing with Yash placing emphasis on the "past ten years" having "changed for the better."
Explaining why this is a positive change, Yash discloses that a musician is gaining more recognition for their work:
"The musician is slowly coming up ahead and the kind of fan following people are getting and the response people are getting for doing different things was never seen before.
"Before people would only listen to films' music. But now if you release a song independently, if it's a good song and people like it then you can create those kinds of numbers on your own channel.
"I think it's a very good time for musicians who are coming in. The genres have increased and it's still a growing new scene so you don't know where it'll go."
Yash is optimistic that the music industry in India will carry on improving in the coming years.
The Digital Age and Inspiration
Yash Narvekar believes the digital age has allowed artists to enjoy more exposure without the need for a record label.
He also feels, "you do not need somebody to promote you," especially being in the digital space.
Acknowledging that he learned this very late, Yash has decided to make a conscious effort to post regularly during the lockdown.
After implementing this change, Yash noticed a change. He added: "It's a slow-growing and a beautiful place to showcase what you are all about.
"In today's day, your Instagram enters in any room before you. It is a very integral part so are YouTube numbers, downloads and streaming."
The digital impact on music has certainly been positive according to Yash Narvekar.
Talking about his inspirations in music, Yash Narvekar explained that it is a very difficult question because he "can't name one person."
Having been surrounded by "a lot of different kinds of music" in his life, Yash "learnt and pulled out bits and pieces of things from everywhere."
He added that this is something he does subconsciously. He continued to state that many artists have inspired him in music. Therefore, it would be wrong to name one.
The Meaning of Music and Fans Message
Explaining what music means to him, Yash compared it to a "rabbit hole," which he uses as a form of escapism. He added:
"Whether I am happy or sad it's my mode of expressing myself through music.
At the same time, I don't see myself doing anything else. I don't know anyone from the scene or have a foot in the door."
Yash, who is a law graduate, revealed why he ventured into music after attaining his degree"
"The reason why I took such a drastic step of finishing my education and then running into this field suddenly was because music is one of those fields which I don't mind failing at."
Yash further added that he enjoys "the process more than the outcome." There is no doubt that music means everything to him.
Watch 'Kya Hua' here: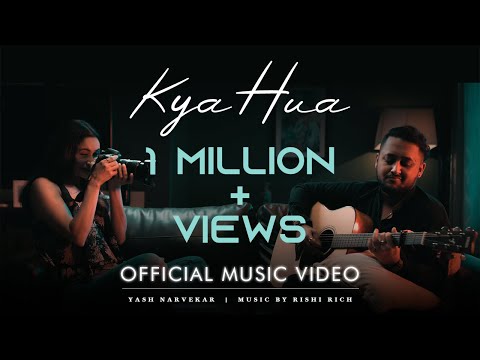 Yash has a very simple message for fans, recommending to unwind and enjoying his track, along with spreading love.
"The message will be just chill and relax. Just hear the song, it's 'Kya Hua' on YouTube and all the streaming platforms. Please show some love and enjoy yourself."
Yash Narvekar's passion for music, melody and lyrics has seen him achieve great success in both films and the independent music scene.
'Kya Hua' released under Break The Noise Records. The video has garnered more than 970,000 views on YouTube.
The song is available on Apple, Spotify, Amazon Prime Music and Gaana.