"Shreya is an absolute bliss to work with. She puts her soul in every song she sings."
If the title of the film was not enough to pique our curiosity, the soundtrack has us hooked like hopeless romantics on the roadside.
There is no doubt that Half Girlfriend's music will quickly climb the charts and, more so, with the new song titled 'Thodi Der' – sung by none other than Pakistani pop star Farhan Saeed and Indian playback sensation Shreya Ghoshal.
A love ballad that starts off as a response to lover boy Arjun Kapoor's request, the song is a warm, fuzzy snuggle-fest. But with a hint of heartbreak for both Farhan and Shreya are suckers for tragic romance.
The melody is a mix of soul-stirring sounds of the sarangi and the harmonium paired with acoustic strings and the keyboard. Shreya possesses a certain charm that Farhan only helps magnify with his raw, husky yet subtle voice.
Farhan adds a much-welcome mellowness to this romantic number making one listen how good art can trump even bad times. Farhan has also given the music for the song.
In fact, for those who may not know, 'Thodi Der' is actually a recreation of Pakistani song 'Tu Thori Dair' from 2015. The song was originally sung in Punjabi by Farhan only and featured his now-wife and actress, Urwa Hocane, in the music video:
"Originally sung by me, this song was released almost two years back in Pakistan," Farhan shares exclusively with DESIblitz.
"Mohit (Suri) loved it and asked me to recreate it for his movie Half Girlfriend. The original was in Punjabi so we changed the lyrics to Urdu so a wider audience can understand it."
Watch the original version of Farhan Saeed's song here: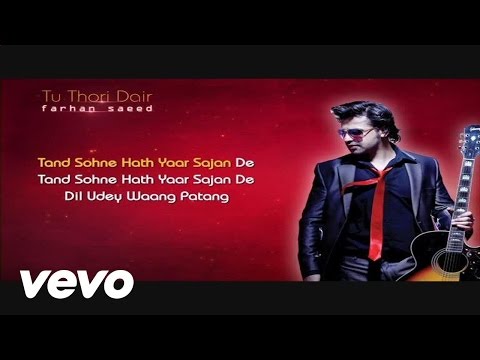 Speaking more on his experience of working alongside powerhouse Shreya, Farhan adds: "Shreya is an absolute bliss to work with. She puts her soul in every song she sings. It's great to pair up with her on one of my compositions."
Comparisons between the original and the recreation are only natural and opinions may stand divided, but we won't shy away from saying that the new version does complete justice to its predecessor.
This isn't the first time that Farhan has crossed over to Bollywood to lend his voice to a film. He has previously sung for Creature 3D that also starred Pakistani actor Imran Abbas as well as for Punjabi comedy Dil Tenu Karda Ae Pyar.
Artistic exchange between the two nations has continued despite ongoing political tensions and while there was a sudden halt, artists seem hell bent on breaking barriers.
Farhan is on a similar path with sonic abilities and believes art needs to be kept separate:
"I think any form of art can blur boundaries, it's just that we have to keep it separate from all the goes down between governments. Art is the best form of people-to-people contact."
Listen to 'Thodi Der' from Half Girlfriend below: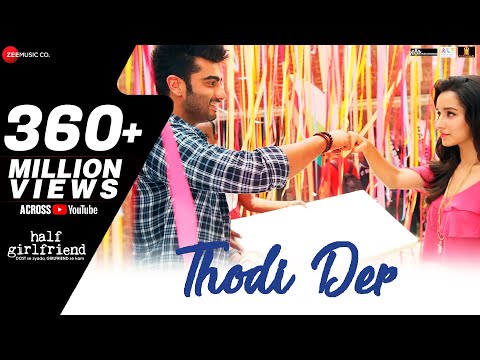 Half Girlfriend stars Arjun Kapoor and Shraddha Kapoor in the lead and has been directed by Mohit Suri.
A tale about a rural boy's struggle against an English-speaking system and to secure the love of his life, Half Girlfriend is based on Chetan Bhagat's novel of the same name.
The film is scheduled to release on May 19, 2017.