"Science and the creative arts are gentle streams flowing in parallel"
Psychiatrist and musician, Dr Ramya Mohan is travelling across the UK with her live band, Ramya@LiveAnalysis, to promote health and wellbeing through music.
The 5-city tour which will begin in Rotherham on 6th May 2017, will see Ramya combine neuroscience, medicine, and mental health with the creative arts.
From live music shows, art exhibitions and lectures, Ramya will be showcasing her many artistic talents to raise awareness of key health issues among children and young people.
It is very rare to see art and science go hand in hand so seamlessly. But Dr Ramya Mohan is a global pioneer of utilising the power of music to aid with an individual's development.
A specialist in neurodevelopmental disorders, Ramya mainly worked in child and adolescent psychiatry with the NHS as a senior consultant for many years.
She is currently doing community development and awareness work around children and young people's mental health in Bangalore, India.
The London-based medical expert is also trained in Carnatic vocal music, which was passed down to Ramya by her parents, who are both musicians.
Science, Art and Music Together
With proficient skills in a range of Indian classical music styles, Mohan has expertly combined her passion with her career:
"Science and the creative arts are gentle streams flowing in parallel. If we let them, they have the power to fluidly fuse into a mighty river. A river that powerfully steers human minds, communities and societies towards a vast ocean of potential, innovation and development," Mohan explains.
It is with this understanding that Ramya created CAPE (Creative Arts for Processing Emotions). CAPE is a music-based, self-guided technique that hopes to alleviate stress and emotional tension.
It does so by using existing neuroscientific knowledge of music, emotions and established therapeutic principles. These are then integrated with a unique blend of Eastern and Western styles of music.
The purpose of this is to restore emotional and physical equilibrium and support recovery from illness.
Ramya has lent her own voice for this pioneering procedure, which she has conceptualised . The musical component collaboration for CAPE was with Vidwan Balu Raghuraman, Dr Nandakumara (The Bharatiya Vidya Bhavan, London) and Dr Amal Lad.
The avant-garde technique allows the user to work at their own pace and comfort, integrating seamlessly with an individual's own lifestyle.
This synergy of science, art and music is something that Ramya continues to be passionate about, and hopes to promote further through her tour.
Mohan says: "My unique tour format is intended to promote and showcase a harmonious fusion/balance between neuroscience and the creative arts for healthier minds, bodies and societies."
Ramya@LiveAnalysis UK Tour 2017
The Ramya@LiveAnalysis tour will take place in May 2017.
Promoting neuroscience, medicine, music, art, and life all together, the tour will welcome specific events in London, Nottingham, Liverpool, Rotherham, Doncaster and Basingstoke. It also falls in conjunction with Mental Health Awareness week.
Ramya will invite Indian artists to join her on the UK stage, showcasing a myriad of musical genres that fuse classical, folk, popular and film.
Aside from the musical nights, Ramya will also present her solo art exhibition. It captures her journey as an artist and a medic through the use of oil and watercolour paintings.
The eloquent motivational speaker will also deliver talks on 'Science, art and creativity' and 'Children and young people's mental health' in Liverpool and London Paddington respectively.
The highlight event of the Ramya@LiveAnalysis tour is Mohan's album launch, CAPE Youth: Creative Arts for Processing Emotions for young people.
The event will see the Baroness of Wimbledon as a guest of honour, and supporters of Ramya can witness a vernissage of her solo art exhibition, a fusion musical ensemble, and a Q&A session supported and conducted by official media partner, DESIblitz.
'Raagas on Mood: An Intimate Evening with Dr Ramya Mohan' will be held on Thursday 11th May 2017 at the Nehru Centre in Mayfair, London.
Tour Dates
Here is a full list of UK tour dates and events with Dr Ramya Mohan and Ramya@LiveAnalysis for May 2017:
6th MAY ~ ROTHERHAM
Bollywood Bonanza, The Trades, Rotherham
Popular music and dinner night with her live band of musicians for a charitable cause, Manonandana. A charity to rehabilitate special needs children in Ramya's hometown of Bengaluru, India.
7th MAY ~ LONDON
BHINNA ABHINNA: Bhavan & Kannadigaru UK, The Bhavan Centre, West Kensington, London
Fusion musical ensemble (neo-classical fusion) with accompanying musicians from both the UK and India. This is a musical collaboration with the Bhavan UK's teachers and artists.
8-12th MAY ~ LONDON (Mental Health Awareness week)
RAMYAA: A RHAPSODY: Solo Art Exhibition, Nehru Centre, The High Commission Of India
Reflecting Ramya's portrayal of emotional health through art, as seen through the lens of a Psychiatrist and Artist.
11th MAY ~ LONDON
'RAAGAS ON MOOD': Nehru Centre, The High Commission Of India
The launch of 'CAPE (YOUTH) album: Where Medicine & Neuroscience meet music'. Live Fusion Ensemble with her band of musicians from India, Q&A by DESIblitz.com
12th MAY ~ LIVERPOOL
SANNIDHI DIALOGUES: Milapfest, Hope University
Invited lecture on 'Science, Art & Creativity'
13th MAY ~ NOTTINGHAM
Bollywood Extravaganza, Lutterell Hall
Popular music and dinner night with her live band of musicians for a charitable cause, Manonandana.
15th MAY ~ LONDON
'Child & Adolescent Mental Health', College of Counselling & Psychotherapy Education (CCPE), Paddington
Visiting faculty invited lecture to MA (Psychotherapy) students (closed event to CCPE students).
20th MAY ~ BASINGSTOKE
Ramya@LiveAnalysis
A cultural night with music from Ramya and team.
Watch promo of Ramya@LiveAnalysis UK Tour 2017: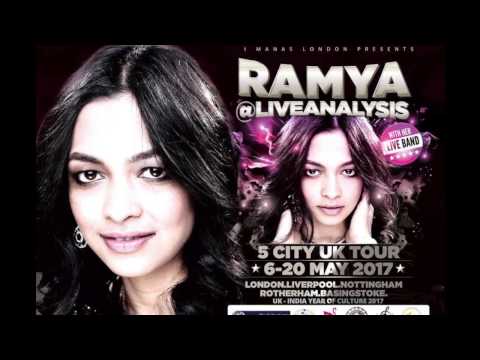 Commenting about the upcoming tour, Dr Prashant Nayak, Executive Director of the Milap Festival Trust (Milapfest) says:
"Milapfest is delighted and looking forward to welcoming Dr Ramya Mohan to the Sannidhi Dialogue Series of lectures at the Liverpool Hope University on 12th May.
"Organised under the auspices of the Milapfest Institute of Indian Arts, the Series invites distinguished scholars to speak about different aspects of Arts in general and Indian arts in particular, and speak about how it binds different strands of human society and strengthens it."
Speaking about Ramya, her field and performance, Dr M N Nandakumara, Executive Director of Bharatiya Vidya Bhavan UK told DESIblitz:
"Dr Ramya Mohan is one of the very few people I have come across in the field of Medicine, who is doing such special work to connect Medicine and Music for the good of people in general and young people in particular.
"For anyone to work in the common ground between Science and the arts, there needs to be knowledge, expertise and practical experience in all areas and Ramya is unique in this aspect."
"The Bhavan UK has been a pioneer in music and dance for over 45 years in London and the UK, having hosted most of the illustrious and legendary artists of the times. We are delighted to welcome Dr Ramya Mohan for a music performance at the Bhavan UK and commend her on her pioneering work."
Ganapati Bhat, of Kannadigaru UK Events, who is supporting Ramya@LiveAnalysis adds:
"Kannadigaru UK is extremely pleased to support Dr Ramya Mohan's 'Bhinna Abhinna' event by the Bhavan UK, a musical evening with Dr Ramya Mohan, who is doing excellent work in spreading the importance of using music and creative art in emotional wellbeing."
The tour is a natural progression from Ramya's involvement with I MANAS LONDON. This organisation is aimed at enhancing lives and promoting individual and community development.
It is evident that Dr Ramya Mohan has found a unique synergy between art, music and science. Her original way of exercise art as a means of raising awareness of mental health issues among young people is admirable. And she undoubtedly deserves support from the British Asian community.
More information on the above events are available at Dr Ramya Mohan's website here. Alternatively, please email imanas.london@gmail.com for ticket details.