"I've never seen anybody combine psychology and psychiatry with music."
London's prestigious Nehru Centre played host to Dr Ramya Mohan 'Raagas On Mood' programme on 11th May 2017, for which DESIblitz was the Official Media Partner.
The spectacular evening, which revolved around the fusion of Science and creative arts, was presented by the Indian High Commission (Cultural Wing) and I Manas London.
'Raagas On Mood' witnessed the album launch of CAPE Youth, Ramya: A Rhapsody – a vernissage of solo art exhibition and Ramya@LiveAnalysis – fusion music ensemble with a live band.
DESIblitz also proudly supported and conducted a special Q&A with the talented psychiatrist, musician and artist Dr Ramya Mohan.
The evening was celebrated by Sheila Hollins, the Baroness of Wimbledon as a guest of honour. Delighted to attend the event, the Baroness said:
"It's a real pleasure to be here. I think we (Hollins and Mohan) really met through the mental wealth festival last year. The idea is to have an open mental wealth festival to celebrate the things we all can do to keep mentally well and the arts play a huge part on that."
Therefore, Dr Ramya Mohan's vision is truly one which is unique and noble.
Joining Sheila Hollins was deputy director of The Nehru Centre – Vibha Mehdiretta, Dr Nandkumara – Executive of Bharatiya Vidya Bhavan, and BBC Asian Network presenter – Ashanti Omkar.
Watch highlights of Raagas on Mood here: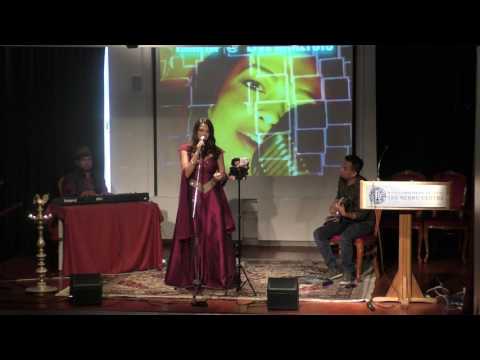 Honoured to be present at this event, Dr Nandkumara expressed:
"Through art, one can free oneself. Not only that, it helps an individual to express themselves. At the same time it brings joy to more and more people. I'm so happy our Ramya is using this to bring happiness to more and more people. These mediums are there for us to make use, for the good of others. I wish our Ramya all the success."
Vernissage ~ Ramya: A Rhapsody
The vernissage of solo art exhibition was simply stunning. Talking about this aspect of the event, Ashanti exclusively told DESIblitz:
"This is a really exciting event. I've never seen anybody combine psychology and psychiatry with music. Her paintings are bright and bold. I was captivated when I saw the bright colours. She's (Dr Ramya Mohan) is a multi-talented woman."
The paintings displayed in this exhibition, showcased various shades of women.
On one hand, there is a portrait which depicts a woman to be independent and an entrepreneur, whilst on the other hand, another portrait shows a woman to be a homemaker and carer.
Both of these paintings incorporated oil and stretched linen. In fact, there is a mix of oils and watercolours. But what is the overall themes within these works of art?
Ramya says:
"The overall theme was about what is behind what we see. It's about the hidden face of mental illness. It's not just about mental health but also about showcasing the emotions behind a person."
"It's really about me as a medic, psychiatrist, artist and woman. How I'm trying to make a sense of the world around me and bring it outside."
Ramya@LiveAnalysis
CAPE (Creative Arts for Processing Emotions), is a music-based, self-guided technique which aims to relieve stress and emotional tension. In May 2016, the first edition of CAPE (for adults was launched at The Nehru Centre).
In 2017, Ramya unveiled CAPE Youth, which is a musical therapy for youngsters. Dr Mohan tells DESIblitz why she launched CAPE Youth:
"We used the key backing information we received from CAPE and I've worked with a lot of young people, children and families.
"It got me thinking about how we can develop something which is specifically eligible for children and young people because their sensibilities, thinking and perceptions are different. Plus, they don't listen to the same music as grown-ups," Ramya explains.
Dr Ramya then distributed CDs to the four luminaries to launch. 'Raagas On Mood' then veered into becoming a musical treat for the audience.
During the 'Ramya@LiveAnalysis' segment, Ramya sang a variety of classic Hindi songs.
Many of the numbers were Lata Mangeshkar hits. These included 'Aapki Nazron Ne Samjha' and 'Aayega Aanewala.' Gradually, the mood changed. From singing classic songs, Ramya switched to Jazz tracks like 'Kaisi Paheli Zindagani'.
The audience were blown away by her crisp, strong and melodious voice. But that's not all. Concluding the musical quotient was a mashup of the following tracks:
'Jhumka Gira Re'
'Babuji Dheere Chalna'
'Pyar Hua Ikrar'
'Mera Joota Hai Japani'
'Kiski Muskarahaton Pe'
'Yeh Hai Bombay Meri Jaan'
Alongside Mohan's vocals, the fusion musical ensemble was truly spellbinding. In fact, one must applaud keyboard player Shri Vijayakrishna and guitar player Shree Charan Rao for their Indo-Western touch to these evergreen Hindi film songs!
Listening to Dr Ramya Mohan truly relaxed the audience and shows how music is truly therapeutic!
Q&A by DESIblitz
Ramya Mohan is a specialist in neurodevelopmental disorder. She has mainly worked in child and adolescent psychiatry with NHS as a senior consultant for many years.
It is no surprise that Dr Mohan is a talented singer. This is because the medical expert is trained in Carnatic vocal music and was taught by her parents, who are both musicians.
With this background information, a thoughtful and insightful Q&A was hosted by Official Media DESIblitz.
There were several candid questions asked. However, an interesting moment arose when an audience member asked whether the type of music in CAPE Youth is appropriate to therapy?
In response to this, Ramya answered:
"CAPE Youth is completely in English and it's got instrumental backing. It is self-guided but at the same time it's supported, in that there's a guiding voice that takes you through from a distressing emotion towards a more harmonic state of being."
Discussing therapeutic music, Dr Mohan explained:
"It's about choosing the emotion that one is going through at that point in time. If someone is feeling a deep sense of sadness, they choose the music that helps them process that sadness."
She added:
"There has also been research which shows that the emotion we feel at any point in time is the first step towards processing it. So, it's about selecting the right piece to help us go through that."
As interesting this fusion between neuropsychiatry, medicine, art and music is, it seems to have also raised a few eyebrows within the science fraternity.
Talking about facing backlash whilst researching, Ramya stated:
"My colleagues were curious. So I did get a lot of questions and as scientists we fall back on evidence. The first step I took was to look at what was available, so I could understand it for myself and use that as a basis to substantiate anything I did.
"From the artistic community, people were coming after me and saying we do need a lot of this and validates what we are doing. From scientific and artistic community, over a period of time, there has been a move towards a better understanding."
Overall, Ramya Mohan strongly believes that this 5 city UK tour will showcase how neuroscience and the arts can join together as a useful vehicle of therapy.
This amazing vision will help to make way for a brighter and positive future within the creative and medical fields.
For more details about the Ramya@LiveAnalysis event, please take a look at our article here.